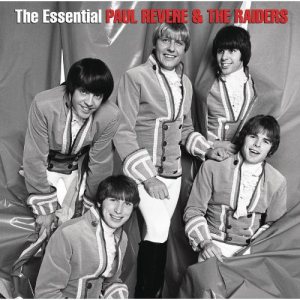 The official website of Paul Revere and the Raiders has just confirmed the passing of group leader Paul Revere at the age of 76.  Today, we remember Revere for the timeless music he created with Mark Lindsay,  Phil "Fang" Volk, Mike "Smitty" Smith, Drake "The Kid" Levin, Freddy Weller, Joe Correro, Jr. and Keith Allison - songs like "Kicks," "Hungry," "Just Like Me," "Good Thing" and so many others, all of which reminded listeners besotted with the British Invasion that Americans still knew a thing or two about rock and roll!  Long after the group had called it a day in the recording studio, Revere kept the band's name, music and spirit alive through continuous touring right up to the present day including annual visits to Walt Disney World's Epcot.  Though the Rock and Roll Hall of Fame has inexplicably overlooked the rich and varied legacy of The Raiders, the band's music endures as some of the most exciting of its era - or any other.
We're republishing our March 18, 2011 review of The Essential Paul Revere and the Raiders and Country Wine...Plus in memory of a great musician and beloved artist, Paul Revere.  Rest in peace.
If kicks just keep getting harder to find, fear not! The deep catalogue of Paul Revere and the Raiders has just gotten much easier to find, thanks to two new releases. Legacy's The Essential Paul Revere and the Raiders has just hit stores, while Raven Australia has brought to CD the band's final released album for Columbia Records, Country Wine. The Essential spans 1963 and 1972 and covers "where the action is" (though ironically not the song "Action!").  Country Wine reflects the sound of a band adapting with the disappearing AM radio format that afforded them so many hit records.
The Essential Paul Revere and the Raiders (Columbia/Legacy 88697 81565-2) represents the best domestic release on the group currently available. While single-disc compilations are available as imports, this does Raven's Kicks: The Anthology and Rev-Ola's Hungry for Kicks: Singles and Choice Cuts 1965-1969 one better. Over its thirty-six tracks compiled by producer and mastering engineer Bob Irwin of Sundazed, The Essential takes listeners from the Raiders' garage roots in 1963 to the polished pop sheen of their latter-day singles including the 1971 chart-topper "Indian Reservation," surprisingly the group's first No. 1 single.
Dominic Priore's fine new liner notes recount the story of the Raiders, anchored by Paul Revere (organ/piano) and Mark Lindsay (vocals/saxophone). And yes, that really was Paul Revere's real name; he was born Paul Revere Dick and simply dropped his surname. One of the most successful bands to come out of the fertile Pacific Northwest music scene, the Raiders first came to national recognition in 1963 on the strength of their rendition of Richard Berry's "Louie, Louie," the first track on the new compilation. Unfortunately, The Kingsmen got to it around the same time (it's lost to time as to which version was released first), and reached No. 2 on the charts.  The Raiders' version stalled at No. 103. Revere's recording is somewhat less primal than the Kingsmen's, but established the group's garage punk sound, rooted in hard-driving rhythm and blues. The band's tastes were eclectic, though; Allen Toussaint's "Over You" and "Ride Your Pony" deftly display a funky side. 1965's "Steppin' Out," co-written by Revere and Lindsay and produced by Terry Melcher, really set the wheels in motion for the group's biggest successes, and coincided with the band being selected by Dick Clark to appear on his ABC after-school program, Where the Action Is!
Revere and the Raiders defied the British invasion, going so far as to make Revolutionary War costumes (inspired by Revere's name, natch) their de facto attire. And while their music had similarities to British acts like The Kinks and The Animals, those bands were influenced by the same tough American R&B as Revere's group. After "Steppin' Out" and its No. 65 chart placement, the hits just kept on coming, and so Disc 1 of The Essential is all-killer, no-filler. "Just Like Me" topped its predecessor at No. 11, with a prominent organ part keeping the band true to its garage sound. Much as he helped foment the folk-rock sound with The Byrds, Terry Melcher surely deserves much of the credit for shaping the sonic signature of Paul Revere and the Raiders, although he never boxed them into one style. Continue reading after the jump!
"Kicks," though, was the real breakthrough. This powerful track married a punk snarl to an unforgettable pop melody by Barry Mann and Cynthia Weil. (It's still hard to believe this song came from the same writers as "You've Lost That Lovin' Feelin'!")  The sly "Kicks" made it all the way to No. 4 in 1966, even more stunning because of its anti-drug message aimed at Mann and Weil's friend Gerry Goffin. Granted, the lyric smartly operates on two levels, so its message could be a simple one ostensibly aimed at a teenage girl: "Kicks just keep getting harder to find/And all your kicks ain't bringing you peace of mind/Before you find out it's too late/Girl, you better get straight/No, but not with kicks!" But it was possible to read between the lines, and an anti-drug message at the time was almost more subversive than a pro-narcotic stance! The band again turned to Mann and Weil's songbook for "Hungry" (No. 6), but ambitious frontman Mark Lindsay was blossoming as a songwriter in his own right. "Good Thing," co-written with their producer Terry Melcher, was another Top 5 smash for Paul Revere and the Raiders, with a dreamy (Beach Boys-inspired?) harmony interlude and an overall more sophisticated sound. Lindsay and Melcher's "Him or Me - What's It Gonna Be?" (No. 5) even added a country flavor to the guitar-heavy framework; the team's LP cut "Mo'reen" ("You're not what you seem!") has an almost Hollies-esque sound to it.
The Essential Paul Revere and the Raiders reveals a restless, diverse group. "Do Unto Others" is as mellow as "I Had a Dream" is brassy, while 1967's "Too Much Talk" is a breakneck proto-punk song and "Let Me" anticipates power pop. Before 1967 was out, Mark Lindsay had assumed production duties and the band had endured a significant personnel shift with no drop in quality.   Phil "Fang" Volk, Mike "Smitty" Smith and Drake "The Kid" Levin were out; Freddy Weller, Joe Correro, Jr. and Keith Allison were in.  (Allison and Lindsay, in particular, would form a strong songwriting team as part of The Raiders Mk. II.)  The tension offstage wasn't reflected in the music, however.  There are lighter pop moments and even psychedelic touches here that surely appealed to young fans of both Where the Action Is! and its Raiders-starring Saturday morning program, It's Happening! Though the television version of Lindsay's Happening '68 theme is happily included on The Essential, the band's "Action" (which played over the closing of each episode, as Freddy Cannon sang the original "Action" opening theme penned by Tommy Boyce and Steve Venet) is unfortunately missing from the otherwise solid track listing. It may be the set's only egregious omission. After a string of underperforming albums and singles rather unfairly criticized by the rock cognoscenti as too "bubblegum," the band had one last hurrah in a rapidly-altering radio climate thanks to the incredible success of John D. Loudermilk's "Indian Reservation." Recorded at the suggestion of Columbia staff producer Jack Gold, it became their first No.1 single in 1971 in large part thanks to a majestic arrangement and Lindsay's searing vocal.
Bob Irwin has remastered this collection for terrific sound, and a handful of key singles ("Louie, Louie," "The Great Airplane Strike," "Ups and Downs" and "Cinderella Sunshine" among them) are presented in their original mono mixes for the perfect AM radio experience. None of the band's pre-"Louie" recordings are included, and neither are Lindsay's solo hits like 1969's "Arizona."
The Essential Paul Revere and the Raiders, alas, isn't as comprehensive as Columbia's 1990 two-CD anthology The Legend of Paul Revere. That set featured an astounding 55 tracks versus this set's 36. The Legend, however, remixed many tracks including "Kicks," "Hungry" and "Good Thing" to disappointing results. In addition to presenting only the authentic original mixes, the sound on The Essential is far superior to that set, as well. Fans of the mono mixes are urged to seek out Collectors' Choice's three-CD Complete Columbia Singles (2010), truly manna for completists and mono buffs.
The final track on The Essential is 1972's "Song Seller," Jimmy Webb's frank lament about the music business, with the vocalist addressing the eponymous music plugger: "Why can't you get this record played?" The same year they recorded Webb's song, the Raiders recorded their final album to be released by Columbia, Country Wine. (The band had by then dropped Revere's name from the band masthead along with the Revolutionary War costumes!)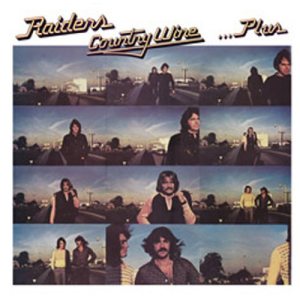 Country Wine makes its CD debut in an expanded edition from the Australian label Raven (RVCD-322), adding eleven tracks to the original album's ten. The title track (also heard on The Essential) is more slick pop than rock, but showing the group to be in step with the new decade. There's even a C&W leaning.  Lindsay's "Powder Blue Mercedes Queen," another Essential selection, couldn't be more different, with its crunchy riff and a wailing vocal almost verging on glam! "Hungry for Some Lovin'," not to be confused with Mann and Weil's "Hungry," was amazingly overlooked by radio despite another strong vocal and commercial melody. Despite the overall listenability of the album, it's clear that the band was still deciding which direction to pursue. "Baby Make Up Your Mind" could be a lost Turtles track, with a melodic influence of "Happy Together" detectable. "American Family," like past hit "Indian Reservation," offers a then-timely social comment.
Of the bonus tracks, seven are cuts recorded between 1972 and 1973 for an album that never materialized, including Webb's "Song Seller." Three of these tracks ("Tobacco Road," "Angel of Mercy" and "Chain of Fools") first appeared on The Legend of Paul Revere, and this CD marks the first time that so many of the lost album's tracks have been collected in one place. There's also a rollicking 1974 cover of Bob Dylan's "If I Had to Do It All Again (I'd Do It All Over You)" that was the Raiders' penultimate Columbia single; Dylan fans will no doubt enjoy this fun cut. Single A and B-sides round out the collection, including Dennis Lambert and Brian Potter's catchy "Love Music," also recorded by The Four Tops and Sergio Mendes and Brasil '77. Raven's edition has a fine four-page booklet with notes by compilation co-producer Ian McFarlane; mastering is by Raven's Warren Barnett.
Paul Revere and the Raiders, featuring Mark Lindsay, survived numerous personnel changes over the decade-plus that the group existed. The one constant was that the Raiders made some of the most enduring pop/rock music of the 1960s and early 1970s. If that era is "where the action is" for you (and you know who you are!), don't hesitate to pick up The Essential Paul Revere and the Raiders. For further exploration of a band in its final days as an active recording unit, Country Wine...Plus! rounds up a bigger chunk of the Raiders' released 1972-1974 output than any previous disc. Both titles should leave you hungry for more.