With another year rapidly drawing to a close, many fans were wondering if 2014 would bring another round of "copyright extension collections," i.e. releases designed to circumvent recent European Union copyright law.  The answer, of course, is "yes."  To greatly simplify, E.U. law now holds that a recording is protected for 75 years under copyright in the E.U. (the period previously was 50 years) but only if that recording has been released.  As a result of this change in law, the past couple of years have seen collections issuing rarities from Bob Dylan, The Beatles, the Motown family of artists and The Beach Boys, simply to keep these recordings in copyright.  Last year, Capitol issued The Big Beat 1963 with a number of Brian Wilson/Beach Boys titles.  Following suit, the label has today released two more Beach Boys titles.  1964: Keep an Eye on Summer has 46 session highlight and rarities – many of which have never even been bootlegged – while Live in Sacramento 1964 has the two full shows from which the original Beach Boys Concert LP was culled.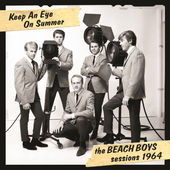 Mark Linett and Alan Boyd have produced these two new (and alas, digital-only) releases, and Linett has remastered all tracks.  Capitol/Brother Records has happily provided detailed liner notes, including comprehensive track-by-track annotations, at The Beach Boys' official website.  Boyd writes, in part, that "This new collection, made possible by the fact that the Beach Boys, starting in 1964, made a point of holding onto their work reels (and greatly enhanced by the recent recovery of some long lost tapes from the Shut Down Vol. 2 album sessions) shows the Beach Boys at their zenith, offering glimpses of the camaraderie, optimism and high spirits behind the creation of these timeless records, and highlighting the incredible vocal arrangements, compositional skills, and rapidly evolving production techniques that placed the Beach Boys and Brian Wilson at the forefront of pop music in 1964 and for all time."
Linett adds, "On this set we've presented highlights from many of the group's sessions during 1964, mostly previously unreleased (even on those 'unofficial' discs often found at record shows). As someone who has been listening to, archiving and mixing the group's recordings for nearly thirty years, it was exciting for me to hear these newly discovered sessions for the first time. They fully demonstrate that the Beach Boys were great musicians as well as singers and that, contrary to popular opinion, they played on most of their records, with the occasional addition of members of the 'wrecking crew.'"
After the jump, we have more details and the complete track listings for both titles!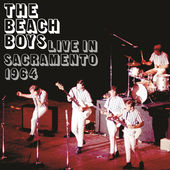 On Keep an Eye on Summer, you'll hear session highlights, a cappella tracks and various mixes of songs like "Fun, Fun, Fun," "Don't Worry, Baby," "I Get Around" and "All Summer Long."  Dick Reynolds' original orchestrations also been unearthed for "Jingle Bells" and "Christmas Eve," both recorded but unused for The Beach Boys' Christmas Album, and other highlights include Larry Denton's "Endless Sleep,"  produced by Brian, a true stereo version of the "Drive-In" version of "Little Saint Nick," a new mix of an early Nashville recording of "Dance, Dance, Dance," and a handful of live-at-the-BBC tracks from November 1964.  A few of these tracks have previously appeared on collections like the Made in California box set.  The concert release features two complete shows from Sacramento's Memorial Auditorium plus a couple of rehearsal tracks.
Both of these collector-aimed Beach Boys releases are available now on iTunes.  Although iTunes does not have a digital booklet, liner notes and sessionography can be found at TheBeachBoys.com.  See below for full track listings!
The Beach Boys, The Beach Boys 1964: Keep an Eye on Summer (Capitol/Brother, 2014) (iTunes)
Fun Fun Fun (Session Highlights and Stereo Mix) (7:39)
Fun Fun Fun (A Capella) (2:23)
Fun, Fun, Fun (2013 Stereo Mix) (2:14)
Why Do Fools Fall In Love (Session Highlights and Stereo Mix) (4:59)
Why Do Fools Fall In Love (New Stereo Mix) (2:09)
Don't Worry Baby (Session Highlights and Instrumental Mix with Backing Vocals) (4:42)
Don't Worry, Baby (2009 Stereo Mix) (2:50)
In The Parkin' Lot (Session Highlight and A Capella Mix) (4:38)
Warmth of the Sun (Session Highlights and Instrumental Mix with Backing Vocals) (5:09)
Warmth of the Sun (2012 Stereo Mix) (3:03)
Pom Pom Play Girl (Session Highlights and Instrumental Mix with Backing Vocals) (4:54)
Pom Pom Play Girl (New Stereo Mix) (1:33)
Denny's Drums (Session Highlight and Alternate Take) (3:23)
Keep An Eye On Summer (Instrumental Mix with Backing Vocals) (2:28)
Endless Sleep (Larry Denton Vocal) (2:32)
I Get Around (Session Highlight and Instrumental Mix with Backing Vocals) (5:34)
I Get Around (A Capella) (2:16)
All Summer Long (Session Highlights and Stereo Mix) (4:46)
All Summer Long (A Capella) (2:19)
All Summer Long (2007 Stereo Mix) (2:09)
Hushabye (Instrumental Mix with Backing Vocals) (2:42)
Girls On The Beach (Alternate Vocal Session Highlights and Master A Capella Mix) (5:27)
Wendy (Vocal Session Highlights and A Capella Mix) (4:40)
Don't Back Down (Alternate Version Session Highlight and New Stereo Mix) (2:04)
Little Saint Nick (Drive In) (Vocal Session Highlights and New Stereo Mix) (3:21)
Untitled Jam/Let's Live Before We Die (Session Highlights and Instrumental) (3:24)
Little Honda (Alternate Version Session Highlight and New Stereo Mix) (2:46)
Little Honda (Unreleased Single Mix) (1:52)
She Knows Me Too Well (Vocal Session Highlight and Track with Backing Vocals) (2:43)
She Knows Me Too Well (A Capella) (2:46)
Don't Hurt My Little Sister (Session Highlight and A Capella Mix) (2:36)
Christmas Eve (Instrumental Mix) (3:09)
Jingle Bells (Instrumental Mix) (2:33)
When I Grow Up (A Capella) (2:11)
Fun Fun Fun (Live) (2:17)
I Get Around (Live) (2:16)
I'm So Young (Alternate Version Session Highlight and New Stereo Mix) (4:02)
All Dressed Up For School (Session Highlights and New Stereo Mix) (3:47)
Dance Dance Dance (Alternate Version New Stereo Mix) (2:05)
Dance Dance Dance (Session Highlights and Instrumental Mix) (4:44)
Dance Dance Dance (A Capella) (2:06)
I Get Around (Live BBC 1964) (2:02)
The Little Old Lady From Pasadena (Live BBC 1964) (3:07)
Graduation Day (Live BBC 1964) (2:14)
Surfin' USA (Live BBC 1964) (2:24)
Johnny B Goode (Live Single Mix) (1:52)
The Beach Boys, Live in Sacramento 1964 (Capitol/Brother, 2014) (iTunes)
First Show:
Little Honda
Papa-Oom-Mow-Mow
The Little Old Lady from Pasadena
Hushabye
Hawaii
Let's Go Trippin'
The Wanderer
Surfer Girl
Monster Mash
Be True to Your School
Graduation Day
Surfin' USA
Don't Back Down
Don't Worry Baby
Wendy
I Get Around
Fun, Fun, Fun
Second Show:
Concert Intro
Little Honda
Fun, Fun, Fun
The Little Old Lady from Pasadena
Hushabye
Hawaii
Let's Go Trippin'
The Wanderer
Wendy
Monster Mash
Surfer Girl
Be True to Your School
Graduation Day
Surfin' USA
Don't Back Down
Don't Worry Baby
I Get Around
Papa-Oom-Mow-Mow (Encore)
Little Honda (Rehearsal)
Papa-Oom-Mow-Mow (Rehearsal)