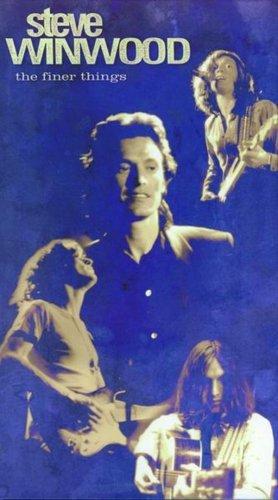 As many of our readers know, Island released a new-ish Steve Winwood box set, Revolutions: The Very Best of Steve Winwood. I say "new-ish" because the offerings weren't terribly different from the last expansive anthology of Winwood material, 1995's The Finer Things. Predictably, the set didn't do terribly well - a shame because Winwood is a solid, enjoyable performer to listen to, but simultaneously not a shame since it doesn't offer enough new stuff for catalogue enthusiasts to savor.
But the single-disc version of the set is actually pretty darn good for the budding Winwood fan. There aren't many single-disc anthologies of the man's entire career; 1987's Chronicles only focused on the past decade of solo Winwood, an entry in Universal's 20th Century Masters series covered Winwood's best work with The Spencer Davis Group, Blind Faith and Traffic but nothing else, and the U.K. import The Ultimate Collection, while comprehensive, was three discs. You might as well buy one of the box sets if that's your alternative.
So what would one compare the Revolutions disc to? Your catalogue correspondent has but one answer, and it's not a common one. When The Finer Things was released in 1994, Island and Chronicles (now Universal Music Enterprises) issued a promo disc taking the best of the box and distilling it to a single disc. It may be unfair to compare a public compilation to a non-commercial promo, but it's not terribly hard to find on the secondary market. Thus, The Second Disc shall now attempt to answer which of these sets the budding Winwood fan should seek. All shall be revealed after the jump.
What songs are on both discs?
Technically, nine of the 15 tracks on The Finer Things promo appear on Revolutions. Not all of them are the same length or mix, but we'l get to that. The Spencer Davis Group's classic "Gimme Some Lovin'" appears on both sets, as does Blind Faith's "Can't Find My Way Home." Traffic cuts make up the majority of The Finer Things promo; three of those tunes ("Dear Mr. Fantasy," "Forty Thousand Headmen," "The Low Spark of High-Heeled Boys") appear on both sets. All four solo hits on the promo disc ("While You See a Chance," "Higher Love," "Back in the High Life Again," "Roll with It") appear on Revolutions as well.
What vault content is there?
Each disc has what counts as one new (or then-new) track. The Finer Things promo disc had an electric version of Blind Faith's "Can't Find My Way Home" (later released on the deluxe edition of the Blind Faith album), while Revolutions offers a rootsy new recording of "Spanish Dancer." Frustratingly, both tracks are edited on these discs (but not on the box sets, of course).
Any different mixes or edits?
While most of the tracks on the promo disc use album versions, Revolutions uses a couple single versions that aren't always common on CD. "Back in the High Life Again" and "Roll with It" are radio edits on both discs, but the new compilation offers the original single edit of "While You See a Chance" (which is nice to have on CD, even if the edit is hilariously, noticeably terrible) and the radio edits of "The Finer Things" and "Dirty City," from Winwood's Nine Lives (2008). The single mix of "Don't You Know What the Night Can Do?" is also present.
Noticeable, unusual mix/edit details: "Valerie," present on Revolutions, uses the original LP version and not the overdubbed version from Chronicles that was a U.S. Top 10 hit. There's an eight-second difference between each disc's version of "Low Spark," but these middling ears can't tell much of a difference. (There has been talk that Revolutions has an alternate mix. Furthermore, the packaging of Revolutions lists this version as an edit - if that's the case, there's not much to be had there.)
What's the packaging like?
This author's version of the promo came in a glossy, book-sized paper sleeve with promotional info about The Finer Things box and a few notes on the intended marketing of the album, which is neat if you're into that sort of thing. Revolutions has a concise essay and an admittedly neat design, with various Winwood-related ephemera spilling around the edge of the pages of the booklet like someone's record collection fell out of a box. Note that there's a pic toward the end of the booklet of Winwood with a young-ish Michael Jackson! (Although a bit of a gripe with both sets - particularly Revolutions - for missing a few edit/mix notes here and there.)
How's the remastering?
This isn't your correspondent's strong suit, but Revolutions works out like most catalogue projects nowadays - could be better, could be worse (i.e.: not as compressed as one might think but not terribly loud).
Final thoughts: If you're just starting out with a Winwood collection or looking for a few harder-to-find single versions, go for Revolutions. The Finer promo, when you can find it on eBay or Amazon, will satiate you a bit more as a throwback road mix, leaning more on Traffic and before than the slick, synth-soul-pop of Winwood's solo career. If you have enough of the albums - or The Finer Things box itself - just download "Spanish Dancer 2010" and call it a day.