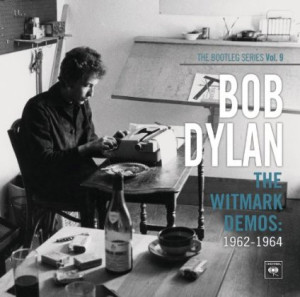 On July 30, The Second Disc reported on Bob Dylan: The Original Mono Recordings and the ninth volume of Dylan's acclaimed Bootleg Series, both due in stores on October 19. Well, Volume 9 has an official name and an official track listing. The Bootleg Series Volume 9: The Witmark Demos 1962-1964 will contain a whopping 47 songs (plus one fragment) recorded by Hibbing, Minesota's favorite son in demo form not only for M. Witmark & Sons, but for Leeds Music as well. 15 songs were recorded exclusively in demo form and make their debut here; the 2-CD set is topped off with a deluxe booklet containing rare photographs of Dylan from this period as well as notes by Colin Escott, a music historian and Tony Award-nominated playwright for Broadway's current hit Million Dollar Quartet.
The updated track listing reveals some shifts in song order. In addition, a few songs not previously thought to be included will appear, such as "Blowin' in the Wind," "Long Ago, Far Away" and "Walls of Red Wing." (Of course, there are still some songs missing that have been attributed to this period, but this treasure trove is nonetheless quite comprehensive.)
The Witmark Demos will be made available not only on CD, but as a 4-LP set. CD box set The Original Mono Recordings will also be released as a 9-LP set for those who missed out on pristine mono vinyl LPs of these albums the first time around! Dylan's official site is offering a number of pre-order bundles for both The Witmark Demos and The Original Mono Recordings; these exclusive bundles feature T-shirts and posters. You can check those out here, and then click on the jump for the official, updated track listing to The Witmark Demos.
Bob Dylan, The Bootleg Series Vol. 9: The Witmark Demos 1962-1964 (Columbia, 2010)
CD 1
Man on the Street (Fragment)
Hard Times in New York Town
Poor Boy Blues
Ballad for a Friend
Rambling, Gambling Willie
Talking Bear Mountain Picnic Massacre Blues
Standing on the Highway
Man on the Street
Blowin' in the Wind
Long Ago, Far Away
A Hard Rain's A-Gonna Fall
Tomorrow is a Long Time
The Death of Emmett Till
Let Me Die in My Footsteps
Ballad of Hollis Brown
Quit Your Low Down Ways
Baby, I'm in the Mood for You
Bound to Lose, Bound to Win
All Over You
I'd Hate to Be You on That Dreadful Day
Long Time Gone
Talking John Birch Paranoid Blues
Masters of War
Oxford Town
Farewell
CD 2
Don't Think Twice, It's Alright
Walkin' Down the Line
I Shall Be Free
Bob Dylan's Blues
Bob Dylan's Dream
Boots of Spanish Leather
Walls of Red Wing
Girl From the North Country
Seven Curses
Hero Blues
Whatcha Gonna Do
Gypsy Lou
Ain't Gonna Grieve
John Brown
Only a Hobo
When the Ship Comes In
The Times They Are A-Changin'
Paths of Victory
Guess I'm Doing Fine
Baby Let Me Follow You Down
Mama, You Been on My Mind
Mr. Tambourine Man
I'll Keep It with Mine
CD 1, Tracks 1-8, Leeds Music Demos, New York City, February 1962
CD 1, Track 9, New York City, June 1962
CD 1, Track 10, New York City, November 1962
CD 1, Tracks 11-17, New York City, December 1962
CD 1, Tracks 18-20, 22, 25, New York City, Winter 1963
CD 1, Track2 21, 23-24 & CD 2, Tracks 1-2, New York City, March 1963
CD 2, Tracks 3-6, New York City, April 1963
CD 2, Track 7 possibly Columbia Recording Studio outtake, New York City, April 1963
CD 2, Tracks 8-10, New York City, May 1963
CD 2, Tracks 11-17, New York City, September 1963
CD 2, Track 18, New York City, December 1963
CD 2, Tracks 19-20, New York City, January 1964
CD 2, Tracks 21-23, New York City, May/June 1964
All recordings are Witmark recordings/demos unless otherwise indicated. All information is to the best of our knowledge, as there are variances in available discographies.