When you feel down - regardless of your gender - you probably have some sort of ritual that gets you through your funk. This has become almost a cliche among the fairer sex; almost too easily conjured is the image of girls watching The Notebook while wearing comfortable sweatpants and eating some Haagen-Dazs ice-cream for comfort. I can at least empathize with the film aspect of that cliche, although my "comfort film" involves Bill Paxton, Helen Hunt and a nightmarish load of property damage.
That's right - for some reason, Twister (1996) is a film that oddly captivates and keeps me upbeat no matter when or where it happens to be playing. In a strange way, the movie seemed to do the same for lots of others. The film was the second highest-grossing of that year and helped kick off a second wave of disaster movies - a genre thought to have peaked in the 1970s. Other disaster films like Armageddon, Deep Impact, Dante's Peak, Volcano and even Hard Rain would be released to various levels of success in the two years after Twister, but there's something about the tornado film - its folky charm, its bizarre ensemble cast (including small turns by Alan Ruck (Ferris Bueller's Day Off), Cary Elwes (The Princess Bride) and Jami Gertz (Less Than Zero)), its screenplay by Jurassic Park author Michael Crichton and then-wife Anne-Marie Martin - that manages to captivate more than any of the other late '90s disaster flicks. (It's also the only one among that crop to receive its own theme park attraction.)
There's also a surprisingly good amount of things to say about the music. The pop soundtrack, anchored by tracks from Mark Knopfler, Alison Krauss, The Goo Goo Dolls and The Red Hot Chili Peppers, was highlighted by two of the last notable songs by Van Halen. There was the main single "Humans Being," but there was also a much better instrumental between Eddie and Alex Van Halen entitled "Respect the Wind," which played over the end credits. (Reportedly, "Respect the Wind" was written because Eddie hated "Humans Being," which Sammy Hagar chiefly wrote. This led to the arguments that led to Hagar leaving the band, being temporarily replaced by David Lee Roth and then Extreme frontman Gary Cherone.)
And let's not forget the surprisingly solid orchestral score by Mark Mancina. The composer was relatively new to film composition but had already worked on several high-profile projects, including Speed (1994) (also directed by Twister director Jan De Bont) and Bad Boys (1995), as well as arrangements for Hans Zimmer's Oscar-winning score to The Lion King (1994). The score, with an almost darkly romantic theme and more than a few nods to American composer Aaron Copland, remains a favorite of both fans and the composer himself. (La La Land Records, which recently released Mancina's score to Speed 2: Cruise Control, has allegedly been at work overcoming legal hurdles to expand the long out-of-print score album, which commands high prices on the secondary market.)
Get sucked into the musical releases of Twister after the jump.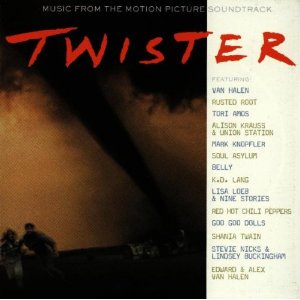 Various Artists, Twister: Music from the Motion Picture Soundtrack (Warner Bros. 9 46254-2, 1996)
Van Halen - Humans Being
Rusted Root - Virtual Reality
Tori Amos - Talula (BT's Tornado Mix)
Alison Krauss & Union Station - Moments Like This
Mark Knopfler - Darling Pretty
Soul Asylum - Miss This
Belly - Broken
k.d. lang - Love Affair
Nine Stories feat. Lisa Loeb - How
Red Hot Chili Peppers - Melancholy Mechanics
Goo Goo Dolls - Long Way Down
Shania Twain - No One Needs to Know
Stevie Nicks feat. Lindsey Buckingham - Twisted
Edward & Alex Van Halen - Respect the Wind
Track 2 later released on Remember (Mercury, 1996)
Original version of Track 3 from Boys for Pele (Atlantic, 1995)
Track 5 from Golden Heart (Warner Bros., 1996)
Track 9 later released on Firecracker (Geffen, 1997)
Track 10 was the B-side to "Warped" CD single (Warner Bros., 1995)
Track 11 from A Boy Named Goo (Warner Bros., 1995)
Track 12 from The Woman in Me (Mercury, 1995)
The only single released in conjunction with the album was "Humans Being," which never had a commercial single but did go to the top of the Modern Rock chart. There was also this rather plain video.
Mark Mancina, Twister: Motion Picture Score (Atlantic 9 82954-2, 1996)
Wheatfield
Where's My Truck?
Futility
Downdraft
Drive In
The Big Suck
Going Green
Sculptures
Cow
Ditch
Wakita
Bob's Road
We're Almost There
Dorothy IV
Mobile Home
God's Finger
William Tell Overture/Oklahoma Medley
Respect the Wind - Edward & Alex Van Halen