Back in May, The Second Disc did a Friday Feature on the chilling, iconic and somehow commercially unreleased score to Alfred Hitchock's Pyscho, written by Bernard Hermann. With Halloween approaching (and a killer screening of Psycho planned tonight at New York's Film Forum), what else is there to write about?
Those of you with particularly steel-trap-like memories may recall a set of sequels – sequels! – to the film, released in the 1980s. If that weren't inexplicable enough for you, they actually starred Anthony Perkins, reprising his role as the unhinged Norman Bates. Even weirder? Well…they actually weren't that terrible.
Read on…if you dare.
"It's 22 years later, and Norman Bates is coming home." That was the tagline for Universal's Psycho II, released in 1983 amid considerable fanfare. The film did indeed see Norman, finally cured of his insane, murderous urges, attempting to reintegrate himself into society. But he starts getting strange calls and notes from someone claiming to be his mother – and then, more people start dying. Is Bates the victim, or has he gone a little mad yet again?
The very existence of the film had drawn considerable publicity from the get-go. Author Robert Bloch, who'd penned the 1959 novel that inspired Psycho, had written his own sequel in 1982, which saw Bates escaping from an insane asylum and being tailed to Los Angeles, where a big Hollywood film was being made about his crimes. It was a biting meta-critique of what was by now an endless, deathless genre; naturally, Universal hated it and elected to go with their own story. They spruced up the original Bates Motel sets (which still stand as a destination for the Universal Studios backlot tour, some 50 years later), cast original players Perkins and Vera Miles (as the sister of Janet Leigh's shower victim) and did everything in their power to ape Hitch's oft-aped directorial style.
One of the best choices made during production was the choice of Jerry Goldsmith as composer. Goldsmith was already a strong presence in the film score world, and was a good fit to emulate (if not replicate) Hermann's original, iconic, string-based themes from the original film. Precious little of this score was released on any format, and the CD has long since gone out of print. Fans anxiously wait on Varese Sarabande to revisit this score in an expanded presentation.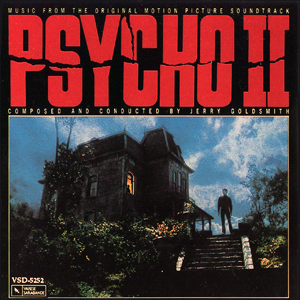 Jerry Goldsmith, Psycho II: Music from the Original Motion Picture Soundtrack (MCA Records 6119, 1983 – reissued Varese Sarabande VSD-5252, 2000)
The Murder *
Main Title
Don't Take Me
Mother's Room
It's Not Your Mother
New Furniture
The Cellar
Blood Bath
End Title
* features original themes by Bernard Hermann
Such was the success of Psycho II that a sequel was set up from the last reel. Of course, this one wasn't nearly as inspired – it suffered from a stiffer direction by Perkins himself, who yet again played the beleaguered Bates – but it did have some of the most unorthodox music to ever grace a Psycho film. The score was heavily electronic-based, and mostly performed by a then-unknown Carter Burwell. This film marks the composer's second film credit; his first was Blood Simple, the directorial debut of Joel and Ethan Coen. (The Coen Brothers have since collaborated with Burwell on every one of their films.) Burwell recruited some interesting collaborators, including vocalist Stanton Miranda (his collaborator in the band Thick Pigeon), saxophonist David Sanborn and Madonna producer Stephen Bray.
Carter Burwell, Psycho III: Music from the Motion Picture (MCA Records 6174, 1986)
Scream of Love – Carter Burwell, Stephen Bray and David Sanborn
Maureen in the Desert
Dirty Street – Stanton Miranda
Before and After Shower
Warm As a Cry for Help
Sisters/Catherine Mary – Stanton Miranda
Mother?
Bad Boys and Body Bags
Revenge of a Thankless Child
Electroshock Waiting Room
The craziest artifact from Psycho III was a 12″ single (MCA Records 23648, 1986) with remixes of "Scream of Love" done by Arthur Baker! A video was even commissioned, with Perkins gamely promoting it on MTV. (This is perhaps the most bizarre trick or treat you'll receive for Halloween.)
While the Psycho legacy continued with a whimper – a 1987 TV-movie, Bates Motel, was not picked up for a series and Psycho IV: The Beginning was only ever aired on pay cable (despite Perkins' commanding final film performance and a script from original Psycho scribe Joseph Stefano) – we at least have these audio treasures to look back on, while still remembering that there's nothing quite like that first, original film that scares us some five decades later.