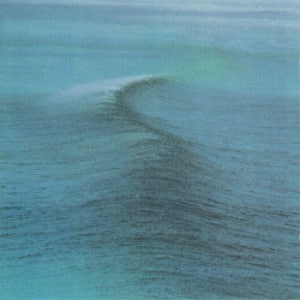 Another deluxe title is on its way from Rhino Handmade next month, and it's a good one for any shoegaze fans out there: Pitchfork reports that the label is reissuing Nowhere, the debut LP by Ride, for its 20th anniversary.
Ride were a British alt-rock band in the tradition of The Cocteau Twins, The Jesus and Mary Chain and My Bloody Valentine. All of those outfits were deemed "shoegaze" bands by the British music press, a term which would describe bands heavy on distorted but melodic guitars. (Some say the term itself came from most of those bands' postures, which were still and introspective as the band focuses intently on their instruments; others say it came from the heavy usage of effects pedals, which are of course placed on the ground for guitarists to manipulate with their feet.)
Whatever the origin, Ride, hailing from Oxford, are considered one of the best-loved bands from the subgenre. Nowhere, a Top 20 U.K. hit which followed three successful EPs, is considered by some critics to be second only to My Bloody Valentine's Loveless as the best example of the scene and its sound. Ironically, Ride would spend the rest of their careers attempting to leave that label behind, experimenting with power-pop and AOR styles before splitting in 1996. The band briefly reunited in 2001 and its members have worked together since, but each has enough projects on their plates to never have to worry about a proper reunion: drummer Laurence Colbert has lent his skills to the recently-reformed Jesus and Mary Chain, vocalist Mark Gardener has eked out a moderately successful solo career, and guitarist Andy Bell became the bassist for Oasis in 2000. (He remains a member of Noel Gallagher-less splinter group Beady Eye, who recently released their first single.)
This deluxe edition of Nowhere features one disc of the original LP and the extra tracks from EPs Fall and Today Forever. (The Fall tracks were added as extra-value content on the original CD version of the album; the Today Forever EP was appended to the album for a 2001 remaster on Ignition Records in England.) It also features a bonus disc of a live show at Hollywood's Roxy Theatre, which was only ever released in part on a promotional disc. The deluxe packaging includes a lenticular version of the album cover and an essay by noted critic Jim DeRogatis.
The whole set will be available on December 21. (You can order it from Rhino now.) Hit the jump to read the track list.
Ride, Nowhere: 20th Anniversary Edition (Rhino Handmade, 2010)
Disc 1: Nowhere and Today Forever
Seagull
Kaleidoscope
In a Different Place
Polar Bear
Dreams Burn Down
Decay
Paralysed
Vapour Trail
Taste
Here and Now
Nowhere
Unfamiliar
Sennen
Beneath
Today
Disc 2: Live at the Roxy, 1991
Polar Bear
Seagull
Unfamiliar
Dreams Burn Down
Like a Daydream
Vapour Trail
In a Different Place
Perfect Time
Taste
Nowhere
Chelsea Girl
Drive Blind
Disc 1, Tracks 1-8 released as Ride (Creation CRE-LP-074 (U.K.), 1990)
Disc 1, Tracks 9-11 released as Fall (Creation CRE-087T (U.K.), 1990). Later added to CD pressings of Ride.
Disc 1, Tracks 12-15 released as Today Forever (Creation CRE-100T (U.K.), 1990)
Disc 2, Tracks 2, 4, 6-7, 10 and 12 released on "Kaleidoscope" U.S. promotional 12" single (Sire PRO-A-4961, 1990)
All other tracks on Disc 2 previously unreleased