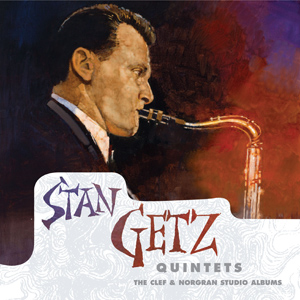 Hip-o Select kicks off 2011 with a new set of early works by Stan Getz.
Quintets: The Clef & Norgran Albums is three discs of Getz in his first recordings for Verve founder Norman Granz's earliest labels. Five 10″ LPs are represented here, alongside some single and EP tracks and three previously unreleased alternate takes. If you can believe it, the set marks the CD debut of much of this material as well.
Order the set from the label now and have a look at the track lists after the jump.
Stan Getz, Quintets: The Clef & Norgran Albums (Verve/Hip-o Select, 2011)
Disc 1
Stella by Starlight
Time on My Hands
'Tis Autumn
The Way You Look Tonight
Lover Come Back to Me
Body and Soul
Stars Fell on Alabama
You Turned the Tables on Me
Thanks for the Memory
Hymn of the Orient
These Foolish Things (Remind Me of You)
How Deep is the Ocean?
Have You Met Miss Jones?
Erudition
Cool Mix
Rustic Hop
Love and the Weather
Spring is Here
Crazy Rhythm
Disc 2
Willow Weep for Me
The Nearness of You
Pot Luck
Minor Blues
Fascinatin' Rhythm
I Don't Know What Time It Was
Tangerine
Pot Luck (Single Version)
It Don't Mean a Thing (Alternate Version)
I Hadn't Anyone 'Til You
Down by the Sycamore Tree
With the Wind and the Rain in Your Hair
Nobody Else But Me
I Hadn't Anyone 'Til You (Alternate Version)
Nobody Else But Me (Alternate Version)
Disc 3
It Don't Mean a Thing
The Varsity Drag
Give Me the Simple Life
Oh, Jane Snavely
I'll Remember April
We'll Be Together Again (EP Version)
We'll Be Together Again (LP Version)
Feather Merchant
Flamingo
Blue Bells
Round Up Time
Disc 1, Tracks 1-8 from Stan Getz Plays (Norgran MGN-1042, 1952)
Disc 1, Tracks 9-16 from The Artistry of Stan Getz (Clef MGC-143, 1953)
Disc 1, Track 17-19 and Disc 2, Tracks 1-3 from Interpretations by The Stan Getz Quintet (Norgran MGN-1000, 1953)
Disc 2, Tracks 4-7 from Interpretations by The Stan Getz Quintet #2 (Norgran MGN-1008, 1953)
Disc 2, Track 8 from Norgran single 106, 1953
Disc 2, Tracks 9 and 14-15 previously unreleased
Disc 2, Tracks 10-11 from Norgran single 119, 1954
Disc 2, Tracks 12-13 from Norgran single 139, 1954
Disc 2, Tracks 1-5 from Interpretations by The Stan Getz Quintet #3 (Norgran MGN-1029, 1953)
Disc 3, Track 6 from Stan Getz at The Shrine EP (Norgran EPN-2001, 1954)
Disc 3, Tracks 7-8 from Stan Getz at The Shrine LP (Norgran MGN-2000-2, 1954)
Disc 3, Tracks 9-11 from Stan Getz and the Cool Sounds (Verve MGV-8200, 1955)