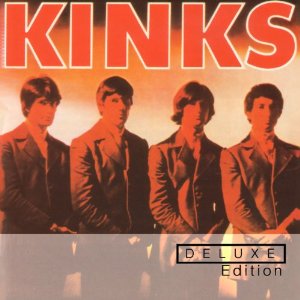 The other day we'd mentioned that The Kinks' first three U.K. albums were being expanded across the pond. Amazon's U.K. pages had track listings for the double-disc sets, but there wasn't much in the way of annotations. If a song popped up twice, was it an alternate mix? A live version? A demo? We didn't know, so we didn't say much.
Now, U.K. site Spin CDs has put up track listings for Kinks, Kinda Kinks and The Kink Kontroversy, and while there's still a small bit of speculation to be had, the track lists seem clear enough that The Second Disc feels comfortable enough to report on it.
In traditional Universal form, the deluxe editions look pretty hefty, if not bursting with unheard gems. Generally, each album is presented with one disc of the original LP and another of non-LP singles and B-sides, demos, outtakes and live BBC sessions. (Kinks is presented differently, having both a mono and stereo mix available.) Many of the bonus cuts have been presented elsewhere, from the Castle reissues that were released in England in the late 1990s to 2008's massive Picture Book box set. A couple of alternate versions and a few of the BBC tracks are presented for the first time anywhere on these sets, as you'll see below.
Ordering info and the full track lists are after the jump. Of course, if you see anything that should be changed, let us know in the comments.
The Kinks, Kinks: Deluxe Edition (Sanctuary/Universal (U.K.), 2011)
Disc 1: Mono LP, singles and extra tracks
Beautiful Delilah
So Mystifying
Just Can't Go to Sleep
Long Tall Shorty
I Took My Baby Home
I'm a Lover Not a Fighter
You Really Got Me
Cadillac
Bald Headed Woman
Revenge
Too Much Monkey Business
I've Been Driving on Bald Mountain
Stop Your Sobbing
Got Love If You Want It
I Believed You (Demo)
I'm a Hog for You Baby (Demo)
I Don't Need You Any More
Ev'rybody's Gonna Be Happy (Alternate)
Long Tall Sally
You Still Want Me
You Do Something to Me
It's All Right
All Day and All of the Night
I Gotta Move
Louie Louie
I've Got That Feeling
I Gotta Go Now
Things Are Getting Better
Disc 1, Tracks 1-14 from Pye LP NPL 18096 (U.K.), 1964
Disc 1, Tracks 15-16 from Picture Book (Sanctuary/Universal 5313049 (U.K.), 2008
Disc 1, Track 17 was a bonus track on Essential/Castle Communications reissue (ESM CD 482), 1998
Disc 1, Track 18 previously unreleased
Disc 1, Track 19 was a single A-side - Pye 7N 15611 (U.K.), 1964
Disc 1, Tracks 20-21 released as Pye single 7N 15636 (U.K.), 1964
Disc 1, Track 22 was the B-side to "You Really Got Me" - Pye 7N 15673 (U.K.), 1964
Disc 1, Tracks 23-24 from Pye single 7N 15714 (U.K.), 1964
Disc 1, Tracks 25-28 from Kinksize Session EP - Pye NEP 24200 (U.K.), 1964
Disc 2: Stereo LP, BBC sessions and extra tracks
Beautiful Delilah
So Mystifying
Just Can't Go to Sleep
Long Tall Shorty
I Took My Baby Home
I'm a Lover Not a Fighter
You Really Got Me
Cadillac
Bald Headed Woman
Revenge
Too Much Monkey Business
I've Been Driving on Bald Mountain
Stop Your Sobbing
Got Love If You Want It
Don't Ever Let Go
I Don't Need You Anymore (Mono)
Bald Headed Woman (U.S. Mono Mix)
Too Much Monkey Business (Alternate Take)
Got Love If You Want It (Alternate Take)
Meet The Kinks (BBC Session)
Cadillac (BBC Session)
Ray Talks About "You Really Got Me" (BBC Session)
You Really Got Me (BBC Session)
Little Queenie (BBC Session)
I'm a Lover Not a Fighter (BBC Session)
All Day and All of the Night (BBC Session)
Ray Talks About the USA (BBC Session)
I've Got That Feeling (BBC Session)
Disc 2, Tracks 1-14 released as Pye LP NSPL 83021 (U.K.), 1964
Disc 2, Tracks 15-16 from Picture Book (Sanctuary/Universal 5313049 (U.K.), 2008
Disc 2, Track 17 from You Really Got Me - Reprise R 6143 (U.S.), 1964
Disc 2, Track 18 was a bonus track on Essential/Castle Communications reissue (ESM CD 482), 1998
Disc 2, Tracks 19, 24-25 and 28 previously unreleased
Disc 2, Tracks 20-23 and 26-27 from BBC Sessions 1964-1977 - Sanctuary SANDD010 (U.K.), 2001
The Kinks, Kinda Kinks: Deluxe Edition (Sanctuary/Universal (U.K.), 2011)
Disc 1: Original LP (released as Pye NPL 18112 (U.K.), 1965)
Look for Me Baby
Got My Feet on the Ground
Nothin' in the World Can Stop Me Worryin' 'Bout That Girl
Naggin' Woman
I Wonder Where My Baby is Tonight
Tired of Waiting for You
Dancing in the Street
Don't Ever Change
Come On Now
So Long
You Shouldn't Be Sad
Something Better Beginning
Disc 2: Singles, demos and BBC sessions
Ev'rybody's Gonna Be Happy
Who'll Be the Next in Line
Set Me Free
I Need You
See My Friends
Never Met a Girl Like You Before
A Well Respected Man
Such a Shame
Wait Till the Summer Comes Along
Don't You Fret
I Go to Sleep (Demo)
When I See That Girl of Mine (Demo)
Tell Me Now So I'll Know (Demo)
A Little Bit of Sunlight (Demo)
There's a New World Just Opening for Me (Demo)
This I Know (Demo)
See My Friends (Alternate)
Come On Now (Alternate Vocal)
You Shouldn't Be Sad (BBC Session)
Tired of Waiting for You (BBC Session)
Ev'rybody's Gonna Be Happy (BBC Session)
This Strange Effect (BBC Session)
Hide and Seek (BBC Session)
Disc 2, Tracks 1-2 released as Pye single 7N 15813 (U.K.), 1965
Disc 2, Tracks 3-4 released as Pye single 7N 15854 (U.K.), 1965
Disc 2, Tracks 5-6 released as Pye single 7N 15919 (U.K.), 1965
Disc 2, Tracks 7-10 from Kwyet Kinks EP - Pye NEP 24221 (U.K.), 1965
Disc 2, Track 11 was a bonus track on Essential/Castle Communications reissue (ESM CD 483), 1998
Disc 2, Track 12 was a bonus track on Essential/Castle Communications reissue of The Kink Kontroversy (ESM CD 507), 1998
Disc 2, Track 13, 17-19 and 23 previously unreleased
Disc 2, Tracks 14-16 from Picture Book (Sanctuary/Universal 5313049 (U.K.), 2008
Disc 2, Tracks 20-22 from BBC Sessions 1964-1977 - Sanctuary SANDD010 (U.K.), 2001
The Kinks, The Kink Kontroversy: Deluxe Edition (Sanctuary/Universal (U.K.), 2011)
Disc 1: Original LP (released as Pye NPL 18131 (U.K.), 1965)
Milk Cow Blues
Ring the Bells
Gotta Get the First Plane Home
When I See That Girl of Mine
I Am Free
Till the End of the Day
The World Keeps Going Round
I'm on an Island
Where Have All the Good Times Gone
It's Too Late
What's in Store for Me
You Can't Win
Disc 2: Demos, outtakes and BBC sessions
Dedicated Follower of Fashion
Sittin' on My Sofa
I'm Not Like Everybody Else
Mr. Reporter (Outtake)
Dedicated Follower of Fashion (Alternate Stereo Take)
Time Will Tell (Outtake)
And I Will Love You
I'm Not Like Everybody Else (Alternate Vocal)
All Night Stand (Demo)
Milk Cow Blues (BBC Session)
Ray Talks About Songwriting (BBC Session)
Never Met a Girl Like You Before (BBC Session)
Wonder Where My Baby is Tonight (BBC Session)
Pete Talks About Records (BBC Session)
Till the End of the Day (BBC Session)
A Well Respected Man (BBC Session)
Disc 2, Tracks 1-2 released as Pye single 7N 17064 (U.K.), 1966
Disc 2, Track 3 was the B-side to "Sunny Afternoon" - Pye 7N 17125 (U.K.), 1966
Disc 2, Tracks 4, 6-7 and 9 from Picture Book (Sanctuary/Universal 5313049 (U.K.), 2008
Disc 2, Track 5 was a bonus track on Essential/Castle Communications reissue (ESM CD 507), 1998
Disc 2, Tracks 8, 12 and 16 previously unreleased
Disc 2, Tracks 10-11 and 13-15 from BBC Sessions 1964-1977 - Sanctuary SANDD010 (U.K.), 2001