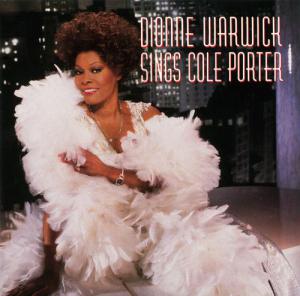 Cherry Red's got soul.
Mike and I reported last week on the impressive slate planned by Cherry Red's Big Break Records label. A smaller yet equally rich line-up is on the way from another Cherry Red division, Soulmusic.com Records.On February 14 in the U.K. and one week later stateside, the label will reissue five classic albums from a trio of accomplished vocalists: Nancy Wilson, Dionne Warwick and Natalie Cole.
Perhaps most exciting is the two-on-one CD release of Wilson's 1974 Capitol LP All in Love is Fair and its follow-up, 1975's Come Get to This. After a successful career at Capitol as a premier jazz vocalist interpreting many great standards and songbooks from both Broadway and Hollywood, Wilson began experimenting with more modern sounds. While some of her late-'60s efforts consisted of the titles being covered by so many of her contemporaries ("Spinning Wheel," "By the Time I Get to Phoenix," "Little Green Apples"), she hit her soulful stride with 1970's Now I'm a Woman. For that LP, she set up shop with Gamble and Huff in Philadelphia. Thom Bell notably contributed his typically-lush and sophisticated charts, and Wilson effortlessly matched them with her vocals. After that significant effort, Wilson's repertoire continued to include both jazz-leaning "adult" pop and more recent songs, setting her up for the triumph of All in Love is Fair. Working with Larkin Arnold, the head of Capitol's Black Music department, Wilson teamed with arranger Gene Page for this successful album and its follow-up. Wilson and Page returned to Thom Bell's catalogue with "You're as Right as Rain," which scored Wilson her first Top Ten R&B hit in a decade, and turned to Stevie Wonder for the supreme title track. The following year's Come Get to This featured a Marvin Gaye title song and a beautiful reworking of James Taylor's "Don't Let Me Be Lonely Tonight." Clearly Miss Wilson had found her groove. Both of these albums have been long unavailable, making this a must-own for fans of Wilson, Page or classic soul. (Now can we please get Now I'm a Woman reissued on CD? Pretty please?)
Catch up with Dionne Warwick and Natalie Cole after the jump, along with full specs and track listings for each release!
By the 1990s, Dionne Warwick had followed in the footsteps of other Arista artists such as Barry Manilow in being encouraged by label head Clive Davis to record "concept albums" of genre music. Two of these projects are being collected as a double-CD set by Soulmusic.com, Dionne Warwick Sings Cole Porter and Aquarela Do Brasil. While Manilow obliged Arista with tributes to the Broadway musical, the swing era and the smoky jazz clubs of New York's 52nd Street, Warwick first turned her attention (long before Rod Stewart, also under Davis' guidance) to standards. And where better to start than with the Cole Porter songbook? With producers Burt Bacharach and Hal David, Warwick had already wrapped her distinct pipes around a number of American standards in the 1960s, so she was no stranger to Tin Pan Alley. This 1990 album was her first full effort in that direction, however. (Warwick will belatedly follow up Sings Cole Porter this year with a Sammy Cahn tribute, due for release from Sony/RED.) Atlantic's guiding light Arif Mardin lent his expertise as producer, and Grover Washington, Jr. and Stanley Jordan guested. Following Porter, Warwick returned to wholly original material for the last time to date with 1993's Friends Can Be Lovers; this album also boasted the first composition by a newly-reunited Bacharach and David, "Sunny Weather Lover." (Perhaps this album will be the future recipient of a Soulmusic.com reissue.) With the success of that album, Warwick was able to record a disc that remains close to her heart. Aquarela Do Brasil was the result of Warwick's love affair with her adopted country of Brazil, and it would also turn out to be her final album for Arista. Recorded mainly in Rio with producer Teo Lima, this album introduced a new Bacharach song, "Capitives of the Heart," co-written with John Bettis. Warwick covered Jobim and Ellington, and even sang in Portuguese, on this vocal tour de force. While both Cole Porter and Aquarela are relatively easy to find here in America, Soulmusic.com's edition should hopefully introduce listeners unfamiliar with this era in Warwick's discography to two unique albums.
Finally, Soulmusic.com reissues as a 2-CD set Capitol's 1978 Natalie...Live!, the double-LP live album documenting Natalie Cole's stands at both Los Angeles' Universal Amphitheatre and Cherry Hill, New Jersey's Latin Casino in 1977 and 1978. Of course, Cole performed her own favorites in live arrangements (including "Mr. Melody," "Inseparable" and "This Will Be (An Everlasting Love)" but she also expanded her live set with a number of cover versions. Her take on The Beatles' "Lucy in the Sky with Diamonds" became an eight-minute soul explosion, while she also breathed new life into songs as diverse as Ray Evans and Jay Livingston's "Que Sera Sera," popularized by Doris Day, and the Janis Joplin-associated "Cry Baby," penned by Jerry Ragovoy and Bert Berns. Natalie...Live! has been out-of-print on CD for many years, and has been fetching exorbitant prices from secondhand sellers. Now may be the time for Cole fans to fill this gap in their collections at an affordable price.
Track listings with discographical information and pre-order links to Amazon U.S. follow!
Nancy Wilson, All in Love is Fair/Come Get to This (Soulmusic.com Records SMCR25010, 2011)
You're as Right as Rain
Try It, You'll Like It
There'll Always Be Forever
All in Love is Fair
Streetrunner
Ocean of Love
To Make It Easier on You
Tell The Truth
My Love
Come Get to This
All My Love Comes Down
Don't Let Me Be Lonely Tonight
If I Ever Lose This Heaven
Happy Tears
Houdini of the Midnite Hour
This Time Last Summer
He Called Me Baby
Like a Circle Never Stops
Boogeyin' All the Way
Tracks 1-9 from All in Love is Fair, Capitol ST 11317, 1974
Tracks 10-19 from Come Get to This, Capitol ST 11386, 1975
Dionne Warwick, Sings Cole Porter/Aquarela Do Brasil (Soulmusic.com Records SMCR5011D, 2011)
Disc 1: Dionne Warwick Sings Cole Porter (originally released as Arista ARCD-8573, 1990)
Night and Day
I Love Paris
I Get a Kick Out of You
What is This Thing Called Love/So in Love
You're the Top
I've Got You Under My Skin
Begin the Beguine
It's All Right with Me
Anything Goes
All of You
I Concentrate on You
Just One of Those Things
Night and Day (Jazz Version)
Disc Two: Aquarela Do Brasil (originally released as Arista ARCD-8777, 1994)
Jobim Medley
Virou Areia
Oh Bahia
Piano Na Mangueir
Captives of the Heart
Sambra Dobrado
Heart of Brazil
N'kosi Sikelel'l - Afrika/So Bashiya Bahala Ekhaya
Brazil (Aquarela Do Brasil)
Caravan
Flower of Bahia
10,000 Words
Natalie Cole, Natalie...Live! (Capitol SKBL 11709, 1978 - reissued Soulmusic.com Records SMCR5009D, 2011)
Disc 1
Sophisticated Lady (She's a Different Lady)
Que Sera Sera (Whatever Will Be, Will Be)
Lovers
I'm Catching Hell (Living Here Alone)
Mr. Melody
This Will Be (An Everlasting Love)
Party Lights
I've Got Love on My Mind
Disc 2
Lucy in the Sky with Diamonds
Inseparable
Cry Baby
Can We Get Together Again
I Can't Say No
Something's Got a Hold on Me
Be Thankful
Introduction
Our Love