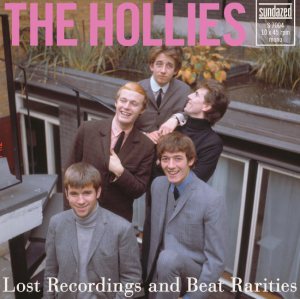 The Hollies have long existed in the shadow of Graham Nash's other band - you know, the one with two or three other initials. But the lineup of Nash, Allan Clarke, Tony Hicks and Bobby Elliot plus Eric Haydock or Bernie Calvert could be equally potent. And lately, The Hollies have been recipients of a lot of well-deserved love. First came last year's induction into the Rock and Roll Hall of Fame, and then Sundazed kicked off a vinyl campaign reissuing two of the band's hardest-to-find American LPs on the Imperial label. Just last week BGO released two more Imperial titles on one CD, and now Sundazed has announced an exciting new project: The Hollies - Lost Recordings and Beat Rarities!
This vinyl-only box set will collect 20 Hollies tracks across ten 7-inch vinyl singles, each with period-style label and individual picture sleeve. While the full track listing hasn't been announced yet, Sundazed has revealed on its Facebook page that the tracks will "range from hard-to-find U.S. and British singles and EPs to songs previously unissued on vinyl." Among these treasures are "(Ain't That) Just Like Me" b/w "Hey What's Wrong With Me," the band's first single released in May 1963, and uptempo, buoyant rockers like "Come on Back," "What Kind of Love" and "She Said Yeah." "Yes I Will," a direct-from-the-Brill-Building ballad by Gerry Goffin and Russ Titelman will be presented, along with the sinuous "Honey and Wine," written by Goffin and his usual collaborator, Carole King. "All the World is Love" is a psychedelic Clarke/Hicks/Nash original which was introduced as the B-side to "On a Carousel" on its February 1967 U.K. release.  Sundazed also promises "an impossible-to-find, spy-style double-sider the Hollies did for a 1967 Italian movie" (this single would appear to be "Kill Me Quick" b/w "We're Alive," both songs penned by Clarke, Hicks and Nash for the film Fai in Fretta ad Uccidermi…Ho Freddo!, known in English as Kill Me Quick...I'm Cold!) as well as unreleased tracks cut while on tour in New York City in 1965. (An April 27, 1965 trip to New York's Bell Studios yielded three tracks, "Listen Here to Me," "So Lonely" and "Bring Your Love Back to Me," all of which sat on a shelf until 2003's The Long Road Home box set.)  The Hollies' cover of the Beatles' "If I Needed Someone," tracked at Abbey Road, also makes an appearance.
So, is a CD release in the cards?  Hit the jump for an answer, straight from the fine folks at Sundazed.
Sundazed has addressed fan concerns about this box set's lack of availability in the CD format by confirming that "if it were simply that easy and possible to do a CD counterpart, OF COURSE we would do that. It's not like it's something WE didn't think of... The band and the label are supportive of our "unique" way of presenting this material."
Once Sundazed confirms the track listing for The Hollies - Lost Recordings and Beat Rarities, The Second Disc will provide it here. The box set is currently scheduled for April/May, and all tracks will be presented in their original mono mixes. There is a pre-order link currently up at Amazon, but the information is incorrect at present, showing a release date of February 22 (next week!). Hollies fans, start saving your pennies now.