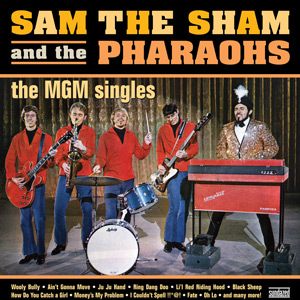 When it comes to the recent Phil Spector compilations, not everyone wants to go back to mono. But a pair of forthcoming compilations from Sundazed Music feature some vintage rock and country sounds presented in one channel. The label has prepped Sam the Sham and The Pharoahs' The Mono Singles and Sir Douglas Quintet's The Mono Single '68-'72, each encompassing a healthy amount of single A and B-sides for the two artists.
Known for his theatrical appearance - campily clad in a turban and a robe - the man born Domingo Samudio earned national acclaim as "Sam the Sham" in 1965, smack in the middle of the British invasion, with the No. 2 smash "Wooly Bully" for the MGM label. It became Billboard's top hit of the year - the first to have never actually topped the charts - and a handful of novelty singles followed, including another No. 2, "Li'l Red Riding Hood."
Though less of a notable name to casual chartheads, the Texas-based Sir Douglas Quintet crafted a unique, savory blend of traditional pop, rock and blues with Southwestern undertones. Notable tracks include "She's About a Mover" and Top 40 hit "Mendocino." This set isn't fully career-spanning, but it covers the band's formative years on the Smash, Philips and Mercury labels.
Both releases are directly sourced from the original analog masters and will be available in March. Hit the jump for track lists and order details!
Sam the Sham and The Pharoahs, The MGM Singles (Sundazed SC-11219, 2011)
Wooly Bully
Ain't Gonna Move
Ju Ju Hand
Big City Lights
Ring Dang Doo
Don't Try It
Red Hot
A Long Long Way
Li'l Red Riding Hood
Love Me Like Before
The Hair on My Chinny Chin Chin
(I'm in with) The Out Crowd
How Do You Catch a Girl
The Love You Left Behind
Oh That's Good, No That's Bad
Take What You Can Get
Black Sheep
My Day's Gonna Come
Banned in Boston
Money's My Problem
Yakety Yak - The Sam the Sham Revue
Let Our Love Light Shine - The Sam the Sham Revue
Old MacDonald Had a Boogaloo Farm
I Never Had No One
I Couldn't Spell !!*@!
The Down Home Strut
Fate - Sam the Sham
Oh Lo - Sam the Sham
Tracks 1-2 released as MGM single K-13322, 1965
Tracks 3-4 released as MGM single K-13364, 1965
Tracks 5-6 released as MGM single K-13397, 1965
Tracks 7-8 released as MGM single K-13452, 1966
Tracks 9-10 released as MGM single K-13506, 1966
Tracks 11-12 released as MGM single K-13581, 1966
Tracks 13-14 released as MGM single K-13649, 1967
Tracks 15-16 released as MGM single K-13713, 1967
Tracks 17-18 released as MGM single K-13747, 1967
Tracks 19-2o released as MGM single K-13803, 1967
Tracks 21-22 released as MGM single K-13863, 1967
Tracks 23-24 released as MGM single K-13920, 1968
Tracks 25-26 released as MGM single K-13972, 1969
Tracks 27-28 released as MGM single K-14642, 1973
Sir Douglas Quintet, The Mono Singles '68-'72 (Sundazed SC-11218, 2011)
Are Inlaws Really Outlaws
Sell a Song
Mendocino
I Wanna Be Your Mama Again
And It Didn't Even Bring Me Down
Lawd, I'm Just a Country Boy in This Great Big Freaky City
Dynamite Woman
Too Many Dociled Minds
At the Crossroads
Texas Me
Nuevo Laredo
I Don't Want to Go Home
Be Real - Wayne Douglas
I Don't Want to Go Home - Wayne Douglas
What About Tomorrow
(I Found Love) A Nice Song
Catch the Man on the Rise
Pretty Flower
Me and My Destiny
Wasted Days, Wasted Nights
Michoacan
Westside Blues Again
Tracks 1-2 released as Smash single 2169, 1968
Tracks 3-4 released as Smash single 2191, 1969
Tracks 5-6 released as Smash single 2222, 1969
Tracks 7-8 released as Smash single 2233, 1969
Tracks 9-10 released as Smash single 2253, 1969
Tracks 11-12 released as Smash single 2259, 1970
Tracks 13-14 released as Mercury single 73098, 1970
Tracks 15-16 released as Philips single 40676, 1971
Tracks 17-18 released as Philips single 40687, 1971
Tracks 19-20 released as Philips single 40708, 1972
Tracks 21-22 released as Mercury single 73257, 1972