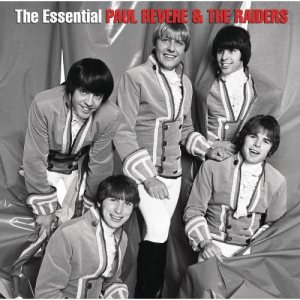 If you've been around Amazon lately, you might have known that the previously mentioned entry for Paul Revere & The Raiders in Legacy's Essential series has a track list.
The two-disc set is due out in two weeks, but fans have certainly been wondering what this set will have that others before it (namely Collector's Choice Music's three-disc Complete Columbia Singles) did not. The first blurb Legacy released about the product promised promo-only tracks and some mono single mixes, all curated by Bob Irwin of Sundazed Music. Of course, Amazon's track listing isn't going to point out the intricacies of each tune.
So we're going to do something a little different: the track list is after the jump, albeit without discographical comment. We can't differentiate which mixes are different, so for now we'll just give you the songs on each disc. Have at it in the comments!
Paul Revere & The Raiders, The Essential Paul Revere & The Raiders (Columbia/Legacy 88697 81565-2, 2011)
Disc 1
Louie, Louie
Over You
My Wife Can't Cook
Steppin' Out
Just Like Me
Ride Your Pony
Kicks
Shake It Up
Louie, Go Home
Hungry
The Great Airplane Strike
Louise
Good Thing
Ups and Downs
Him or Me - What's It Gonna Be?
Mo'reen
I Had a Dream
Goin' to Memphis
Disc 2
Do Unto Others
Peace of Mind
Too Much Talk
Happening '68
Don't Take It So Hard
Cinderella Sunshine
Mr. Sun, Mr. Moon
Let Me!
Freeborn Man
Judge GTO Breakaway
We Gotta All Get Together
Just Seventeen
Gone Movin' On
Indian Reservation (The Lament of the Cherokee Reservation Indian)
Birds of a Feather
Country Wine
Powder Blue Mercedes Queen
Song Seller