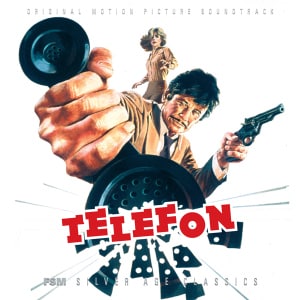 We've got some soundtrack news from all over the place to share with you today.
Film Score Monthly has prepped its latest release, a double-premiere of dramatic scores by Lalo Schifrin (for the 1977 Charles Bronson thriller Telefon) and Leonard Rosenman (for the 1980 James Caan vehicle Hide in Plain Sight). Rosenman's score is particularly notable on this disc, as almost none of it ended up in the final film. This set is limited to 2,000 copies.
The label has also announced their next few planned titles; label head Lukas Kendall promises the complete score to the 1964 sci-fi cult classic Robinson Crusoe on Mars in stereo later this month, and April will see a release of two TV-movie scores on one disc: Jerry Goldsmith's score to the The Homecoming: A Christmas Story (1971) (which was the pilot for the classic series The Waltons) and 1982's Rascals and Robbers: The Secret Adventures of Tom Sawyer and Huck Finn, scored by James Horner.
La-La Land has also discussed their next couple of titles: their next batch on March 15 is just one score, but a two-disc set (rumors are running high that it might be the long-promised scores to The Storyteller (1988) and Greek Myths (1990), two Emmy and BAFTA-winning programs created and produced by Jim Henson). Subsequent releases will include the promised Medal of Honor video game score box set (either slated for March 29 or April 12, pending artwork approval) and the long-awaited box set of music from The X-Files (slated for May).
Last, but certainly not least, the Perseverance label has scored a major soundtrack coup with the first legitimate release of Elmer Bernstein's score to Slipstream (1989), a sci-fi film directed by Steven Lisberger (TRON) and produced by Gary Kurtz (Star Wars). The disc presents the music as Bernstein personally edited and sequenced it for an intended but shelved soundtrack LP. This disc tops out at 3,000 units.
Track listing and order info for the FSM and Perseverance sets are after the jump!
Lalo Schifrin/Leonard Rosenman, Telefon / Hide in Plain Sight: Original Motion Picture Scores (Film Score Monthly Vol. 14, No. 4, 2011 - original films released 1977/1980)
Main Title
If That is So
Remember Nikulin
Dalchimsky/Remember Sobolev/Winter in Moscow
KGB Headquarters
Memorizing Montage/Father Diller
The Outer Leaf/Plotting in the Dark
I Killed for You
Remember Guriyeva/Detonating Device
Phone Booth/A Question of Credibility
Callender
After the Explosion
Lucky Girl
Remember Melikyan
The Woods Are Lovely/The Purse
Ten More Miles/End Credits
Cartoon Source
Untouchables (TV Source)
Tom Hides
Trailer
Tracks 1-17 from Telefon - music composed and conducted by Lalo Schifrin. Tracks 18-26 from Hide in Plain Sight - music composed and conducted by Leonard Rosenman.
Elmer Bernstein, Slipstream: Original Motion Picture Soundtrack (Perseverance PRD039, 2011 - original film released 1989)
Prologue and Pursuit
Escape
Dreams
Lost Android
Slipstream People
Avatar
Travel to Dance
Sacrifice
Museum Society
Android Love
Revenge and Resolution
All tracks on both sets previously unreleased.