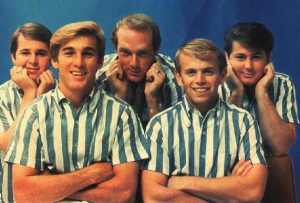 The story of The Beach Boys' 1967 SMiLE, often considered the greatest lost album of all time, has long been a story of heroes and villains. On February 3, the band's Al Jardine was a hero when he announced that SMiLE would finally be arriving in record stores everywhere later this year. The Second Disc duly passed this on before Jardine offered a bizarre quasi-retraction, likely at the behest of his record label, on February 14. Mastering engineer Steve Hoffman (who was worked with the Beach Boys' tapes on two audiophile editions of Pet Sounds) weighed in with his own comments, adding fuel to the fire. (Cue "Mrs. O'Leary's Cow.") Was there a villain involved in the on-again, off-again status of SMiLE? Yet in light of Capitol's announcement last Friday, there are only heroes. That was when the venerable label, part of the beleaguered EMI empire, confirmed that SMiLE would finally see release before the year is out. The fabled lost album will be found in three unique formats: a two-CD set, an iTunes LP, and a mega-box containing four CDs, two LPs and a 60-page hardbound book. Al Jardine merely let the cat out of the bag a month or so too early.
[polldaddy poll=4714075]
"Sure," I can hear some of you say with a note of sarcasm in your voices. Warner Bros. Records was counting on SMiLE seeing the light of day when it signed the Beach Boys in 1970 through their Brother imprint, with the album dangled like a carrot to fans throughout the decade. Work began on a possible issue in 1988. Capitol Records told Billboard in 1995 that a release was imminent and it, too, never materialized. But Bill Gagnon, GM and Senior VP of EMI Music North America's catalogue division emphatically told the trade journal on Friday, "The major thing in the past, I don't think we had support from all the band, and now we do. All parties are supporting it coming out. Everybody is onboard now." Supporting EMI's landmark announcement was the news that the related right-holders were also on board including music publishers Rondor Music (part of Universal Music Group), The Beach Boys' Brother Records and Brian Wilson himself. Via Capitol's official statement, SMiLE mastermind Wilson commented, "I'm thrilled that The Beach Boys' original studio sessions for SMiLE will be released for the first time, after all these years. I'm looking forward to this collection of the original recordings and having fans hear the beautiful, angelic voices of the boys in a proper studio release."
While details aren't finalized as to the track listing of the 2011 SMiLE, Mark Linett offered fans a number of tantalizing clues in an exclusive interview with Billboard. Linett, a Grammy nominee for his engineering of Brian Wilson's solo 2004 SMiLE, is co-producing the new release with Beach Boys archivist Alan Boyd. Hit the jump for a tour of the world of SMiLE 1967-2011. We'll fill you in on what's come before, and consolidate everything we know now about what's going to be a tough act to follow for catalogue music in 2011!
In short, SMiLE was intended as the follow-up to the Beach Boys' Pet Sounds. Producer, arranger and composer Brian Wilson enlisted Van Dyke Parks to supply lyrics for the album, scheduled for a January 1967 release. One song destined for SMiLE was released and became a million-selling single for the band, the "pocket symphony" known as "Good Vibrations." No less a luminary than Leonard Bernstein praised the music intended for SMiLE when Brian Wilson performed a stark, chilling rendition of "Surf's Up" on Bernstein's Inside Pop: The Rock Revolution television special. More than 400,000 album jackets were printed with Frank Holmes' now-iconic cover art, but SMiLE didn't arrive in January 1967 as promised, despite over 85 recording sessions having taken place, including more than two dozen alone for the endlessly inventive "Heroes and Villains." (Mark Linett estimates the number of SMiLE sessions as 50, not counting those for "Good Vibrations.")
The music intended for SMiLE trickled out over the years, sometimes in the original versions and sometimes in re-recordings, while ardent fans created their own SMiLE compilations from an ever-leaking stream of unauthorized material. Wilson debuted the finished SMiLE to great, deserved acclaim in 2004, not to mention his highest-ever chart debut, strong sales and a Grammy Award. But was this the SMiLE intended for release in 1967? Wilson wouldn't hesitate in answering "no."  This was a new SMiLE, created in 2004 as a unified composition of three musical suites by Wilson, Parks and Wilson's right-hand man and multi-instrumentalist bandmate Darian Sahanaja. It very reasonably reflected a lifetime of work by these gentlemen, and was thoughtfully derived from the legendary original album with some new additional material. Does anybody even know what SMiLE circa 1967 would have consisted of and sounded like? The answer, alas, is also "no."
Song titles were listed on the junked SMiLE LP covers, but were amended by the phrase "See label for correct playing order." The track listing and running order were never finalized. The closest thing to an official released version of SMiLE to date was contained on the 1993 Capitol box set Good Vibrations: 30 Years of The Beach Boys, when almost thirty minutes of the original SMiLE tapes were released. The songs included were "Good Vibrations," "Our Prayer," "Heroes and Villains," "Wonderful," "Cabinessence," "Wind Chimes," "Do You Like Worms," "Wind Chimes," "Vegetables," "I Love to Say Da Da" and "Surf's Up." ("Worms" would be retitled "Roll Plymouth Rock" for SMiLE 2004, and "Da Da" incorporated into "In Blue Hawaii.") iTunes even offers SMiLE playlists for purchase, drawn from the Good Vibrations box, bonus tracks contained on the Smiley Smile/Wild Honey two-fer CD and the albums Smiley Smile and Surf's Up.
When Jardine first leaked news of the forthcoming SMiLE, we posed some questions which already have answers.
Is Brian Wilson interested in creating a second "definitive" SMiLE after the rapturous reception accorded his 2004 completed version?
This is a "no."  Linett told Billboard that the 2004 Wilson version will indeed be used as a blueprint, albeit a flexible one: "If you take Brian's 2004 version as a blueprint, [it will have] all of that music, all of the significant parts and even the little segue ways [sic]. For the most part, that project was heavily researched by myself and others to make sure Brian had available all the parts that had been recorded back in 1966 and 1967. Some lyric additions were made in 2004 that hadn't been completed before the project was abandoned. That's some of the questions that we have to do deal with. How will we are going to present those few pieces?  But there really aren't too many. The biggest one is the song that became '[In] Blue Hawaii,' which started out as a thing called '[I Love] to Say Da Da,' which is sort of the water section of the piece. That had background but no lead vocal."
Will any new vocals be added to maintain cohesion and present the piece as completed?
Linett responded, "Don't know yet," but added that "the general consensus appears to be not to do any recording because this is a historic piece, but it's a little premature because we are still trying to get 30 hours' worth of sessions down to playable length. Even at that, it will be at least three CDs to present the sessions." As a result, one CD (available as part of a two-CD edition or the four-CD/two-LP box set) will likely contain the album proper, and the remaining three discs in the box set will contain the best of the sessions, alternates and ephemera, largely following the approach taken on 1997's The Pet Sounds Sessions box. The 2-CD version will contain the album on the first disc, and likely boil down the sessions for its second disc.
Will SMiLE be presented as it would have been released originally?
Linett confirmed that the reconstructed album would certainly not be hindered by the limitations of vinyl circa 1967, and its presentation will likely take up three sides' worth of vinyl, or one CD, much as the 2004 program did. Continuing the mono renaissance that has seen major releases by Bob Dylan, Phil Spector and Neil Diamond in recent months, SMiLE - the album - is planned to be presented in mono, while the session material and bonus tracks will appear in stereo. Last month, we posed this pivotal question:
Will Wilson, Parks, Jardine, Love and Johnston work together to produce a version amenable to all parties?
Here we have a "yes." Linett told Billboard that while he and Boyd are acting as the producers, the final word belongs to The Beach Boys. They will play their finished assembly "for Brian and the other members of the group and see what kind of input they have. Just because Brian did it the way he did it in 2004, [who knows if] he won't say well, lets add, 'You're Welcome [the B-side of 'Heroes and Villains'],' it will be a nice throwdown." While the session material will be presented "as is" (although edited to a reasonable length) to allow for a fly-on-the-wall feeling, the actual album will draw on all of the material in the Beach Boys archive. Linett now can utilize the technology to put Brian Wilson's original lead vocal on "Surf's Up" (from a voice-and-piano demo) onto his basic track, recorded with full band. Technology didn't allow for that when the group recorded the Surf's Up album in 1971 and so Carl had re-recorded a new lead vocal for the song's first verses.
While the lack of a track listing and definite release date are still giving some pause, it now seems more sure than ever that SMiLE is on the way.  Watch this space for an update as soon as the track listing and release date are confirmed by Capitol.
[polldaddy poll=4714084]
The late Carl Wilson reportedly called Smiley Smile, the band's hasty "replacement" album for SMiLE, "a bunt instead of a grand slam." And even though Smiley Smile has gained a deserved cult reputation over the years as a kind of lo-fi classic, it always was tainted as that bunt. It now looks like a reality that the voices of Mike Love, Al Jardine, Bruce Johnston and of course, Brian Wilson, as well as the much-missed Carl and Dennis Wilson, will be heard on the authentic group SMiLE. It's all but certain to be that grand slam.