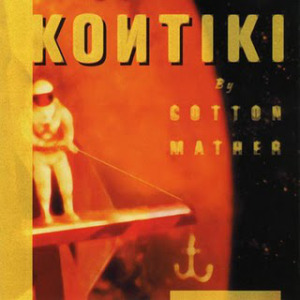 (Note: I was remiss by not initially thanking Thierry Côté for linking to this story on Twitter. Thanks!)
In the early days of remasters and reissues, the best way for an album to get expanded was to be a critical and commercial success. As time went on, that thankfully wasn't always the case; reissues could serve as critical reappraisals or reminders of undersold gems by popular performers. Gradually, as the majors tightened their belts, independent labels were on hand to continue work on reissues, particularly the smaller titles that may have slipped through the cracks at a higher level.
But what about the rest of everything? Surely there are some forgotten treasures waiting to be rediscovered or expanded. What's to become of them? Robert Harrison may have the answer. The Austin, TX-based singer/songwriter/guitarist is perhaps best known for his power-pop band Cotton Mather, which released three albums and two EPs in the late '90s and early '00s. Their best-known work may have been 1997's Kontiki, released to little acclaim in the U.S. but a critical smash in the U.K., where it was championed by Noel Gallagher of Oasis (who arranged the band to open for his ensemble) and NME, who called the band "the most exciting new guitar pop band since Supergrass."
Harrison has recently spearheaded a reissue of Kontiki, with a bonus disc of outtakes and alternates. But he hasn't done so through any label. Instead, he's taken the project to a website called Kickstarter, a platform for creative types to appeal to the public for funding. (Notable, successful uses of the service include a film adaptation of Christian author Donald Miller's book Blue Like Jazz and an petition to put a statue of Robocop in the city of Detroit.) As with similar projects - including a recent, acclaimed album by indie band The Damnwells - investments are tiered and incentivized. Fans can pledge a minimum of $10, but those who pledge more will receive some nice gifts, from an autograph from Harrison to an executive producer credit and, ultimately, an offer for a free, private concert from Johnson (asking price: $5,000).
As of this writing, with only four days passed since the project began, 87 fans have raised $5,548 - almost half of the project's $12,500 goal. That's pretty impressive, and this could well be the future for independent acts with strong catalogues that want to take their reissues directly to the fans. Can you imagine what it would be like if a major label dipped their toe into this pond? It could honestly go either way - but this writer wouldn't mind seeing others use sites like these in an attempt to get reissues where they belong - into the hands of their supportive fans.