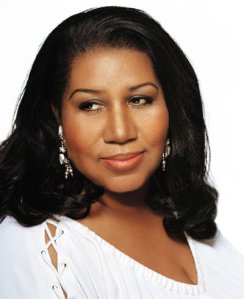 The music industry is littered with careers that crashed after a second chance at the spotlight. This could have easily befallen even a legend like Aretha Franklin; the Queen of Soul had in fact risen on a second chance at Atlantic after a largely unsuccessful career with Columbia, but by the late 1970s, Aretha's attempts to fall in with the trends of rhythm and blues were frequently derided, and ultimately she would sever her ties with the label.
Against all odds - not counting the fact that she's Aretha Franklin - the Queen secured a deal with Arista, and within a few years was back on top of the pop/R&B game, enticing both adults and the kids of the MTV era with her slickly-produced sound. That wave of success carried over into her 1987 induction into the Rock and Roll Hall of Fame - the first woman to receive this honor - and, even more stunningly, her status as living legend was bolstered several times throughout the 1990s and 2000s.
Aretha just celebrated her 69th birthday - a welcome milestone after a bout with an unspecified illness - and Columbia/Legacy honored the Queen's early days with the massive Take a Look: Complete on Columbia box set (Joe's review is coming tomorrow). Joe also took us through Aretha's "lost" Atlantic years in a Reissue Theory post, which leads us to today: a theoretical box set devoted to Franklin's Arista years (the catalogue of which is also owned by Sony/Legacy).
Hit the jump to revisit this second chance unlike few others.
[youtube=http://www.youtube.com/watch?v=J0y2dDlFmLg]
Aretha Franklin's comeback actually began with the help of her legacy on Atlantic. In 1980, John Landis' The Blues Brothers was released, starring comedy giants Dan Aykroyd and John Belushi with a cast of all-stars following the titular Jake and Elwood Blues' quest to put their legendary R&B combo back together. Aretha appeared as a fictionalized version of herself, the domineering husband of Matt "Guitar" Murphy. When Jake and Elwood arrive at the pair's diner to retrieve Murphy, Aretha attempts to make him reconsider through a fiery performance of her classic "Think." It was a showstopper among showstoppers, and it's apparently thanks to that performance that Clive Davis, the luminary head of Arista Records, sought to sign her.
Aretha (1980) was a pretty impressive reintroduction, if not an out-of-the-gate smash. Lead single "United Together" marked the Queen's re-entry into the upper reaches of the Billboard R&B charts, peaking at No. 3 and crossing over into the lower reaches of the Hot 100. (Franklin had not had a Top 10 R&B hit since 1977.) The album's victories were more behind-the-scenes; the album was her first with legendary Atlantic producer Arif Mardin since 1973's With Everything I Feel in Me, and Franklin took to some of the writing herself, taking credits on three of the album's nine tracks. (The biggest tunes, however, are covers, notably Otis Redding's "I Can't Turn You Loose" and "What a Fool Believes," written for The Doobie Brothers by lead singer Michael McDonald and Kenny Loggins.)
Aretha peaked at No. 47 on the Billboard albums chart, but the Queen was hungry for more. Tom Dowd would produce her follow-up, Love All the Hurt Away (1981), with contributions from nearly every major session player at the time (David Foster, Greg Phillinganes, Steve Lukather, Jerry Hey and so on). However, despite another small crossover hit ("Love All the Hurt Away," a duet with George Benson, hit No. 6 on the R&B charts and No. 46 on the Hot 100) and a Grammy win for her cover of Sam & Dave's "Hold On! I'm Comin'," sales were modest. It was time to bring out the big guns. Enter Luther Vandross, who was starting to come into his own as a solo artist after years of session work for some of the best in the business. Hot off the success of 1981's Never Too Much, Vandross gave a modern touch to writing and production on Jump to It, and Aretha's distinctive voice was a natural pairing with the music (instead of clashing with staid arrangements). The title track topped the R&B chart and led to the Queen's first gold album since the Sparkle soundtrack in 1976.
But once again, Aretha followed up a strong album with a weak one. Get It Right (1983), also produced by Vandross, stalled in the lower reaches of the charts, despite two Top 10 R&B hits in "Get It Right" and "Every Girl (Wants My Guy)." The Queen took a year off, during which she mourned the loss of her father, the Baptist minister C.L. Franklin. Franklin had been in a coma for the past five years following a botched robbery and shooting, and died only a week after being put into a nursing home.
But in spite of all the heartache, to quote a future hit, Aretha kept her faith. Add to that a rising star producer, Narada Michael Walden, who had just made a hit album for Arista's rising star Whitney Houston, and the Queen was ready to reclaim her throne. 1985's Who's Zoomin' Who? is pop/R&B of the finest contemporary cut, and Aretha wore it well. For the first time in 12 years, Franklin had not one, but two Top 10 pop hits in "Freeway of Love" (featuring another unforgettable solo by the Big Man himself, Clarence Clemons of Bruce Springsteen's E Street Band) and the title track. She also crossed over into the rock world with a third single, the empowering "Sisters Are Doin' It for Themselves" with the pop duo Eurythmics. Franklin's commanding performances, bolstered by colorful videos in heavy rotation on MTV, only bolstered her success.
[youtube=http://www.youtube.com/watch?v=AuU0cJ_iW8w]
Franklin and Walden reunited for her follow-up, Aretha (1986). Featuring songwriting from Walden and collaborators Preston Glass, Jeffrey Cohen and Walter Afanasieff, as well as British hitmaker Simon Climie, Aretha was largely more of the same kind of formula as Who's Zoomin' Who? with slightly diminished returns (if you can call three Top 40 singles and platinum status diminishing returns). Far and away, the biggest and best hit off the album was the uplifting "I Knew You Were Waiting (for Me)," a chart-topping duet with George Michael. (This song is often considered the primary link between Michael's recent final tenure with WHAM! and the pop perfection he would achieve later that year.)
After a foray back into gospel with One Lord, One Faith, One Baptism in 1987, Franklin recruited Walden and Mardin to produce 1989's Through the Storm. Despite guests aplenty, including James Brown, Whitney Houston and Elton John (who duetted with Aretha on the Top 20 hit title track), it received neither much commercial nor critical acclaim. Follow-up What You See is What You Sweat (1991), featuring production from Walden, Burt Bacharach, Carole Bayer Sager and Luther Vandross and a decent cover of "Everyday People" remixed by Shep Pettibone, fared even worse - at No. 153, it is the second worst-charting pop album of her career.
Since then, Franklin has been content to recede into living legend status, making occasional soundtrack appearances, but the late '90s saw a particularly impressive string of musical victories that reaffirmed her title as the Queen of Soul. In 1998, a month before her comeback album A Rose is Still a Rose (featuring the Top 20 title track, written by Lauryn Hill) was released, Franklin was asked to perform at the Grammy Awards in place of an ailing Luciano Pavarotti, who was receiving a Lifetime Achievement Award. The trick is, she was asked to perform with almost no rehearsal time before she actually performed, and even she later admitted fears of tackling Puccini's classic tenor aria "Nessun Dorma" from Turandot, which had become Pavarotti's signature song. But instead, she blew the audience away with her note-perfect rendition. A subsequent performance later that year for VH-1's Save the Music Foundation, recorded as the first annual VH-1 Divas Live, saw her effectively wipe the floor with Celine Dion, Shania Twain, Mariah Carey and Gloria Estefan and solidify her status as the one and only Queen of Soul. Indeed, Aretha's most shining moments have been live performances; six years after her final album for Arista, 2003's So Damn Happy, she performed "My Country 'Tis of Thee" for Barack Obama's inauguration as President of the United States of America. Her rendition bought an already-excited crowd to its feet, and the unique hat she wore was donated to the Smithsonian.
So how would a box set of Aretha's Arista years look? We opted for a set that hews pretty close to the set-up of the Columbia box, covering 10 studio LPs (all would be remastered, a few would be making their CD debuts), a disc of notable non-LP and live cuts, two whole discs of the best 12" remixes (featuring production from Shep Pettibone, Steve Thompson and Michael Barbiero and even Prince!) and a DVD of music videos and select live performances. Not everything was included (the gospel album was omitted, as were many of the latter-day remixes), but even at less-than-complete, this set would be particularly expansive - not unlike Take a Look.
Weigh in on this theoretical box below!
Aretha Franklin, Through the Storm: The Arista Years (Arista/Legacy)
Disc 1: Aretha (Arista AL-9538, 1980)
Come to Me - 3:42
I Can't Turn You Loose - 3:55
United Together - 5:02
Take Me with You - 4:05
Whatever It Is - 3:38
What a Fool Believes - 5:13
Together Again - 5:16
Love Me Forever - 3:34
School Days - 4:58
Disc 2: Love All the Hurt Away (Arista AL-9552, 1981)
Love All the Hurt Away (with George Benson) - 4:09
Hold On, I'm Comin' - 5:14
Living in the Streets - 3:53
There's a Star for Everyone - 4:26
You Can't Always Get What You Want - 5:18
It's My Turn - 5:30
Truth and Honesty - 4:15
Search On - 4:47
A Whole Lot of Me - 3:23
Kind of Man - 4:19
Disc 3: Jump to It (Arista AL-9602, 1982)
Jump to It - 6:40
Love Me Right - 4:10
If She Don't Want Your Lovin' - 5:36
This is for Real - 4:45
(It's Just) Your Love - 4:10
I Wanna Make It Up to You - 6:00
It's Your Thing - 4:10
Just My Daydream - 5:55
Disc 4: Get It Right (Arista AL8-8019, 1983)
Get It Right - 6:22
Pretender - 4:17
Every Girl (Wants My Guy) - 6:29
When You Love Me Like That - 3:47
I Wish It Would Rain - 4:40
Better Friends Than Lovers - 4:10
I Got Your Love - 5:30
Giving In - 4:38
Disc 5: Who's Zoomin' Who? (Arista AL8-8286, 1985)
Freeway of Love - 5:52
Another Night - 4:31
Sweet Bitter Love - 5:11
Who's Zoomin' Who? - 4:44
Sisters Are Doin' It for Themselves (with Eurythmics) 5:52
Until You Say You Love Me - 4:54
Push (Duet with Peter Wolf) - 5:32
Ain't Nobody Ever Loved You - 5:35
Integrity - 5:36
Disc 6: Aretha (Arista AL-8442, 1986)
Jimmy Lee - 5:47
I Knew You Were Waiting (for Me) (with George Michael) - 4:02
Do You Still Remember - 5:07
Jumpin' Jack Flash - 5:04
Rock-A-Lott - 6:23
An Angel Cries - 5:03
He'll Come Along - 4:13
If You Need My Love Tonight (with Larry Graham) - 4:34
Look to the Rainbow - 5:13
Disc 7: Through the Storm (Arista AL-8572, 1989)
Gimme Your Love (with James Brown) - 5:18
Mercy - 4:05
He's the Boy - 4:05
It Isn't, It Wasn't, It Ain't Never Gonna Be (with Whitney Houston) - 5:37
Through the Storm (with Elton John) - 4:20
Think (1989) - 3:39
Come to Me - 3:42
If Ever a Love There Was (with The Four Tops and Kenny G) - 4:30
Disc 8: What You See is What You Sweat (Arista AL-8628, 1991)
Everyday People - 3:49
Ever Changing Times (with Michael McDonald) - 5:10
What You See is What You Sweat - 4:20
Mary Goes Round - 3:05
I Dreamed a Dream - 4:15
Someone Else's Eyes - 4:56
Doctor's Orders (with Luther Vandross) - 4:35
You Can't Take Me for Granted - 5:10
What Did You Give - 4:59
Disc 9: A Rose is Still a Rose (Arista 07822 18987-2, 1998)
A Rose is Still a Rose - 4:27
Never Leave You Again - 4:36
In Case You Forgot - 4:49
Here We Go Again - 3:30
Every Little Bit Hurts - 4:07
In the Morning - 4:56
I'll Dip - 4:06
How Many Times - 4:21
Watch My Back - 4:45
Love Pang - 4:20
The Woman - 7:41
Disc 10: So Damn Happy (Arista 82876 55279-2, 2003)
The Only Thing Missin' - 3:07
Wonderful - 4:04
Holdin' On (with Mary J. Blige) - 4:37
No Matter What (with Mary J. Blige) - 4:33
Everybody's Somebody's Fool - 4:35
So Damn Happy - 4:29
You Are My Joy - 2:34
Falling Out of Love - 4:31
Ain't No Way - 4:37
Good News - 4:55
You Are My Joy (Reprise) - 2:33
Disc 10: More Aretha: Rarities from the Queen of Soul
Standing on the Rock of Love (from Bebe's Kids: Original Motion Picture Soundtrack - Virgin CDP 07777 99896 2, 1992)
If I Lose (from White Men Can't Jump: Original Motion Picture Soundtrack - EMI USA CDP7 98414 2, 1992)
Someday We'll All Be Free (recorded for Malcom X, 1992 - released on Greatest Hits 1980-1994 - Arista 74321 16202-2, 1994)
A Deeper Love (from Sister Act 2: Back in the Habit - Songs from the Motion Picture Soundtrack - Hollywood HR 61562-2, 1993

)

What Now, My Love - Frank Sinatra with Aretha Franklin (from Duets - Capitol CDP 07777 89611 2 3, 1993)
Willing to Forgive (from Greatest Hits 1980-1994 - Arista 74321 16202-2, 1994)
Honey (from Greatest Hits 1980-1994 - Arista 74321 16202-2, 1994)
A Natural Woman (Live) (feat. Bonnie Raitt and Gloria Estefan) (from Greatest Hits 1980-1994 - Arista 74321 16202-2, 1994)
I Dreamed a Dream (Live) (from Greatest Hits 1980-1994 - Arista 74321 16202-2, 1994)
It Hurts Like Hell (from Waiting to Exhale: Original Soundtrack - Arista 07822 18796-2, 1995)
Nessun Dorma (Live at the Grammys) (B-side to "Here We Go Again" CD single - Arista 74321 58670-2, 1998)
Chain of Fools (with Mariah Carey) (from VH-1 Divas Live - Epic EK 69600, 1998)
A Natural Woman (from VH-1 Divas Live - Epic EK 69600, 1998)
Testimony (from VH-1 Divas Live - Epic EK 69600, 1998)
Don't Waste Your Time - Mary J. Blige with Aretha Franklin (from Mary - MCA Records MCAD-11929, 1999)
Put You Up on Game (feat. Fantasia) (from Jewels in the Crown: All-Star Duets with The Queen - Arista 82876 78668-2, 2007)
What Y'All Came to Do (feat. John Legend) (from Jewels in the Crown: All-Star Duets with The Queen - Arista 82876 78668-2, 2007)
My Country 'Tis of Thee (Live in Washington, D.C. - 1/20/2009) (previously unreleased)
Discs 11 and 12: Aretha Remixed
What a Fool Believes (Long Version) - 6:06 (12" promo A-side - Arista SP-106, 1980)
Hold On, I'm Comin' (Extended Version) - 6:42 (U.K. 12" A-side - Arista 12-442, 1981)
Love Me Right (Dance Version) - 5:48 (12" A-side - Arista SP-147, 1982)
Get It Right (Instrumental) - 6:31 (12" B-side - Arista AD1-9043, 1983)
Freeway of Love (Extended Mix) - 6:28 (12" B-side - Arista AD1-9355, 1985)
Sisters Are Doin' It for Themselves (E.T. Mix) - 7:56 (12" B-side - RCA PW-14243, 1985)
Who's Zoomin' Who? (Dance Mix) - 8:36 (12" A-side - Arista AD1-9411, 1985)
Freeway of Love (Rock Mix) - 4:40 (12" A-side - Arista AD1-9355, 1985)
Who's Zoomin' Who? (Dub Mix) - 5:29 (12" A-side - Arista AD1-9411, 1985)
Another Night (Dance Mix) - 6:40 (12" A-side - Arista AD1-9454, 1986)
Ain't Nobody Ever Loved You (Remix) - 6:22 (12" A-side - Arista AD1-9473, 1986)
Jumpin' Jack Flash (Street Mix) - 6:08 (12" A-side - Arista AD1-9529, 1986)
Jimmy Lee (Extended Mix) - 7:18 (12" A-side - Arista AD1-9547, 1986)
I Knew You Were Waiting (for Me) (Extended Remix) - 7:25 (12" B-side - Arista AD1-9560, 1987)
Aretha Mega Mix (Another Night - Zoomin' to the Freeway Mega Mix) - 7:46 (12" B-side - Arista AD1-9547, 1986/U.K. 12" A-side - Arista 32657, 1986)
Rock-A-Lott (Street Mix) - 9:21 (12" A-side - Arista AD1-9575, 1987)
It Isn't, It Wasn't, It Ain't Never Gonna Be (Extended Radio Mix) - 6:12 (12" A-side - Arista AD1-9851, 1989)
Gimme Your Love (Extended Paisley Park Mix) - 10:44 (12" A-side - Arista AD1-9885, 1989)
Everyday People (Extended Remix) - 8:08 (12" A-side - Arista AD1-2240, 1991)
A Deeper Love (C+C Music Factory Remix) - 12:50 (12" A-side - Arista 07822 12651-1, 1993)
A Rose is Still a Rose (Love to Infinity Club Mix) - 6:56 (12" A-side - Arista 07822 13484-1, 1998)
Disc 13: DVD
United Together (Live on Saturday Night Live, 1980)
I Can't Turn You Loose (Live on Saturday Night Live, 1980)
Sisters Are Doin' It for Themselves (promo video)
Freeway of Love (promo video)
Who's Zoomin' Who? (promo video)
Another Night (promo video)
I Knew You Were Waiting (for Me) (promo video)
Jimmy Lee (promo video)
Rock-A-Lott (promo video)
Jumpin' Jack Flash (promo video)
Everyday People (promo vide0)
Willing to Forgive (promo video)
Honey (promo video)
A Rose is Still a Rose (promo video)
Nessun Dorma (Live at the Grammys, 1998)
Chain of Fools (with Mariah Carey) (from VH-1 Divas Live, 1998)
A Natural Woman (from VH-1 Divas Live, 1998)
Testimony (from VH-1 Divas Live, 1998)
My Country 'Tis of Thee (Live in Washington, D.C. - 1/20/2009)