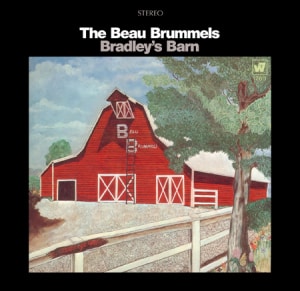 Another Rhino Handmade title is coming out this summer - a two-disc expansion of Bradley's Barn, the seminal 1968 album by The Beau Brummels.
Considered one of the first early successes of the burgeoning San Francisco music scene in the '60s, The Beau Brummels were early adopters of the British Invasion sound on their first two hit singles, "Laugh, Laugh" and "Just a Little." By the time the band released their psych-folk classic Triangle in 1967, the band, originally a quintet, was reduced to a trio. And after Triangle, only singer Sal Valentino and guitarist/songwriter Ron Elliott would remain. Undeterred, the band recorded with producer Lenny Waronker and a host of legendary session players, including Bob Dylan drummer Kenny Buttrey, guitarist Jerry Reed and others and recorded an album in a converted barn in Nashville owned by an Owen Bradley - the same barn that a young Buddy Holly used to lay down his first professional recordings.
Energized by the country-tinged sessions, the compositions primarily written by Elliott and Valentino (closing track "Bless You California" was of course penned by a young Randy Newman!) and the energy of the studio, The Beau Brummels named the LP after the location. While it was not a commercial success, it has since been regarded highly as an early pioneering step in the country-rock genre. Now, Rhino Handmade presents a double-disc version of the original stereo album with 26 bonus cuts, 14 of which are previously unreleased.
Featuring demos, alternate takes and other non-LP material making its CD debut, as well as a vintage radio interview - all mastered by Dan Hersch and Andrew Sandoval - the package is rounded out with new liner notes by Alec Palao that draws from commentary by Elliott, Valentino, Waronker and lyricist Bob Durand. It's available for pre-order now, and the set is due out July 26. The press release and track list are after the jump.
RAISING THE "BARN" WITH THE BEAU BRUMMELS
Rhino Handmade Presents Seminal Country-Rock Gem As Remastered Two-Disc Set
Including Rare And Unreleased Recordings And Vintage Radio Interview
Pre-order Exclusively At Rhino.com Now, Available July 26
LOS ANGELES - After releasing the baroque-pop classic Triangle in 1967, The Beau Brummels shifted gears radically the following year when singer Sal Valentino, guitarist Ron Elliott, and producer Lenny Waronker traveled to Nashville to explore the crossroads of country and rock. Working with some of Music City's hottest session players, the West Coast group recorded BRADLEY'S BARN, an album whose fusion of styles earned critical acclaim but was too far ahead of the curve to enjoy commercial success.
Rhino Handmade rediscovers this unheralded gem of early country-rock and gives it its due as a two-disc set that comes in a hardbound booklet with rare photos and lengthy sleeve notes by Alec Palao that feature commentary from Valentino, Elliott, Waronker, and lyricist Bob Durand. The collection includes the original Warner Bros. album remastered by Dan Hersch and Andrew Sandoval, 25 rare and unreleased tracks, and a 1968 radio interview with Valentino and Elliott. BRADLEY'S BARN is available for pre-order now exclusively at www.rhino.com for $39.98 and will be released on July 26.
Unlike the stripped down approach The Byrds employed on Sweetheart Of The Rodeo (which was recorded around the same time), Waronker summoned a multilayered "guitar orchestra" for BRADLEY'S BARN, using it to explore Elliott's complex melodies, and create clean but intricate arrangements to showcase Valentino's velveteen voice. The band heard on most of BRADLEY'S BARN features Elliott, Valentino, keyboardist David Briggs, and bassist Norbert Putnam, plus guitarist Jerry Reed and drummer Kenny Buttrey, both of whom played with Bob Dylan during his Nashville years.
The first disc contains the newly remastered original album supplemented by several bonus tracks, including three previously unreleased songs: the alternate version of "I Love You Mama"; the 1967 demo for "Just A Little Bit Of Lovin'" recorded in Hollywood; and the stereo mix of the demo for "Black Crow."
Even more unissued recordings are revealed on the second disc, which features alternate takes of "I'll Be Your Baby Tonight" and "Lift Me"; an alternate mix of "Love Can Fall A Long Way Down"; an alternate demo of "Another"; the demo for "Confessions"; and a cover of the classic country weeper "Long Black Veil." The disc also contains several of Valentino's post-Brummels solo recordings including several singles from the era making their debut on CD as well as three more unreleased songs: an alternate version of "An Added Attraction (Come And See Me)" and the Johnny Cash covers "A Little At A Time" and "Home Of The Blues."
Along with the trove of unreleased material, BRADLEY'S BARN also contains seven outtakes from the album's sessions that were originally compiled by Rhino Handmade on Magic Hollow, the now sold-out retrospective spanning The Beau Brummels' entire career released in 2005.
Valentino and Elliott get the last word, literally, on BRADLEY'S BARN, which concludes with an interview of the two that was originally broadcast on San Francisco's KMPX-FM in October 1968. The conversation, which occurred around the time of the album's issue, has never been released.
The Beau Brummels, Bradley's Barn: Deluxe Edition (Rhino Handmade, 2011)
Disc 1: Original LP and bonus material
Turn Around
An Added Attraction (Come and See Me)
Deep Water
Long Walking Down to Misery
Little Bird
Cherokee Girl
I'm a Sleeper
The Loneliest Man in Town
Love Can Fall a Long Way Down
Jessica
Bless You California
Lift Me
I Love You Mama (Alternate Version) *
Just a Little Bit of Lovin' (Demo) *
Tan Oak Tree
Another
High There
Black Crow (Demo - Stereo Mix) *
Disc 2: Additional Material
Deep Water (Alternate Version)
Love Can Fall a Long Way Down (Alternate Mix) *
Jessica (Alternate Version)
Bittersweet
I'll Be Your Baby Tonight (Alternate Take) *
Long Black Veil *
Lift Me (Alternate Take) *
42nd Street - Lionel Reeves & Stella Parker
Another (Alternate Demo) *
Confessions (Demo) *
An Added Attraction (Come and See Me) (Alternate Version) - Sal Valentino *
A Little at a Time - Sal Valentino *
Down in the Flood - Sal Valentino *
Home of the Blues - Sal Valentino *
Alligator Man - Sal Valentino
Silkie - Sal Valentino
A Song for Rochelle - Sal Valentino
Friends and Lovers - Sal Valentino
Radio Interview - KMPX-FM, San Francisco - October 1968 *
Disc 1, Tracks 1-11 from Warner Bros./Seven Arts LP WS-1760, 1968
Disc 1, Tracks 12, 15-17 and mono version of Track 18 and Disc 2, Tracks 1 and 3-4 from Magic Hollow - Rhino Handmade RHM2-7892, 2005
Disc 2, Tracks 15 and 18 from Warner Bros./Seven Arts single 7289, 1969
Disc 2, Tracks 16-17 from Warner Bros./Seven Arts single 7368, 1970
All other tracks previously unreleased