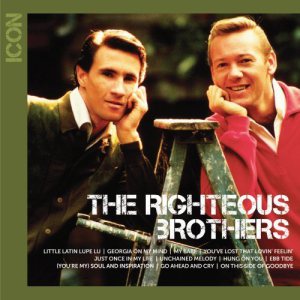 UPDATE 6/20: With a day before these sets are to hit stores, here's the post with the track list for the one compilation that hadn't been confirmed at the time - an incredibly slight collection for Steve Winwood. Just Steve Winwood. Not Traffic or anything else. Make of that what you will.
Original post: The latest batch of ICON titles hasn't even hit stores yet, but yet another assortment of them has been announced for release next month.
While, as always, there's not much in the way of rarities on these sets, there are a few artists compiled whose respective works haven't seen much activity on CD. The Thin Lizzy compilation is interesting in the light of another forthcoming batch of deluxe editions from Universal's U.K. arm, and the Bill Cosby and Righteous Brothers compilations are particularly welcoming for new fans. On the other side of the spectrum, though, you have a compilation from horrorcore rap group Insane Clown Posse, which only features tracks from the band's four albums with Island from 1997 to 2000 (some Juggalo haters would argue that's not all that's wrong with this set), as well as an as-yet-trackless entry for Steve Winwood, whose Revolutions compilation came out just under a year ago.
If you're interested, they're all out on June 21 and can be ordered at Amazon (note that the page of "coming soon" titles still has listings for the last batch we reported on, due out next Tuesday). Hit the jump for the track lists (except the Winwood set, of course - we'll update this post once that list comes over the line).
Thin Lizzy, ICON (Mercury/UMe B0015582-02, 2011)
Whiskey in the Jar
The Rocker
Still in Love with You
Cowboy Song
Rosalie
The Boys Are Back in Town
Jailbreak
Borderline
Don't Believe a Word
Bad Reputation
Dancing in the Moonlight (It's Caught Me in Its Spotlight)
Track 1 from non-LP single (Decca (U.K.), 1972)
Track 2 from Vagabonds of the Western World (Decca (U.K.), 1973)
Track 3 from Nightlife (Vertigo (U.K.), 1974)
Tracks 4 and 6-7 from Jailbreak (Vertigo (U.K.), 1976)
Track 5 from Fighting (Vertigo (U.K.), 1975)
Tracks 8-9 from Johnny the Fox (Vertigo (U.K.), 1976)
Tracks 10-11 from Bad Reputation (Vertigo (U.K.), 1977)
Insane Clown Posse, ICON (Island/UMe B0015583-02, 2011)
What is a Juggalo?
Hokus Pokus
The Neden Game
Boogie Woogie Wu
Piggy Pie (Old School)
Another Love Song
F--- the World
Rainbows & Stuff
Tilt-a-Whirl
My Axe
Let's Go All the Way
Tracks 1-5 from The Great Milenko (Psychopathic/Island, 1997)
Tracks 6-7 from The Amazing Jeckel Brothers (Psychopathic/Island, 1999)
Tracks 8-9 from Bizaar (Psychopathic/Island, 2000)
Tracks 10-11 from Bizzar (Psychopathic/Island, 2000)
Billie Holiday, ICON (Verve/UMe B0015635-02, 2011)
Fine and Mellow
Strange Fruit
As Time Goes By
Lover Man (Oh, Where Can You Be?)
Don't Explain
Good Morning Heartache
My Man (Mon Homme)
You're My Thrill
Lady Sings the Blues
I've Got My Love to Keep Me Warm
God Bless the Child
Tracks 1-2 from Commodore single 526, 1939
Track 3 from Commodore single 7520, 1944
Track 4 from Decca single 23391, 1944
Track 5 from Decca single 23565, 1945
Track 6 from Decca single 23676, 1946
Track 7 from Decca single 24638, 1948
Track 8 from Decca single 24796, 1949
Track 9 from Lady Sings the Blues (Clef, 1956)
Track 10 from Stay with Me (Verve, 1955)
Track 11 from Decca single 24972, 1950 or Lady Sings the Blues (Clef, 1956)
Bill Cosby, ICON (Geffen/UMe B0015648-02, 2011)
Animal Stories
My Boy Scout Troop
Fat Albert Got a Hernia
The Invention of Basketball
My Brother, Russell
Football
My Wife and Kids
My Father
"Froofie" the Dog
Slow Class
Wallie Wallie
Track 1 from Live: Madison Square Garden Center (Uni, 1970)
Tracks 2, 5 and 8 from When I Was a Kid (Uni, 1971)
Tracks 3 and 7 from Fat Albert (Uni, 1973)
Tracks 4 and 9-10 from Inside the Mind of Bill Cosby (Uni, 1971)
Track 6 from Sports (Uni, 1969) or Inside the Mind of Bill Cosby (Uni, 1971)
Track 11 from For Adults Only (Uni, 1971)
Bing Crosby, ICON (Geffen/UMe B0015649-02, 2011)
Where the Blue of the Night (Meets the Gold of the Day)
Pennies from Heaven
Sweet Leilani
White Christmas
I'll Be Seeing You
Swinging on a Star
Too-Ra-Loo-Ra-Loo-Ral (That's an Irish Holiday)
Don't Fence Me In
It's Been a Long Time
Dear Hearts and Gentle People
In the Cool, Cool, Cool of the Evening
Track 1 from Brunswick single 6226, 1932
Track 2 from Decca single 947, 1936
Track 3 from Decca single 1175, 1937
Track 4 from Decca single 23778, 1947
Track 5 from Decca single 18595, 1944
Track 6 from Decca single 18597, 1944
Track 7 from Decca single 18621, 1944
Track 8 from Decca single 23364, 1944
Track 9 from Decca single 18708, 1944
Track 10 from Decca single 24798, 1949
Track 11 from Decca single 27678, 1951
The Righteous Brothers, ICON (Polydor/UMe B0015650-02, 2011)
Little Latin Lupe Lu
Georgia on My Mind
My Babe
You've Lost That Lovin' Feelin'
Just Once in My Life
Unchained Melody
Hung on You
Ebb Tide
(You're My) Soul and Inspiration
Go Ahead and Cry
On This Side of Goodbye
Tracks 1-3 from Right Now (Moonglow, 1963)
Track 4 from You've Lost That Lovin' Feelin' (Philles, 1964)
Tracks 5-6 from Just Once in My Life (Philles, 1965)
Tracks 7-8 from Back to Back (Philles, 1966)
Track 9 from Soul and Inspiration (Verve, 1966)
Track 10 from Go Ahead and Cry (Verve, 1966)
Track 11 from Sayin' Somethin' (Verve, 1967)
Buddy Guy, ICON (Geffen/UMe B0015654-02, 2011)
First Time I Met the Blues
Let Me Love You Baby
Stone Crazy
Pretty Baby
When My Left Eye Jumps
Leave My Little Girl Alone
She Suits Me to a Tee
Keep It to Myself (a.k.a. Keep It to Yourself)
My Time After Awhile
Too Many Ways
Talkin' 'Bout Women Obviously
Track 1 from Chess single 1753, 1960
Track 2 from Chess single 1784, 1961
Track 3 from Chess single 1812, 1962
Track 5 from Chess Blue Rarities (Chess, 1984
Track 6 from Chess single 1936, 1965
Track 7 from Chess single 1974, 1966
Track 8 from Chess single 2022, 1967
Track 9 from Chess single 1899, 1964
Track 10 from I Left My Blues in San Francisco (Chess, 1969)
Track 11 from Buddy and The Juniors (Blue Thumb, 1970)
Cream, ICON (Polydor/UMe B0015662-02, 2011)
I'm So Glad
White Room
Strange Brew
Tales of Brave Ulysses
Born Under a Bad Sign
Crossroads (Live)
Spoonful
Politician
Badge
Sunshine of Your Love
I Feel Free
Tracks 1 and 7 from Fresh Cream (Reaction, 1966)
Tracks 2, 5, 6 and 8 from Wheels of Fire (Polydor, 1968)
Tracks 3-4 and 10 from Disraeli Gears (Reaction, 1967)
Track 9 from Goodbye (Polydor, 1969)
Track 11 from non-LP single (Reaction 591 011 (U.K.), 1966)
Steve Winwood, ICON (Island/UMe B0015683-02, 2011)
Higher Love
While You See a Chance
Valerie
My Love's Leavin'
Help Me Angel
Back in the High Life Again
The Finer Things
Arc of a Diver
Talking Back to the Night
Freedom Overspill
Wake Me Up on Judgment Day
Tracks 1, 4, 6-7 and 10-11 from Back in the High Life (Island, 1986)
Tracks 2 and 8 from Arc of a Diver (Island, 1980)
Tracks 3, 5 and 9 from Talking Back to the Night (Island, 1982)