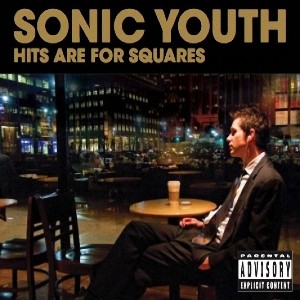 Anyone who missed Sonic Youth's last compilation, 2008's Hits Are for Squares (released exclusively through Starbucks stores), have another chance to get it beyond last year's vinyl release on Record Store Day. It's being released to general retail this summer, reports MusicTAP.
The collection collates hits and favorite tracks from the New York City band's extensive catalogue, stretching back from 1984's EVOL to 2004's Sonic Nurse. All the tunes were selected by famous fans of the band, including Beck, Eddie Vedder of Pearl Jam, Radiohead, The Flaming Lips, Flea of The Red Hot Chili Peppers and many more. There's also a new track exclusive to this set, "Slow Revolution."
The set is out on August 23. Hit the jump for all the track details.
Sonic Youth, Hits Are for Squares (originally released as Starbucks Entertainment/Geffen B0011251-02, 2008 - reissued Geffen/UMe, 2011)
Bull in the Heather (selected by Catherine Keener)
100% (selected by Mike D)
Sugar Kane (selected by Beck)
Kool Thing (selected by Radiohead)
Disappearer (selected by Portia de Rossi)
Superstar (selected by Diablo Cody)
Stones (selected by Allison Anders)
Tuff Gnarl (selected by Dave Eggers & Mike Watt)
Teen Age Riot (selected by Eddie Vedder)
Shadow of a Doubt (selected by Michelle Williams)
Rain on Tin (selected by Flea)
Tom Violence (selected by Gus Van Sant)
Mary-Christ (selected by David Cross)
The World Looks Red (selected by Chloe Sevigny)
Expressway to Yr Skull (selected by The Flaming Lips)
Slow Revolution
Track 1 from Experimental Jet Set, Trash and No Star (DGC, 1994)
Tracks 2-3 from Dirty (DGC, 1992)
Tracks 4-5 and 13 from Goo (DGC, 1990)
Track 6 from If I Were a Carpenter (A&M, 1994)
Track 7 from Sonic Nurse (Geffen, 2004)
Track 8 from Sister (SST, 1987)
Track 9 from Daydream Nation (Enigma, 1988)
Tracks 10, 12 and 15 from EVOL (SST, 1986)
Track 11 from Murray Street (DGC, 2002)
Track 14 from Confusion is Sex (Neutral, 1983)
Track 16 is a new recording