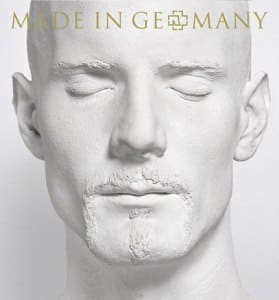 How metal is metal? For 16 years, German band Rammstein has pushed the limits of the genre, in the studio and onstage - and next month, they're going to celebrate their work with their first compilation, Made in Germany 1995-2011.
With songs like "Mein Herz Brennt," "Engel," "Pussy" and "Du Hast" (arguably their most notable song in America), Rammstein took the best of industrial and symphonic rock, added a dash of electronica and techno and created a sound that was hard for metal audiences to ignore. (In Germany, there's even a subgenre for which Rammstein is considered a pioneer: Neue Deutsche Härte, or "new German hardness.") Lead singer Till Lindemann's booming, near-operatic vocals grab your ears immediately, even if you can't understand what he's singing, and the group is world famous for creating an intentionally over-the-top theatrical rock show, complete with elaborate costumes, staging and blazing pyrotechnics. (So important are those effects to the group that Lindemann became a licensed pyrotechnician.)
Made in Germany 1995-2011 features 15 of the Berlin band's best-loved singles (all newly remastered) and one brand new track, "Mein Land." Two deluxe editions will be available as well: a double-disc edition which includes 17 remixes of Rammstein's singles (all found on various German CD singles). Notable producers and artists, including Hurts, Junkie XL, Faith No More, Meshuggah and the Pet Shop Boys, all had a hand in creating these alternate mixes over the years. Finally, a super-deluxe edition adds three DVDs of all the band's often-controversial promo videos, each with making-of footage. (All five discs in the super-deluxe edition come packed in a steelbook case with a 24o-page booklet.)
The set is available December 2 in the band's native land and December 13 in the States. The specs for each set are after the jump.
Rammstein, Made in Germany 1995-2011 (Vagrant (U.S.)/Universal (DE), 2011)
Disc 1: Standard edition (Vagrant 2786428)
Engel
Links 2-3-4
Keine Lust
Mein Tell
Du Hast
Du Reichst So Gut
Ich Will
Mein Herz Brennt
Mutter
Pussy
Rosenrot
Haifisch
Amerika
Sonne
Ohne Dich
Mein Land
Tracks 1 and 5 from Sehnsucht (Motor Music/Slash, 1997)
Tracks 2, 7-9 and 14 from Mutter (Motor Music/Republic, 2001)
Tracks 3-4, 13 and 15 from Reise, Reise (Universal, 2004)
Track 6 from Herzeleid (Motor Music, 1995)
Tracks 10 and 12 from Liebe is für alle da (Universal, 2009)
Track 11 from Rosenrot (Universal/Republic, 2006)
Track 16 is a new track
Disc 2: Remixes (deluxe edition only - Vagrant 2786427)
Du Reichst So Gut '98 (Faith No More Remix)
Du Hast (Remix by Jacob Hellner)
Stripped (Psilonaut Remix by Johan Edlund of Tiamat)
Sonne (Clawfinger K.O. Remix)
Links 2-3-4 (WestBam Hard Rock Cafe Bonus Remix)
Mutter (Sono's Inkubator Remix)
Feuer Frei! (Rammstein vs. Junkie XL Remix)
Mein Teil (You Are What You Eat Remix by Pet Shop Boys) (Edit)
Amerika (Western Remix by Olsen Involtini of Emigrate)
Ohne Dich (Mina Harker's Version - Remix by Laibach)
Kleine Lust (Black Strobe Remix)
Benzin (Combustion Remix by Meshuggah)
Rosenrot (Northern Lite Remix)
Pussy (Scooter Remix)
Rammlied (Rammin' the Steins Remix by Devin Townsend)
Ich tu Dir Weh (Fukkk Offf Remix)
Haifisch (Remix by Hurts)
Track 1 from Motor Music CD single 044 033-2, 1998
Track 2 from Motor Music CD single 571 211-2, 1997
Track 3 from Motor Music CD single 044 121-2, 1998
Track 4 from Motor Music CD single 587 940-2, 2001
Track 5 from Motor Music CD single 587 095-2, 2001
Track 6 from Motor Music CD single 570 662-2, 2002
Track 7 from Motor Music CD single 570 975-2, 2002
Track 8 from Universal CD single 986 752-1, 2004
Track 9 from Universal CD single 986 814-7, 2004
Track 10 from Universal CD single 986 906-2, 2004
Track 11 from Universal CD single 986 922-3, 2004
Track 12 from Universal CD single 987 430-2, 2005
Track 13 from Universal CD single 987 610-5, 2005
Track 14 from Universal promo CD single (no cat. #), 2009
Track 15 from Universal CD single 273 127-7, 2010
Track 16 from Universal 12" 273 128-0, 2010
Track 17 from Universal  273 675-4, 2010
Disc 3-5: DVDs (super deluxe edition only - Vagrant 2786426 - videos and making-of footage for all titles)
Du Reichst So Gut
Seemann
Rammstein
Engel
Du Hast
Du Reichst So Gut '98
Stripped
Sonne
Links 2-3-4
Ich Will
Mutter
Feuer Frei!
Mein Teil
Amerika
Ohne Dich
Kleine Lust
Benzin
Rosenrot
Mann Gegen Mann
Pussy
Ich tu Dir Weh
Haifisch
Mein Land