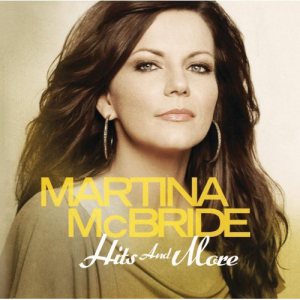 Here's some more upcoming releases to shake the malaise off the new release schedule: two very different compilations from two very excellent ladies in the dance and country genres.
Her name isn't mentioned as often as Faith Hill or Shania Twain, but Martina McBride was one of a treasured few country starlets who enjoyed a contemporary pop crossover or two. Her first big moment outside of Nashville came in 1997 with the adult contemporary ballad "Valentine" with pianist Jim Brickman; it charted in the Top 5 of Billboard's AC chart and in the country Top 10 as well. 2003 saw two singles, the upbeat "This One's for the Girls" and the heart-tugging "In My Daughter's Eyes," dominate the AC charts at No. 1 and No. 3, respectively, as well as crossing over into the general Top 40. With 19 Top 10 singles on the country charts, she's no slouch in her own genre, either.
After releasing last year's Eleven on a new label, Repbulic Nashville, McBride's Hits and More closes out her longtime association with RCA Nashville. The 20-track set includes all her greatest hits, plus two new tracks and one rarity, "Being Myself," from a 2004 EP sold exclusively at Target department stores.
On the other end of the spectrum, we have Goldfrapp, not a solo act but a duet anchored between singer Alison Goldfrapp and keyboardist Will Gregory. (Liner note geeks take heed: Gregory first rose to prominence as the saxophone player for Tears for Fears!) Their glam-tinged electronic dance-pop music has won them a bevy of critical plaudits, including four Grammy nominations and an Ivor Novello Award for British songwriting. Goldfrapp's The Singles also marks the end of their contract with Mute, and will feature 12 singles and two new tracks, "Yellow Halo" and "Melancholy Sky."
Hits and More is out January 17, while The Singles arrives February 6. (Thanks to the incandescent Vinny Vero for pointing us in the direction of the latter!) Hit the jump to check them out!
Goldfrapp, The Singles (Mute/Parlophone (U.K.)/Astralwerks 50999 301167 2 6 (U.S.), 2012)
Ooh La La
Number 1
Strict Machine (Single Mix)
Lovely Head
Utopia (Genetically Enriched)
A&E
Happiness (Single Version)
Train
Ride a White Horse (Single Version)
Rocket
Believer
Black Cherry
Yellow Halo
Melancholy Sky
Tracks 1-2 and 9 from Supernature (Mute, 2005)
Track 9 from Mute CD single 356, 2006
Tracks 3, 8 and 12 from Black Cherry (Mute, 2003)
Track 3 from Mute CD single 335, 2004
Track 4-5 from Felt Mountain (Mute, 2000)
Track 5 from Mute CD single 264, 2001
Tracks 6-7 from Seventh Tree (Mute, 2008)
Track 7 from Mute CD single 392, 2008
Tracks 10-11 from Head First (Mute, 2010)
Tracks 13-14 are new tracks
Martina McBride, Hits and More (RCA Nashville 88697 98087-2, 2012)
My Baby Loves Me
Independence Day
Wild Angels
A Broken Wing
Valentine - Jim Brickman featuring Martina McBride
Happy Girl
Whatever You Say
I Love You
Love's the Only House
Blessed
Where Would You Be
Concrete Angel
This One's for the Girls
In My Daughters Eyes
Anyway
Ride
Wrong Baby Wrong Baby Wrong
Surrender
Straight to the Bone
Being Myself
Tracks 1-2 from The Way That I Am (RCA Nashville, 1993)
Track 3 from Wild Angels (RCA Nashville, 1995)
Tracks 4, 6 and 7 from A Broken Wing (RCA Nashville, 1997)
Track 5 from Picture This (Windham Hill, 1997)
Tracks 8-9 from Emotion (RCA Nashville, 1999)
Tracks 10-12 from Greatest Hits (RCA Nashville, 2001)
Tracks 13-14 from Martina (RCA Nashville, 2003)
Track 15 from Waking Up Laughing (RCA Nashville, 2007)
Tracks 16-17 from Shine (RCA Nashville, 2009)
Tracks 18-19 are new tracks
Track 20 from On Target EP (RCA Nashville, 2004)