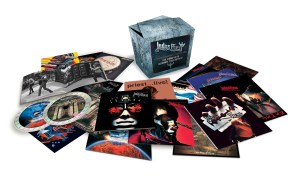 There's another PopMarket-exclusive box coming your way next week - and it's a loud one. Legacy is releasing a 19-disc box of Judas Priest's influential metal discography, with a couple of surprises inside.
Since the late 1970s, Birmingham-based Judas Priest have been pioneers of the genre. With the iconic leather-and-studs look and distinctive voice of frontman Rob Halford and the cutting guitar of K.K. Downing front and center for most of the band's most recognized years, Priest have served the rock world admirably, and have been well treated by Legacy in the past few years, with a reissue of iconic 1980 album British Steel and a handful of collectible compilations and box sets.
The release of The Complete Albums Collection brings together all studio and live efforts with iconic members Halford, Downing, guitarist Glenn Tipton and bassist Ian Hill - meaning neither of the albums featuring Tim "Ripper" Owens on vocals in the late '90s and early '00s are included - but there's a few surprises. First of all, the bonus tracks that appeared on Legacy's 2001 reissues of the Priest catalogue are still on the discs - which now appear in mini-LP size wallet cases - with the same masterings by Jon Astley. (Everything after 1990's Painkiller has not been remastered for this set.)
Better yet, though, is the inclusion of Priest's first two albums on Gull Records: 1974's Rocka Rolla and 1976's Sad Wings of Destiny. While both have appeared on CD before, these albums have been newly remastered for the box by Vic Anesini and mark the first time the band has authorized their release on CD. (It's worth noting that each disc features the original artwork, and Sad Wings restores the album's original track order; initial pressings had pressed the second side as the first and vice versa.)
The set is yours to order starting January 24, and you can dive into the track list after the jump.
Judas Priest, The Complete Albums Collection (Columbia/Epic/Legacy 88697 96787-2, 2012)
Note: original catalogue numbers are U.K.-based and reissue catalogue numbers are U.S.-based.
Disc 1: Rocka Rolla (originally released as Gull Records GULP 1005, 1974)
One for the Road
Rocka Rolla
Winter: Winter/Deep Freeze/Winter Retreat/Cheater
Never Satisfied
Run of the Mill
Dying to Meet You
Caviar and Meths
Disc 2: Sad Wings of Destiny (originally released as Gull Records GULP 1015, 1976)
Prelude
Tyrant
Genocide
Epitaph
Island of Domination
Victim of Changes
The Ripper
Dreamer Deceiver
Deceiver
Disc 3: Sin After Sin (originally released as CBS 82008, 1977 - reissued Columbia/Legacy CK 86183, 2001)
Sinner
Diamonds & Rust
Starbreaker
Last Rose of Summer
Let Us Prey/Call for the Priest
Raw Deal
Here Come the Tears
Dissident Aggressor
Race with the Devil (Studio Outtake)
Jawbreaker (Live @ Long Beach Arena, Long Beach, CA - 5/5/1984)
Disc 4: Stained Class (originally released as CBS 82430, 1978 - reissued Columbia/Legacy CK 85434, 2001)
Exciter
White Heat, Red Hot
Better by You, Better Than Me
Stained Class
Invader
Saints in Hell
Savage
Beyond the Realms of Death
Heroes End
Fire Down Below (Studio Outtake)
Better by You, Better Than Me (Live @ Foundations Forum, Los Angeles - 9/13/1990)
Disc 5: Killing Machine (originally released as CBS 83135, 1978 - reissued Columbia/Legacy CK 86181, 2001)
Delivering the Goods
Rock Forever
Evening Star
Hell Bent for Leather
Take on the World
Burnin' Up
The Green Manalishi (with the Two-Pronged Crown) (from Hell Bent for Leather - Columbia JC 35706 (U.S.), 1978)
Killing Machine
Running Wild
Before the Dawn
Evil Fantasies
Fight for Your Life (Studio Outtake)
Riding on the Wind (Live @ The US Festival, Devore, CA - 5/29/1983)
Disc 6: Unleashed in the East (originally released as CBS 83852, 1979 - reissued as Columbia/Legacy CK 86182, 2001)
Exciter (Live)
Running Wild (Live)
Sinner (Live)
The Ripper (Live)
The Green Manalishi (with the Two-Pronged Crown) (Live)
Diamonds and Rust (Live)
Victim of Changes (Live)
Tyrant (Live)
Rock Forever (Live Bonus Track)
Delivering the Goods (Live Bonus Track)
Hell Bent for Leather (Live Bonus Track)
Starbreaker (Live Bonus Track)
Disc 7: British Steel (originally released as CBS 84160, 1980 - reissued as Columbia/Legacy CK 85752, 2001)
Rapid Fire
Metal Gods
Breaking the Law
Grinder
United
You Don't Have to Be Old to Be Wise
Living After Midnight
The Rage
Steeler
Red, White & Blue (Studio Outtake)
Grinder (Live @ Long Beach Arena, Long Beach, CA - 5/5/1984)
Disc 8: Point of Entry (originally released as CBS 84834, 1981 - reissued as Columbia/Legacy CK 85436, 2001)
Heading Out to the Highway
Don't Go
Hot Rockin'
Turning Circles
Desert Plains
Solar Angels
You Say Yes
All the Way
Troubleshooter
On the Run
Thunder Road (Studio Outtake)
Desert Plains (Live @ Kiel Auditorium, St. Louis - 5/23/1986)
Disc 9: Screaming for Vengeance (originally released as CBS 85941, 1982 - reissued as Columbia/Legacy CK 85435, 2001)
The Hellion
Electric Eye
Riding on the Wind
Bloodstone
(Take These) Chains
Pain and Pleasure
Screaming for Vengeance
You've Got Another Thing Comin'
Fever
Devil's Child
Prisoner of Your Eyes (Studio Outtake)
Devil's Child (Live @ Mid-South Coliseum, Memphis - 12/12/1982)
Disc 10: Defenders of the Faith (originally released as CBS 25713, 1984 - reissued as Columbia/Legacy CK 85438, 2001)
Freewheel Burning
Jawbreaker
Rock Hard Ride Free
The Sentinel
Love Bites
Eat Me Alive
Some Heads Are Gonna Roll
Night Comes Down
Heavy Duty
Defenders of the Faith
Turn on Your Light (Studio Outtake)
Heavy Duty/Defenders of the Faith (Live @ Long Beach Arena, Long Beach, CA - 5/5/1984)
Disc 11: Turbo (originally released as CBS 463365, 1986 - reissued as Columbia/Legacy CK 85437, 2001)
Turbo Lover
Locked In
Private Property
Parental Guidance
Rock You All Around the World
Out in the Cold
Wild Nights, Hot & Crazy Days
Hot for Love
Reckless
All Fired Up (Studio Outtake)
Locked In (Live @ Kiel Auditorium, St. Louis - 5/23/1986)
Discs 12-13: Priest…Live! (originally released as CBS 450639, 1987 - reissued as Columbia/Legacy C2K 86378, 2002)
Out in the Cold
Heading Out to the Highway
Metal Gods
Breaking the Law
Love Bites
Some Heads Are Gonna Roll
The Sentinel
Private Property
Rock You All Over the World
Electric Eye
Turbo Lover
Freewheel Burning
Parental Guidance
Living After Midnight
You've Got Another Thing Comin'
Screaming for Vengeance (Bonus Track)
Rock Hard, Ride Free (Bonus Track)
Hell Bent for Leather (Bonus Track)
Disc 14: Ram It Down (originally released as CBS 461108, 1988 - reissued as Columbia/Legacy CK 86381, 2002)
Ram It Down
Heavy Metal
Love Zone
Come and Get It
Hard as Iron
Blood Red Skies
I'm a Rocker
Johnny B. Goode
Love You to Death
Monsters of Rock
Night Comes Down (Live @ Long Beach Arena, Long Beach, CA - 5/5/1984)
Bloodstone (Live @ Mid-South Coliseum, Memphis - 12/12/1982)
Disc 15: Painkiller (originally released as CBS 467290, 1990 - reissued as Columbia/Legacy CK 86382, 2002)
Painkiller
Hell Patrol
All Guns Blazing
Leather Rebel
Metal Meltdown
Night Crawler
Between the Hammer and the Anvil
A Touch of Evil
Battle Hymn
One Shot at Glory
Living Bad Dreams (Studio Outtake)
Leather Rebel (Live @ Foundations Forum, Los Angeles - 9/13/1990)
Disc 16: Angel of Retribution (originally released as Sony Music 519300, 2005)
Judas Rising
Deal with the Devil
Revolution
Worth Fighting For
Demonizer
Wheels of Fire
Angel
Hellrider
Eulogy
Lochness
Discs 17-18: Nostradamus (originally released as Sony BMG 88697 31559-2, 2008)
Dawn of Creation
Prophecy
Awakening
Revelations
The Four Horsemen
War
Sands of Time
Pestilence and Plague
Death
Peace
Conquest
Lost Love
Persecution
Solitude
Exiled
Alone
Shadows in the Flame
Visions
Hope
New Beginnings
Calm Before the Storm
Nostradamus
Future of Mankind
Disc 19: A Touch of Evil…Live (originally released as Columbia 88697 54597-2, 2009)
Judas Rising
Hellrider
Between the Hammer and the Anvil
Riding on the Wind
Death
Beyond the Realms of Death
Dissident Aggressor
A Touch of Evil
Eat Me Alive
Prophecy
Painkiller