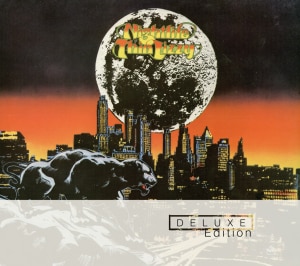 The last two years have been great for Thin Lizzy fans and collectors. Universal's U.K. arm has, in recent times, expanded a good chunk of the band's 1970s catalogue, released a thorough box set of tracks from the band's BBC sessions and announced the acquisition of a ridiculous amount of unreleased tapes for future catalogue purposes.
The catalogue action continues this spring with double-disc deluxe editions of the band's fourth and fifth albums, Nightlife and Fighting. Each set comes with a host of material making its debut on any format - a deserved reward for longtime fans of the band.
1974's Nightlife is best known for the smoldering ballad "Still in Love with You," which featured duet vocals from Scottish rocker Frankie Miller and guitar work from Gary Moore of Irish band Skid Row. Moore had joined the band that year following the departure of Eric Bell, and while he would depart in April, his cutting solos on the track would leave an indelible mark on the album, to the point that replacement guitarist Brian Robertson voted not to replace Moore's work with his own. (Moore would perform with Lizzy and bandleader Phil Lynott throughout the rest of his career.)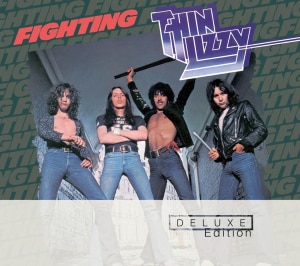 "Still in Love with You" was sort of par for the course on Nightlife, a largely smoother record than the band had recorded (which the band attributed to the production work by Ron Nevison, who would later smooth out the edges of Heart in the mid-'80s) and one that did not earn them much acclaim at the time. Follow-up Fighting (1975), recorded after a revitalizing series of tours with Bob Seger (whose "Rosalie" was the first single off this album) and Bachman Turner Overdrive in the U.S., was arguably the start of Lizzy's classic period, the first to chart in the U.K. (at No. 60) and a perfect set-up for the hard-driving sound and smart songwriting of Jailbreak and Johnny the Fox in 1976.
The bonus material on both sets is voluminous: both Nightlife and Fighting come with tracks from their respective BBC sessions of the era, while Fighting has another two previously-released tracks: non-LP B-side "Half Caste" (the flip to "Rosalie") and an alternate mix of "Rosalie" included on U.S. pressings of the album. But there's a lot of unreleased material to go around: Nightlife includes  three demos with Moore on guitar ("It's Only Money," "Showdown" and an early "Still in Love with You") and two alternate studio takes of the latter two tracks. Fighting, meanwhile, boasts 10 unreleased alternate and early versions of tracks from the album and related sessions, including a different version of "Try a Little Harder," an outtake released on the 2001 box set Vagabonds Kings Warriors Angels.
Each set is available on March 12. Pre-order links are live after the jump! (A hat tip to Real Gone Reviews for their reportage on these sets.)
Thin Lizzy, Nightlife: Deluxe Edition (Mercury/UMC (U.K.), 2012)
Disc 1: Original album (released as Vertigo 6360 116, 1974)
She Knows
Night Life
It's Only Money
Still in Love with You
Frankie Carroll
Showdown
Banshee
Philomena
Sha La La
Dear Heart
Disc 2: Bonus material
She Knows (BBC Session 10/3/1974)
Sha-La-La (BBC Session 10/3/1974)
It's Only Money (BBC Session 10/3/1974)
Philomena (BBC Session 10/3/1974)
Dear Heart (BBC Session 10/23/1974)
Banshee (BBC Session 10/23/1974)
Showdown (Demo with Gary Moore)
Still in Love with You (Demo with Gary Moore)
It's Only Money (Demo with Gary Moore)
Showdown (Alternate Take)
Still in Love with You (Alternate Take)
Disc 2, Tracks 1-6 released on Thin Lizzy at The BBC box set (Universal (U.K.), 2011)
Disc 2, Tracks 7-11 previously unreleased.
Thin Lizzy, Fighting: Deluxe Edition (Mercury/UMC (U.K.), 2012)
Disc 1: Original album (released as Vertigo 6360 121, 1975)
Rosalie
For Those Who Love to Live
Suicide
Wild One
Fighting My Way Back
King's Vengeance
Spirit Slips Away
Silver Dollar
Freedom Song
Ballad of a Hard Man
Disc 2: Bonus material
Half Caste
Rosalie (U.S. Album Mix)
Half Caste (BBC Session - 5/29/1975)
Rosalie (BBC Session - 5/29/1975)
Suicide (BBC Session - 5/29/1975)
Ballad of a Hard Man (Alternate Take)
Try a Little Harder
Fighting My Way Back (Alternate Take)
Song for Jesse
Leaving Town
Blues Boy
Leaving Town (Alternate)
Spirit Slips Away (Alternate Take)
Wild One (Alternate Take)
Bryan's Funky Fazer (Silver Dollar)
Disc 1, Track 1 was the B-side to "Rosalie" - Vertigo 6059 124, 1975
Disc 2, Track 2 from U.S. pressing of Nightlife - Vertigo VEL-2005, 1975
Disc 2, Tracks 3-6 released on Thin Lizzy at The BBC box set (Universal (U.K.), 2011)
Disc 2, Track 7-15 previously unreleased