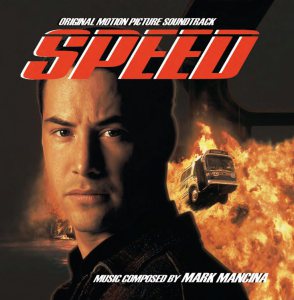 While there's a month to go before La-La Land releases the expanded soundtrack to Hook, they've got three great releases available to buy today - including their 200th title!
First up is a reissue of Jerry Fielding's score to the cult classic The Mechanic, with Charles Bronson as the efficient hitman who takes the son of a recent contracted kill under his wing. Save a few audio tweaks, title changes and changes in sequence, this disc features the same material from Intrada's long out-of-print 2007 release of the score, and the 1,200-unit pressing is intended to connect more fans who missed out the first time with the soundtrack.
Next, it's Jennifer 8, a 1992 thriller starring Andy Garcia as an L.A. cop investigating a string of brutal murders in a small California town. Christopher Young, who wrote scores for the Nightmare on Elm Street, Hellraiser and Spider-Man series, expands his score - one that put him in the upper tier of film composers - for this set, but the real treat is a bonus disc featuring an unreleased original score from composer Maurice Jarre, who composed a good portion of music for the film before being replaced by Young. The double-disc set is limited to 2,000 units.
The 200th release is hurdling your way after the jump!
La-La Land's 200th set is an expanded edition of the score to the hit action film Speed by Mark Mancina. Jan de Bont's smash directorial debut is a Die Hard-esque romp through the streets of L.A., with Keanu Reeves and Sandra Bullock attempting to keep passengers safe on a city bus that's been rigged by a madman (Dennis Hopper) with a bomb that will detonate should the bus drop below 50 miles per hour. Mancina's high-octane score set the tone for action film music throughout the 1990s, and it marked the first of several excellent collaborations with de Bont, including 1996's Twister and 1997's Speed 2: Cruise Control. As an added bonus, this 3,000-unit set includes the end title song "Speed," performed by Billy Idol.
All three are available to order now, with special sales going on in honor of Speed that you can check out here.
Jerry Fielding, The Mechanic: Original Motion Picture Soundtrack (La-La Land Records LLCD 1191, 2012 - original film released 1972)
Main Title
The Mark Comes Home/The Big Wait
The Meeting
Special Delivery/How's My Pulse/Strange Feelings
Death of McKenna
The Letter
Suicide
Strange Madness/Hello Steve
The Mechanic
The Pick Up/No Way In
Never Ride a Motorbike/The Man
Revelation/Italian Job
Watching-Waiting
The Set Up
Speed Boats
The Big Chase/The Big Drop
Steve Takes Over/End Titles-Version 2 (Bang, You're Dead)
End Titles-Version 1
End Titles-Version 3
Let's Get Together Again (Big Band Source)
Baja Band (Mexico Jazz) (Big Band Source)
The Party (Big Band Source)
Beach House Jump (Big Band Source)
Smoked Salmon (Big Band Source)
Romping (Big Band Source)
Beethoven: String Quartet Op. 18, No. 6 (Classical Source)
Beethoven: Grosse Fuge, Op. 133 (Classical Source)
O Sole Mio (Classical Source)
This material previously released as Intrada Special Collection Vol. 55, 2007
Christopher Young and Maurice Jarre, Jennifer 8: Original Motion Picture Soundtrack (La-La Land Records LLLCD 1198, 2012 - original film released 1992)
Disc 1: Original score by Christopher Young
Jennifer 8
What You See
Eight to Nine
Still Life
Black Winter
Eyes of a Child
Cello for Helena
See No Evil
Retrograde
Blind Faith
Talking Elevator
Outfoxed
Malice Aforethought
Brain Vanish
See How They Run
I Remember Red
Up on a Star
Disc 2: Unused score by Maurice Jarre
Main Title
To the Dump/One Hand
Frozen Hand/Dig Jennifer
Braille Reader/Tea Time/Elevator Man/Hello Helena
.22 Bullet
On Your Own/Cello Solo/Breathless/Cafe Chat
VW Van/Van Search/Picking Lock
No Braille
Xmas Threat/Not Wrong/Up the Ladder/Flashlight (Pt. 1)
Flashlight (Pt. 2)
Flashlight (Pt. 3)/Ross Shot/Deviate Calls
First Degree/Taxi Ride/Needed Friend
No Lies/Ashtray
Main Title (Alternate)
Hello Helena (Pad Stem)
Van Search (Alternate)
Ross Shot/Deviate Calls (Alternate Mix)
Taxi Ride (Alternate)
Portions of Disc 1 previously released on RCA/Milan 66120-2, 1992. All tracks on Disc 2 previously unreleased.
Mark Mancina, Speed: Original Motion Picture Soundtrack (La-La Land Records LLLCD 1200, 2012 - original film released 1994)
Main Title **
Elevator Stall
Elevator Peril
Move!
Pop Quiz *
Dangling Feet
Freight Elevator
Payne Explodes *
Payne Watches Awards/Payne Calls Jack *
Jack Driving Jeep/Bus Enters Freeway *
Rush Hour
Jack Jumps Onto Bus *
Choppers
Bomb Reveal/Payne Watching Football *
City Streets **
We Have Trust **
Helen Dies
The Gap
Entering Airport
Payne Excited
Jack Leaves Bus/Jack on Dolly/Payne's Picture *
The Dolly
Jack Under Bus/Harry Searches House/Harry Didn't Make It *
Wildcat
Payne Twisted
The Rescue
Pershing Square
Annie's Loaded/Getting on Train *
Fight on Train
Runaway Train *
End Title
Speed - Billy Idol
Portions of this disc previously released as Fox/Arista 07822 11020-2, 1993. Track 32 previously released on Fox/Arista 07822 11018-2, 1993.
* denotes previously unreleased track. ** denotes track with previously unreleased material.