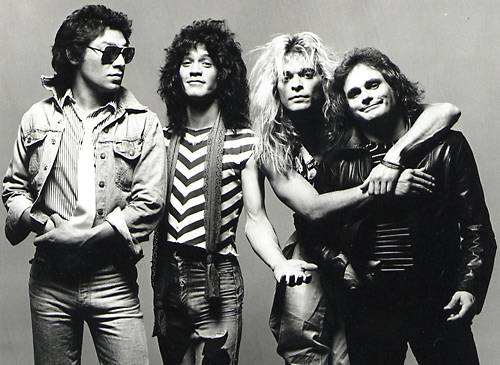 Welcome to another installment of Reissue Theory, where we focus on notable albums and the reissues they may someday see. As Van Halen prepares to take Second Disc HQ by storm, we reflect on a compilation that almost was, and how it could've been done, TSD-style...
Van Halen are mere hours away from their second show at Madison Square Garden in New York City, part of their latest tour in support of their first album in 13 years (and first with lead vocalist David Lee Roth since 1984), A Different Kind of Truth. It's the second tour since 2007 to feature Roth alongside Eddie Van Halen on guitar, Alex Van Halen at the drum set and Eddie's son Wolfgang replacing Michael Anthony on bass - and boy, is it irrationally exciting to be prepping to see these guys in 2012. VH still puts on a hell of a live show, and all reports indicate Eddie hasn't been as on point in concert in many years.
Naturally, Second Disc HQ has been ringing with Diamond Dave-era cuts in preparation for tonight's show, and it certainly brought to mind what there might still be to do with the band's lengthy catalogue on Warner Bros. Records from 1978 to 2000. The Roth albums were remastered in 2000, and two compilations (1996's The Best of Volume 1, featuring two new songs with Roth, and the double-disc The Best of Both Worlds (2004), featuring three new tracks with second vocalist Sammy Hagar) have been released to date.
A third compilation was planned several years ago, though, and while its worthiness would be incredibly easy to call into question, if done well it would have been a great collectible in the wake of A Different Kind of Truth. Get ready to dance the night away after the jump!
The third intended Van Halen compilation, The Best of 1978-1984, was going to be exactly what it sounded like: a generic compilation of nothing but David Lee Roth-era hits and killer cuts. It was announced in February of 2007 for an April 3 release date, to coincide with the band's induction into the Rock and Roll Hall of Fame that year. It never ended up released, of course - likely due to the unsavory business entanglements that make VH catalogue work such a heavy load to bear. (Disagreements between band members have colored all the band's compilations; Hagar was against The Best of Volume 1 from the start, leading to a chain of events that lead to his departure from the band and Roth nixed separate Roth/Hagar-themed discs for The Best of Both Worlds.)
But take a look at the tentative track list and admit to yourself that there's absolutely nothing there for collectors. Any self-respecting new fan would have probably just put money down for Both Worlds and called it a day. That's where Reissue Theory comes in. We drafted a leaner, more singles-heavy approach to a Roth-only compilation, while still including some (not all) rarities for hardcore fans.
In an ideal world, those rarities would be the tip of an iceberg for a bigger project - a box set, another round of remasters, vintage live material, the list could go on forever. Of course, the real world is ideal enough that Van Halen are still kicking and putting on a surprisingly killer show in a venue near you - but it's always fun to think about it.
Van Halen, The Best of 1978-1984 (Warner Bros./Rhino)
Eruption
You Really Got Me
Runnin' with the Devil
Ain't Talkin' 'Bout Love
Dance the Night Away
Beautiful Girls
And the Cradle Will Rock...
Unchained
(Oh) Pretty Woman
Dancing in the Street
Jump
I'll Wait (Edit)
Hot for Teacher
Panama
Everybody Wants Some!! (Live at the US Festival - 5/29/1983)
She's the Woman (Demo)
Tracks 1-4 from Van Halen (Warner Bros. Records BSK 3075, 1978)
Tracks 5-6 from Van Halen II (Warner Bros. Records HS 3312, 1979)
Track 7 from Women and Children First (Warner Bros. Records HS 3415, 1980)
Track 8 from Fair Warning (Warner Bros. Records HS 3540, 1981)
Tracks 9-10 from Diver Down (Warner Bros. Records 23677, 1982)
Tracks 11-14 from 1984 (Warner Bros. Records 23985, 1984)
Tracks 15-16 previously unreleased. Track 16 was recorded twice - once in 1976 as a Gene Simmons-produced demo, and again in 1977. (Fans, if you were picking, which one would our nonexistent compilation have?)