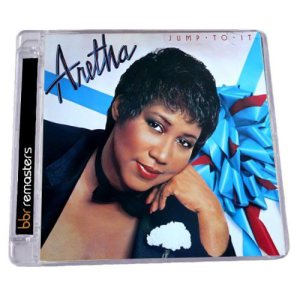 As we welcome the expanded release of Aretha Franklin's Who's Zoomin' Who? from Funky Town Grooves today, it's a thrill to report two more expansions of Aretha's underrepresented Arista material on CD from Big Break Records. The label will release 1982's Jump to It and 1983's Get It Right on May 21 with a total of nine bonus tracks, all single edits, dance mixes and instrumentals.
After her first two cover-heavy LPs for Clive Davis' label, the Queen of Soul elected to take things in a more modern direction, collaborating with rising star Luther Vandross on a clutch of danceable tracks. The title song was her first Top 40 hit in the U.S. in six years, and it earned her a Grammy Award nomination. While Get It Right, also produced by Vandross with longtime collaborator Marcus Miller joining him in writing half of the album's eight tracks, did not match its predecessor in terms of commercial success, it still boasts a lot of fan favorites, including the title track, "Every Girl (Wants My Guy)" and a cover of The Temptations' "I Wish It Would Rain."
If this pattern continues, fans may yet see reissues of underrated '80s smashes like 1986's Aretha, featuring "I Knew You Were Waiting for Me," her powerhouse duet with George Michael. In the meantime, you can preorder the new discs at Amazon U.K. and check out the track lists after the jump.
Aretha Franklin, Jump to It: Expanded Edition (originally released as Arista AL-9602, 1982 - reissued Big Break Records (U.K.), 2012)
Jump to It
Love Me Right
If She Don't Want Your Lovin'
This is for Real
(It's Just) Your Love
I Wanna Make It Up to You
It's Your Thing
Just My Daydream
Jump to It (Single Version) (Arista single A-side AS-0699, 1982)
Love Me Right (Single Version) (Arista single A-side AS-1023, 1982)
This is for Real (Single Version) (Arista single A-side AS-1043, 1982)
Just My Daydream (12" Version) (Arista 12" B-side 600 637 (U.K.), 1982)
Love Me Right (Dance Version) (Arista 12" A-side SP-147, 1982)
Aretha Franklin, Get It Right: Expanded Edition (originally released as Arista AL8-8019, 1983 - reissued Big Break Records (U.K.), 2012)
Get It Right
Pretender
Every Girl (Wants My Guy)
When You Love Me Like That
I Wish It Would Rain
Better Friends Than Lovers
I Got Your Love
Giving In
Get It Right (Single Version) (Arista single A-side AS1-9034, 1983)
Every Girl (Wants My Guy) (Single Version) (Arista single A-side AS1-9095, 1983)
I Got Your Love (Single Version) (Arista single B-side AS1-9095, 1983)
Get It Right (Instrumental) (Arista 12" B-side AD1-9043, 1983)