January 2013 is barely one week old, but a candidate for strangest catalogue music story of the year has already broken.  A 4-CD set of outtakes from the early career of Bob Dylan has recently been released, but don't look for it in your local record shop, or even online.  The 50th Anniversary Collection contains 86 Dylan songs, all recorded in 1962.  But despite the interest that fans worldwide might have in this material (some of which has never circulated, even in collectors' circles), the set was only released in an as a 100-unit limited edition in Europe.  The set was designed as a preventative measure to keep this material out of the public domain and in the hands of its legal owners, Sony Music Entertainment.
Those readers who travel internationally or peruse the import CD bins have no doubt noticed the number of landmark recordings that have already fallen into the European public domain.  Inexpensive and frequently subpar reissues of Frank Sinatra's entire Capitol catalogue, Miles Davis' Kind of Blue, Dave Brubeck's Time Out and the earliest Motown Records albums are all legally available in Europe in a variety of editions via labels other than those from which those titles originated.  Many anticipated the public domain laws being changed to prevent The Beatles' classic recordings from becoming public property, and indeed, the term of European copyright was recently extended from 50 years to 70 years.  As a Sony Music source told Rolling Stone, "This [Dylan release] isn't a scheme to make money.  The copyright law in Europe was recently extended from 50 to 70 years for everything recorded in 1963 and beyond. [Emphasis mine – JM] With everything before that, there's a new 'Use It or Lose It' provision. It basically said, 'If you haven't used the recordings in the first 50 years, you aren't going to get any more.'"
There are numerous arguments for and against copyright extension, but the release of this Dylan collection is just the latest high-profile example of a label having to take action to protect its valuable assets.  The Elvis Presley Estate's Follow That Dream label, for instance, releases a treasure trove of rare Presley material on a regular basis.  Some of that early material, in turn, has become fodder for a number of unauthorized European labels.
Dylan's 1962 debut album entered the European public domain on January 1, and has already been reissued by multiple labels in a variety of versions.  The Sony source continued, "The whole point of copyrighting this stuff is that we intend to do something with it at some point in the future.  But it wasn't the right time to do it right after he released Tempest. There are other things we want to do in 2013 though."  100 copies of The 50th Anniversary Collection were released to record stores in the United Kingdom, France, Germany and Sweden, reportedly 25 copies to each of four stores.  The set is plainly packaged and pressed on what appear to be CD-Rs. Unsurprisingly, copies have already made their way to eBay for four-figure amounts.
After the jump: what will you find on these four discs?  Hit the jump for more, including a complete track listing with source information!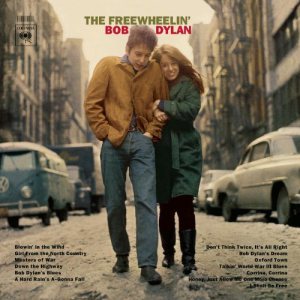 The first two CDs include a chronological account of Dylan's completed studio recordings from 1962, with no false starts or incomplete takes included.  (Reports have surfaced that there is an error on the first disc, with "Talking Bear Mountain Picnic Massacre Blues (Take 2)" listed but absent.  In its place is "Wichita Blues (Take 2)," which already appears on the same disc.)  The third and fourth discs consist of live and home recordings, including performances from a Carnegie Hall concert and the Gaslight.  (This set rounds up the Gaslight performances not included on Starbucks' 10-track highlights CD as well as "No More Auction Block," previously aired on The Bootleg Series Vols. 1-3.)
What action would you like to see Sony take with this material?  Should any further action be taken at this point?  Is a new installment of The Bootleg Series warranted?  Sound off below!
Bob Dylan, The 50th Anniversary Collection (Sony Music Entertainment, 2012)
CD 1
Going Down To New Orleans (Take 1)
Going Down To New Orleans (Take 2)
Sally Gal (Take 2)
Sally Gal (Take 3)
Rambling Gambling Willie (Take 1)
Rambling Gambling Willie (Take 3)
Corrina, Corrina (Take 1)
Corrina, Corrina (Take 2)
The Death Of Emmett Till (Take 1)
(I Heard That) Lonesome Whistle (Take 2)
Rocks And Gravel (Solid Road) (Take 3)
Sally Gal (Take 4)
Sally Gal (Take 5)
Baby, Please Don't Go (Take 1)
Baby, Please Don't Go (Take 3)
Milk Cow (Calf's) Blues (Good Morning Blues) (Take 1)
Milk Cow (Calf's) Blues (Good Morning Blues) (Take 3)
Wichita Blues (Going To Louisiana) (Take 1)
Wichita Blues (Going To Louisiana) (Take 2) (listed as Talking Bear Mountain Picnic Massacre Blues (Take 2))
Milk Cow (Calf's) Blues (Good Morning Blues) (Take 4)
Wichita Blues (Going To Louisiana) (Take 2)
Baby, I'm In The Mood For You (Take 2)
Blowin' In The Wind (Take 1)
Blowin' In The Wind (Take 2)
Worried Blues (Take 1)
Baby, I'm In The Mood For You (Take 4)
CD 2
Bob Dylan's Blues (Take 2)
Bob Dylan's Blues (Take 3)
Corrina, Corrina (Take 2)
Corrina, Corrina (Take 3)
That's All Right, Mama (Take 1)
That's All Right, Mama (Take 3)
That's All Right, Mama (Take 5)
Mixed Up Confusion (Take 3)
Mixed Up Confusion (Take 5)
Mixed Up Confusion (Take 6)
Mixed Up Confusion (Take 7)
Mixed Up Confusion (Take 9)
Mixed Up Confusion (Take 10)
Mixed Up Confusion (Take 11)
That's All Right, Mama (Take 3)
Rocks And Gravels (Solid Road) (Take 2)
Ballad Of Hollis Brown (Take 2)
Kingsport Town (Take 1)
When Death Comes Creepin' (Whatcha Gonna Do?) (Take 1)
Hero Blues (Take 1)
When Death Comes Creepin' (Whatcha Gonna Do?) (Take 1)
I Shall Be Free (Take 3)
I Shall Be Free (Take 5)
Hero Blues (Take 2)
Hero Blues (Take 4)
CD 3
Hard Times In New York Town (Mackenzie Home Tapes)
The Death Of Emmett Till (Mackenzie Home Tapes)
I Rode Out One Morning (Mackenzie Home Tapes)
House Of The Rising Sun (Mackenzie Home Tapes)
See That My Grave Is Kept Clean (Mackenzie Home Tapes)
Ballad Of Donald White (Mackenzie Home Tapes)
Honey, Just Allow Me One More Chance (Gerde's Folk City)
Talkin' New York (Gerde's Folk City)
Corrina, Corrina (Gerde's Folk City)
Deep Ellum Blues (Gerde's Folk City)
Blowin' In The Wind (Gerde's Folk City)
The Death Of Emmett Till (Finjan Club, Montreal)
Stealin' (Finjan Club, Montreal)
Hiram Hubbard (Finjan Club, Montreal)
Blowin' In The Wind (Finjan Club, Montreal)
Rocks And Gravel (Finjan Club, Montreal)
Quit Your Low Down Ways (Finjan Club, Montreal)
He Was A Friend Of Mine (Finjan Club, Montreal)
Let Me Die In My Footsteps (Finjan Club, Montreal)
Two Trains Runnin' (Finjan Club, Montreal)
Ramblin' On My Mind (Finjan Club, Montreal)
Muleskinner Blues (Finjan Club, Montreal)
Muleskinner Blues (Part 2) (Finjan Club, Montreal)
CD 4
Sally Gal (Carnegie Hall Hootenanny)
Highway 51 (Carnegie Hall Hootenanny)
Talking John Birch Paranoid Blues (Carnegie Hall Hootenanny)
Ballad Of Hollis Brown (Carnegie Hall Hootenanny)
A Hard Rain's A-Gonna Fall (Carnegie Hall Hootenanny)
See That My Grave Is Kept Clean (The Gaslight Café, NYC)
No More Auction Block (The Gaslight Café, NYC)
Motherless Children (The Gaslight Café, NYC)
Kind Hearted Woman Blues (The Gaslight Café, NYC)
Black Cross (The Gaslight Café, NYC)
Ballad Of Hollis Brown (The Gaslight Café, NYC)
Ain't No More Cane (The Gaslight Café, NYC)