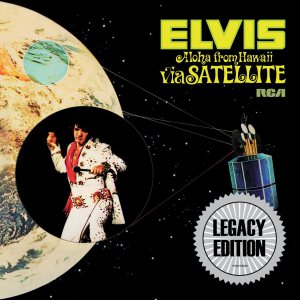 Elvis Presley never did anything small.  When he stepped onstage at 1:00 a.m. at Honolulu's International Center on January 14, 1973 for a scheduled 12:30 a.m. concert, satellites were beaming the most expensive entertainment broadcast ever to an audience of over one billion (yes, one billion) people around the world.  The subsequent RCA album quickly was certified gold, and eventually went five times platinum.  Now that world-famous LP, Aloha from Hawaii via Satellite, is the latest Legacy Edition release in Legacy Recordings' series of expansions and consolidations of The King's catalogue (RCA/Legacy 88765 43389 2).  The new Aloha follows the same template as 2012's reissue of Elvis as Recorded Live at Madison Square Garden.  The 2-CD iteration of that set presented the original MSG album on one disc with the Afternoon in the Garden rehearsal disc as its companion.  This set includes the original album on the first disc, with The Alternate Aloha rehearsal show of January 12 and five bonus tracks (recorded after the evening concert to be inserted in the delayed U.S. broadcast) on the second disc.
America said Aloha to Elvis in between a trip to the Dark Side of the Moon and a visit to the Houses of the Holy when the album earned a berth between Pink Floyd and Led Zeppelin atop the Billboard chart. The infamously silly original cover artwork of a gyrating Elvis literally being beamed from space via satellite barely offers a hint as to the fiery and electric music within the album.  The rear art (also reproduced on the CD booklet) better indicates the significance of the concert, with "We love Elvis" being transmitted in various languages.  In his lifetime, Presley only performed five concerts outside of the United States: five shows in three Canadian cities in 1957.  So the broadcast of Aloha from Hawaii was the only chance for many viewers worldwide to experience the Elvis Presley concert experience.
For Aloha, Elvis was backed by his regulars: the smokin' hot TCB Band (including James Burton, Jerry Scheff, Ronnie Tutt, John Wilkinson, Glen Hardin and Charlie Hodge), Joe Guercio's orchestra, and vocalists Kathy Westmoreland, The Sweet Inspirations and J.D. Sumner and the Stamps Quartet. All tickets for the concert and the rehearsal show were on a "pay what you can" basis benefiting the Kui Lee Cancer Fund, for which Presley raised more than $75,000.00.
Take a trip to the islands with Elvis after the jump!
Brassy, high-octane runs through "See See Rider" and "Burning Love" start off the show on a high note, following, of course, the ubiquitous "Also Sprach Zarathustra" fanfare.  The live "Burning Love" is a particular treat.  Released as a single on August 1, 1972, a couple of months after Presley's MSG stand, it became his fortieth and final U.S. Top 10 hit on the U.S. Billboard chart.  At No. 2, it was kept from the top spot by another famed rock-and-roller, Chuck Berry, with his risqué novelty "My Ding-a-Ling."  ("Burning Love" made the top spot on the Cashbox chart, however.)  Elvis clearly is savoring his recent hit.  It reaffirmed his status as an unparalleled rock-and-roller, even as grandiose orchestral ballads had crept into his repertoire.  And for Aloha, The King presented a substantially different show than he had in New York.  Only seven out of 24 songs were reprised from the original MSG album ("Love Me," "Blue Suede Shoes," "I Can't Stop Loving You," "Hound Dog," "Suspicious Minds," "An American Trilogy," and the finale of "Can't Help Falling in Love") with that concert and album far heavier on his early "oldies."
Screams, yelps, laughs and gasps punctuate the album as Elvis clearly set his audience's temperatures rising, too.  If the patrons at the International Center were caught in a trap, they didn't wish to get out as Elvis surveyed contemporary material including Mickey Newbury's "An American Trilogy," George Harrison's "Something" and James Taylor's "Steamroller Blues."  Taylor's original version of the song wryly satirized the blues, but Elvis delivered it as straight as possible.  To the audience's squeals of delight, the band laid down a torrid groove, making Elvis all the more believable as he proclaimed himself a "napalm bomb guaranteed to blow your mind!"
Though Elvis didn't find room in his setlist for his 1970 hit "The Wonder of You," Marty Robbins' stirring "You Gave Me a Mountain" (a 1969 hit for "Rawhide" crooner Frankie Laine) is arranged in its style.  It sits nicely alongside the other anthemic songs such as the martial "What Now My Love" and another French export, "My Way."  A live staple for Elvis, his 1971 studio version of the Paul Anka/Jacques Reveaux/Claude Francois song wasn't released until 1995.  But "My Way" became associated with Elvis thanks to his impassioned live performances.  A 1977 concert performance was released as a single shortly after his death, and it found success on the Pop, AC and Country charts.  On the pop chart, it even eclipsed the original of Frank Sinatra, for whom Anka wrote the song's English lyrics.
Yet as big as Elvis was on these songs, he could also be low-key, as on a bluesy "Fever" and a touching reading of Hank Williams' "I'm So Lonesome I Could Cry."  The sentiment in Williams' song must have cut Presley to the bone, especially given the recent upheavals in his personal life; he introduced it as "probably the saddest song I've ever heard" before offering some of his most deeply-felt singing of the evening.  He shifted from sublime pathos to growled bombast with the transition from "Lonesome" to another country-and-western staple, Don Gibson's "I Can't Stop Loving You."
The most pure rock-and-roll songs here are almost afterthoughts; Presley casually mumbled through the lyrics in brisk, loose renditions of "Johnny B Goode," "Blue Suede Shoes" and a particularly twangy "Hound Dog" that doesn't even clock in at one minute's length.  All of these songs, though, show off the camaraderie between the singer and his band.  It's difficult to single out a particular member of this tight unit led by James Burton's guitar and Jerry Scheff's Fender bass.  Elvis and the TCB crew also show off with a frenetic "Suspicious Minds," in which Elvis can't help but change the lyric: "I hope this suit don't tear up, baby..."
Elvis paid tribute to his beloved setting of Hawaii via one of the album's most touching tracks, "I'll Remember You."  Not to be confused with the Johnny Mercer/Victor Schertzinger "I Remember You," the song was written by Hawaiian singer/songwriter Kui Lee, who died of cancer at 34 in 1966.  Further tribute to the beautiful Aloha State was paid via the five additional songs recorded by Presley after the concert as "extras" for the eventual U.S. broadcast.  (The American airing had been delayed due to Super Bowl VII and a desire not to compete with the recently-released film Elvis on Tour.)  Four of these extras appropriately came from his 1961 film Blue Hawaii, and the fifth was a laconic cover of Gordon Lightfoot's folksy "Early Morning Rain."  (Stuart Colman's excellent liner notes helpfully inform us that viewers in Australia, South Korea, Japan, Thailand, The Philippines and South Vietnam watched the concert as it happened, with roughly thirty European countries watching later that night.)
The second disc's presentation of The Alternate Aloha has been newly remixed for this occasion by Steve Rosenthal and reissue co-producer Rob Santos, and remastered by Vic Anesini.  This newly-reinvigorated performance sounds better than ever, with sound and energy crackling from the speakers.  Elvis wasn't just hitting his marks and going through the motions at the rehearsal show; his voice is strong and supple throughout.  The rehearsal setlist lacked "Johnny B. Goode," "Long Tall Sally/A Whole Lotta Shakin' Goin' On," and "I Can't Stop Loving You," but was otherwise near-identical to that of the actual concert.  Elvis might even be more compelling on the rehearsal performances of "Something" and "You Gave Me a Mountain," to name two.  As he did at the actual concert, Presley considerably turned up the heat in "Fever."  As a whole, the show is less frantically rapid-fire and much looser than the final concert, and a more-than-worthy companion to it.  And the screaming of the audience is no more subdued, either!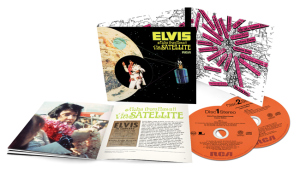 Aloha from Hawaii has been packaged in similar style to past Legacy Editions, attractively housed in a digipak.  Colman's essay anchors a 22-page, full-color, lavishly-illustrated booklet.  The booklet also contains detailed photo captions typical of co-producer Ernst Mikael Jorgensen's work for the collector-oriented Follow That Dream label.  Vintage-style orange RCA labels have also been smartly utilized on the CDs themselves.
Although it doesn't boast any previously unreleased audio material, the new Aloha is one-stop shopping for these seminal performances.  Are there any disappointments in this stellar reissue?  One wishes that the rights minefield could have been navigated to include the DVDs of the event with these CDs in a box set; the 2004 two-DVD box containing uncut versions of both shows is now out-of-print and fetching hefty prices secondhand.  Though a sensational audio experience, the flamboyant visuals of the jumpsuit-clad singer in transition are an integral part of the whole Aloha experience.  (Elvis had embarked on a series of strenuous diets and workouts in preparation for these monumental shows.)  Another welcome bonus would have been a DVD of the original quadraphonic mix, as of this writing still unreleased in the digital era.  The original Aloha from Hawaii LP was in four-channel sound; a stereo-only version was first issued through the RCA Record Club before supplanting the quadraphonic version in stores.
The Legacy series of Presley reissues has presented the entertainer in both studio and live settings (the latter including Las Vegas and New York concerts), but each release is a distinct chronicle of an artist who rarely stood still.  You'll want to say "Mahalo very much" to the team that assembled this fortieth anniversary tribute to yet another crowning moment in the career of Elvis Aron Presley.
You can order the Legacy Edition of Aloha from Hawaii via Satellite here!