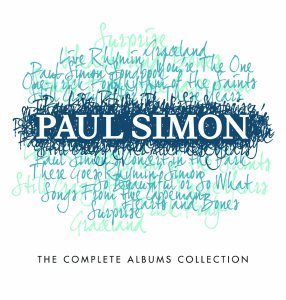 UPDATED 9/24/13 [UPDATES IN BOLD TO ORIGINAL POST OF 8/19]: And here's to you, Mr. Simon.
There isn't much that Paul Simon hasn't accomplished in his 50+ years as a professional musician, singer, and songwriter.  Born in Newark, New Jersey and raised in Queens, New York, Simon has racked up 12 Grammy Awards, an Emmy, a Kennedy Center Honor, the first-ever Gershwin Prize for Popular Song, and Academy Award, Golden Globe and Tony nominations.  That's not to mention being one-half of the most famed pair in American popular song and recording twelve acclaimed solo studio albums.  He's also had his songs recorded by the likes of Aretha Franklin, Emmylou Harris, Harper's Bizarre and The Bangles.  Surely an artist with such a C.V. could rest on his laurels, but that's not the scrappy Rhymin' Simon.  Still, there's something so right about taking a look back on a storied career even when future chapters are yet to be written.  Hence, on October 15, Legacy Recordings will issue The Complete Albums Collection on 15 CDs, bringing under one roof all twelve of Simon's studio recordings plus two live albums and 37 bonus tracks.  That same day, the label drops Over the Bridge of Time: A Paul Simon Retrospective, a 20-track, 1-CD career overview tracing Simon's oeuvre from his Simon and Garfunkel days through 2011's So Beautiful or So What.
Nearly a decade ago, in 2004, Rhino and Warner Bros. Records released The Studio Recordings 1972-2000 encompassing nine studio albums and thirty bonus tracks.  This box covered the period between Paul Simon (1972) and You're the One (2000).  As Simon has released two more studio albums since 2000 and overseen reissue of more of his back catalogue, Legacy's box is both an update and an expansion of that original box set.  The new Complete Albums Collection rewinds to 1965, when the young folk troubadour recorded an acoustic LP on a sojourn to London.  The Paul Simon Songbook kicks off the new box, reprising the two bonus tracks (alternates of "I Am a Rock" and "A Church is Burning") which debuted on Legacy's original 2004 CD reissue of the once-rare album.
What exactly will you find in the new box and on the new anthology?  Just hit the jump, won't you?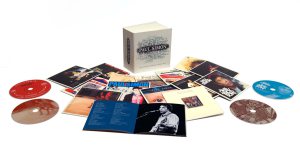 The Complete Albums Collection then goes onto Simon's LPs as released on the Columbia, Warner Bros. and Hear Music labels, from Paul Simon (1972) to So Beautiful or So What, his 2011 reunion with co-producer Phil Ramone.  All of the bonus tracks from the Rhino reissues have been retained (30 overall) and three additional tracks added for Legacy's 2012 Graceland reissue are also present.  Unlike the Rhino set, this box also finds room for Simon's two concert albums Paul Simon in Concert: Live Rhymin' (1974) and Paul Simon's Concert in the Park: August 15, 1991 (1991).  The former contains the two bonus tracks first released on Legacy's 2011 CD reissue, for a grand total of 37 bonus tracks on the new box.  Sweetening the pot, The Complete Albums Collection contains a 56-page book with rare photographs and a new essay penned by music scholar Ashley Kahn.
Over the Bridge of Time follows past Simon compilations such as The Essential Paul Simon and Paul Simon: Songwriter but is distinguished as Simon's first 1-CD set to include Simon and Garfunkel material, namely "The Sound of Silence," "America," and four songs from 1970's Bridge Over Troubled Water: "The Boxer," "Cecilia," "The Only Living Boy in New York," and "Bridge Over Troubled Water."  It goes on to feature selections from ten solo albums, plus "Slip Slidin' Away" from Greatest Hits, Etc. - a track which is not included in the box set.  Paul Simon, Still Crazy After All These Years and Graceland are the only solo LPs represented by more than one song.  The disc concludes with 2011's "Love and Hard Times" from So Beautiful or So What.
Both the career-spanning box set and single-disc compendium will be available on October 15 in physical and digital configurations.  For the proof as to why Paul Simon is still shining like a national guitar, look no further than The Complete Albums Collection and Over the Bridge of Time.  You can pre-order them below!
Paul Simon, The Complete Albums Collection (Legacy 88691 91292-2, 2013) (Amazon U.S. / Amazon U.K.)
Disc 1: The Paul Simon Song Book and bonus tracks (first released as CBS 62579 (U.K.), 1965 - bonus tracks from Columbia/Legacy CK 90281, 2004)
Disc 2: Paul Simon and bonus tracks (first released as Columbia KC 30750, 1972 - bonus tracks from Warner Bros./Rhino R2 78899, 2004)
Disc 3: There Goes Rhymin' Simon and bonus tracks (first released as Columbia KC 32280, 1973 - bonus tracks from Warner Bros./Rhino R2 78900, 2004)
Disc 4: Paul Simon in Concert: Live Rhymin' and bonus tracks (first released as Columbia PC 32855, 1974 - bonus tracks from Columbia/Legacy 88697 82000-2, 2011)
Disc 5: Still Crazy After All These Years and bonus tracks (first released as Columbia PC 35540, 1975 - bonus tracks from Warner Bros./Rhino R2 78901, 2004)
Disc 6: One-Trick Pony and bonus tracks (first released as Warner Bros. HS 3472, 1980 - bonus tracks from Warner Bros./Rhino R2 78902, 2004)
Disc 7: Hearts and Bones and bonus tracks (first released as Warner Bros. 23942, 1983 - bonus tracks from Warner Bros./Rhino R2 78903, 2004)
Disc 8: Graceland (released as Warner Bros. 25447, 1986) and bonus tracks from Rhino reissue (Warner Bros./Rhino R2 78904, 2004) and Legacy reissue (Legacy 88691 91471-2, 2012)
Disc 9: The Rhythm of the Saints and bonus tracks (first released as Warner Bros. 26098, 1990 - bonus tracks from Warner Bros./Rhino 78905, 2004)
Discs 10-11: Paul Simon's Concert in the Park (first released as Warner Bros. 26737, 1991)
Disc 12: Songs from The Capeman and bonus tracks (first released as Warner Bros. 46814, 1997 - bonus tracks from Warner Bros./Rhino R2 78906, 2004)
Disc 13: You're the One and bonus tracks (first released as Warner Bros. 47844, 2000 - bonus tracks from Warner Bros./Rhino R2 78907, 2004)
Disc 14: Surprise (first released as Warner Bros. 49982, 2006)
Disc 15: So Beautiful or So What (first released as Hear Music HRM-32814-02, 2011)
Over The Bridge Of Time: A Paul Simon Retrospective (1964-2011) (Legacy 88883 75767-2, 2013) (Amazon U.S. / Amazon U.K.)
The Sound of Silence - Simon & Garfunkel
America - Simon & Garfunkel
The Boxer - Simon & Garfunkel
Cecilia - Simon & Garfunkel
The Only Living Boy in New York - Simon & Garfunkel
Bridge Over Troubled Water - Simon & Garfunkel
Me and Julio Down by the Schoolyard
Mother and Child Reunion
American Tune
50 Ways to Leave Your Lover
Still Crazy After All These Years
Slip Slidin' Away
Late in the Evening
Hearts and Bones
Diamonds on the Soles of Her Shoes
You Can Call Me Al
Spirit Voices
That's Where I Belong
Everything About It is a Love Song
Love and Hard Times
Track 1 from Sounds of Silence (Columbia, 1965)
Track 2 from Bookends (Columbia, 1968)
Tracks 3-6 from Bridge Over Troubled Water (Columbia, 1970)
Tracks 7-8 from Paul Simon (Columbia, 1972)
Track 9 from There Goes Rhymin' Simon (Columbia, 1973)
Tracks 10-11 from Still Crazy After All These Years (Columbia, 1975)
Track 12 from Greatest Hits, Etc. (Columbia, 1977)
Track 13 from One-Trick Pony (Warner Bros., 1980)
Track 14 from Hearts and Bones (Warner Bros., 1983)
Tracks 15-16 from Graceland (Warner Bros., 1986)
Track 17 from The Rhythm of the Saints (Warner Bros., 1990)
Track 18 from You're the One (Warner Bros., 2000)
Track 19 from Surprise (Warner Bros., 2006)
Track 20 from So Beautiful or So What (Hear Music, 2011)