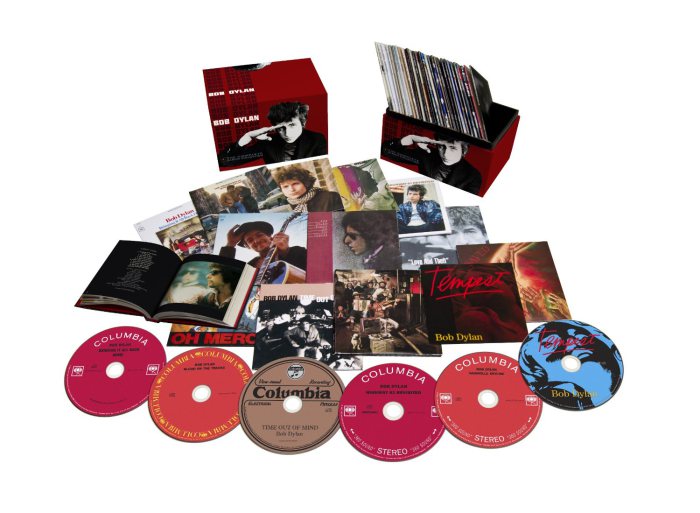 Is it rolling, Bob?
Columbia Records and Legacy Recordings certainly have the ball rolling on the remarkable ouevre of Bob Dylan.  Hot on the heels of Another Self Portrait, the rapturously-received tenth installment of The Bootleg Series, the labels have just confirmed the November 5 release of a Dylanologist's dream: The Complete Album Collection Volume One.  Yes, they're all here – each one of the core, full-length live and studio albums released by the former Robert Allen Zimmerman on the Columbia and Asylum labels between 1962 and 2012.  It's a tour of people and places, real and imagined, all filtered through one singular perspective.  By the numbers, that's 35 studio albums (including the much-maligned 1973 LP Dylan in its first North American CD reissue), six live albums, and a new 2-CD collection of odds and ends entitled Side Tracks for a total of 47 discs.  It, of course, adds up to a visit with Silvio, Isis, the Jokerman, Tweedle Dee and Tweedle Dum, Lily, Rosemary and the Jack of Hearts, and even the man who carried on his shoulder a Siamese cat – by way of Brownsville, Duquesne and Highway 61.
Following similar sets for Tony Bennett and Johnny Cash, Dylan's whole career arc can be found on The Complete Album Collection Volume One.  And what an arc it's been, from convention-defying, folk-singing, protest-slinging "voice of a generation" to electric rocker to country crooner to born-again musical preacher to elder statesman to self-described "song and dance man."   Along the way, Dylan challenged notions of what a song could express, and paved the way for every young kid with a guitar and a dream to make his voice heard.  Even today, there may be "another side of Bob Dylan" waiting to be revealed on record.  Who else would have followed a genuine tribute to the Tin Pan Alley tunesmiths of yore on 2009's Christmas in the Heart with 2012's dark, brooding and very appropriately-named Tempest?  Even as he criss-crosses the world over and over again on a so-called "never-ending tour," Dylan remains the epitome of an enigma.  But if there are answers to be revealed, you'll be hard-pressed to find a better place to start than The Complete Album Collection Volume One.
After the jump, we'll explore exactly what you'll find here!  Plus: pre-order links and a complete album listing with discography!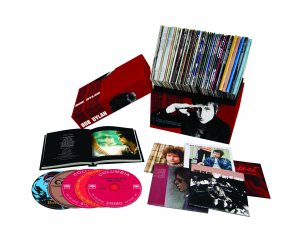 Of the 41 original stereo albums contained here, 14 have been newly remastered for this box while others utilize the most recent CD remasters.  The freshly-spruced up studio titles include Self Portrait (also include in the deluxe edition of the latest Bootleg Series volume), the film soundtrack Pat Garrett and Billy the Kid, the outtake-centric Dylan, 1978's swaggering Street Legal (presented here in its original mix; a previous remaster in 1999 boasted a new mix by producer Don DeVito), 1980's faith-based Saved, three underrated eighties sets (Empire Burlesque, Knocked Out Loaded, Down in the Groove) and a further three from the early nineties (Under the Red Sky and a pair returning Dylan to his folk roots – Good as I Been to You and World Gone Wrong).  Of the live albums contained in the box set, Hard Rain (1976), At Budokan (1979) and Real Live (1984) have also been newly-remastered.
The box set is rounded out by a new 2-CD anthology, Side Tracks.  Its 30 tracks have all been previously released on CD, with more than half of them having originated on the 1985 box set Biograph.  Other Side Tracks selections include the Oscar-winning "Things Have Changed" from the Wonder Boys soundtrack, the unique material on Bob Dylan's Greatest Hits Vol. II ("Tomorrow is a Long Time," "When I Paint My Masterpiece," "Down in the Flood (Live)," "I Shall Be Released," and "You Ain't Goin' Nowhere"), one unique cut from Greatest Hits Vol. 3 (the alternate of "Dignity"), a handful of singles (including, naturally, the non-LP hit "Positively 4th Street") and even a Bootleg Series track ("Series of Dreams").  Side Tracks does include the acoustic version of 1974 single "George Jackson" but not the rarer big band version; a handful of other single sides and previously-compiled tracks are likewise absent.  Dylan has also officially released a number of other live, one-off and soundtrack performances over the years, which may be fair game for a future compendium.
The Complete Album Collection Volume One represents one of the most significant bodies of work in American popular song to be collected in one place.  Its accompanying hardcover book features new album-by-album liner notes by Clinton Heylin, author of such Dylan studies as Revolution in the Air and Still on the Road, plus a new introduction penned by Bill Flanagan.  For the digitally-inclined, the box set will be also be available in a limited, numbered edition as a harmonica-shaped USB stick containing every track in both MP3 and FLAC format with a digital version of the book.  Four decade-specific digital releases will also be issued on November 5 to coincide with the release of the box set: The '60s, The '70s, The '80s and The '90s-'00s.  The Original Mono Recordings, containing mono versions of Dylan's first eight albums, will become available in digital download format on the same date.
If you'd like to add Bob Dylan's towering Complete Album Collection Volume One to your shelf, you'll find pre-order links just below!  Roll on, Bob...
Bob Dylan, The Complete Columbia Albums Collection (Columbia/Legacy 88691 92431-2, 2013) (Amazon U.S. / Amazon U.K. / Amazon-exclusive USB Edition)
Disc 1: Bob Dylan (originally released as Columbia CS 8579, 1962)
Disc 2: The Freewheelin' Bob Dylan (originally released as Columbia CS 8786, 1963)
Disc 3: The Times They Are A-Changin' (originally released as Columbia CS 8905, 1963)
Disc 4: Another Side of Bob Dylan (originally released as Columbia CS 8993, 1964)
Disc 5: Bringing It All Back Home (originally released as Columbia CS 9128, 1965)
Disc 6: Highway 61 Revisited (originally released as Columbia CS 9189, 1965)
Discs 7-8: Blonde on Blonde (originally released as Columbia C2S 841, 1966)
Disc 9: John Wesley Harding (originally released as Columbia CS 9604, 1967)
Disc 10: Nashville Skyline (originally released as Columbia KCS 9825, 1969)
Disc 11: Self Portrait (originally released as Columbia C2X 30050, 1970)
Disc 12: New Morning (originally released as Columbia KC 30290, 1970)
Disc 13: Pat Garrett & Billy The Kid (originally released as Columbia KC 32460, 1973)
Disc 14: Dylan (originally released as Columbia PC 32747, 1973)
Disc 15: Planet Waves (originally released as Asylum 7E-1003, 1974)
Discs 16-17: Bob Dylan & The Band, Before the Flood (originally released as Asylum AB-201, 1974)
Disc 18: Blood on the Tracks (originally released as Columbia PC 33235, 1975)
Discs 19-20: Bob Dylan & The Band, The Basement Tapes (originally released as Columbia C2 33682, 1975)
Disc 21: Desire (originally released as Columbia PC 33893, 1976)
Disc 22: Hard Rain (originally released as Columbia PC 34349, 1976)
Disc 23: Street-Legal (originally released as Columbia PC 35453, 1978)
Discs 24-25: Bob Dylan At Budokan (originally released as Columbia PC2 36067, 1979)
Disc 26: Slow Train Coming (originally released as Columbia FC 36120, 1979)
Disc 27: Saved (originally released as Columbia FC 36553, 1980)
Disc 28: Shot of Love (originally released as Columbia TC 37496, 1981)
Disc 29: Infidels (originally released as Columbia QC 38819, 1983)
Disc 30: Real Live (originally released as Columbia FC 39944, 1985)
Disc 31: Empire Burlesque (originally released as Columbia FC 40110, 1985)
Disc 32: Down in the Groove (originally released as Columbia OC 40439, 1986)
Disc 33: Knocked Out Loaded (originally released as Columbia OC 40957, 1988)
Disc 34: Dylan & The Dead (originally released as Columbia OC 45056, 1989)
Disc 35: Oh Mercy (originally released as Columbia OC 45281, 1989)
Disc 36: Under the Red Sky (originally released as Columbia CK 46794, 1990)
Disc 37: Good As I Been to You (originally released as Columbia CK 53200, 1992)
Disc 38: World Gone Wrong (originally released as Columbia CK 57590, 1993)
Disc 39: MTV Unplugged (originally released as Columbia CK 67000, 1995)
Disc 40: Time Out of Mind (originally released as Columbia CK 68556, 1997)
Disc 41: Love and Theft (originally released as Columbia CK 85975, 2001)
Disc 42: Modern Times (originally released as Columbia 82876 87606-2, 2006)
Disc 43: Together Through Life (originally released as Columbia 88697 43893-2, 2009)
Disc 44: Christmas in the Heart (originally released as Columbia 88697 57323-2, 2009)
Disc 45: Tempest (originally released as Columbia 88725 45760-2, 2012)
Discs 46-47: Side Tracks
Baby, I'm in the Mood for You **
Mixed-Up Confusion (promo single A-side - Columbia 4-42656, 1962)
Tomorrow is a Long Time *
Lay Down Your Weary Tune
Percy's Song **
I'll Keep It with Mine **
Can You Please Crawl Out Your Window? (single A-side - Columbia 4-43477, 1965)
Positively 4th Street (single A-side - Columbia 4-43389, 1965)
Jet Pilot **
I Wanna Be Your Lover **
I Don't Believe You (She Acts Like We Never Have Met) (Live) **
Visions of Johanna (Live) **
Quinn the Eskimo (The Mighty Quinn) **
Watching the River Flow (single A-side - Columbia 4-45409, 1971)
When I Paint My Masterpiece *
Down in the Flood (Live) *
I Shall Be Released *
You Ain't Goin' Nowhere *
George Jackson (Acoustic) (single B-side - Columbia 4-45516, 1971)
Forever Young (Demo) **
You're a Big Girl Now **
Up to Me **
Abandoned Love **
Isis (Live) **
Romance in Durango (Live) **
Caribbean Wind **
Heart of Mine (Live) **
Series of Dreams (from The Bootleg Series Volumes 1-3 (Rare and Unreleased) 1961-1991 - Columbia C3K 47382, 1991)
Dignity (Alternate) (from Bob Dylan's Greatest Hits Volume 3 - Columbia CK 66783, 1994)
Things Have Changed (from Wonder Boys: Music from the Motion Picture - Columbia CK 63849, 2000)
* released on Bob Dylan's Greatest Hits Volume II (Columbia KG 31120, 1971)
** released on Biograph (Columbia C5X/C3K 38830, 1985)