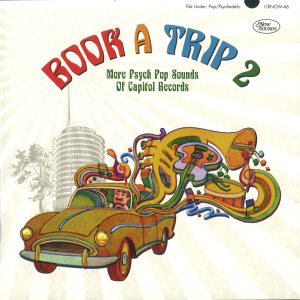 Between 1965 and 1970, Los Angeles' Capitol Tower – standing then, as it does now, near the intersection of Hollywood and Vine - was the place to be.  Capitol Records had The Beatles, and the Beach Boys, too.  But the label that Nancy Wilson and The Lettermen called home also hosted a number of bands with groovy names like The Tuneful Trolley, The Sugar Shoppe, The Pink Cloud, The New Kick and (my personal favorite) The Unforscene.  These happening acts, and many more, take the spotlight on Book a Trip 2: More Psych Pop Sounds of Capitol Records, the new anthology from Cherry Red's Now Sounds label.  The first volume of Book a Trip arrived in 2010, and some of the names on this worthy successor will be familiar to those who own Volume One: Chris and Craig, The Sidewalk Skipper Band, The Staccatos, Griffin.  But the rest of the artists on this musical mystery tour (from L.A. to London, Canada to New York by way of Boston, and back!) might become favorites, too.
Like its predecessor, Book a Trip 2 is a celebration of an era of concise, melodic songcraft, as well as optimism and youthful energy.  The harmonies were as bright as the future seemed, and the instruments were real and varied.  If you listen while reading along to producer/designer Steve Stanley's track-by-track liner notes, you'll start connecting the dots between personnel, songwriters, performers, producers and arrangers.  Talents frequently overlap on these criminally-unknown recordings which otherwise share in common the Capitol label and its subsidiaries, plus a five-year time period and a pure pop sensibility.
After the jump, join us on our far-out Trip!
Though these 24 songs are certainly of their time, they're not "dated."  Rather, they're transporting – both to a fertile period of musical invention and to various locales.  Canada's The Staccatos morphed into The Five Man Electrical Band by the end of 1968, but from the group's earlier incarnation, Book a Trip includes the harmony pop gem "Catch the Love Parade."  This would-be Summer of Love anthem ("You only get one chance to fly/You never know unless you try/Try on reality once for size/You'll never see by hiding your eyes/The love parade is passing you by...") is an invitation to open your mind and a natural opening track here.  The band's Les Emmerson also penned "Song the City Sings," heard here not in The Staccatos' rendition but in one by The New Kick.  Emmerson's song is purely infectious, with the band's mixed male-female harmonies aided by Wrecking Crew vets Hal Blaine, Don Randi, Al Casey and Joe Osborn.  The Sugar Shoppe, a.k.a. Peter Mann, Laurie Hood, Lee Harris and future stage and screen star Victor Garber, also hailed from Canada.  Their delightful version of Donovan's bouncy "Skip-a-Long Sam" is reprised here from Now Sounds' recent reissue of their self-titled Capitol LP.
London is even further away from the Capitol Tower, but one of the finest tracks here hails from the swinging capital.  Robbi Curtice's "When Diana Paints the Picture" is a gorgeous, baroque-pop gem, with lush strings and dreamily ethereal harmonies.  Bands from all over America, too, ended up on Capitol.  The bright "For Mary's Sake," recorded by These Vizitors [sic], produced by Richie Kaye and  engineered by Phil Ramone at his A&R Studios in New York City, offers strong Mamas and Papas-style vocals.  Wisconsin's Sidewalk Skipper Band returns from the first Book a Trip with a previously unreleased mix of their breezy calling card, "The Sidewalk Skipper Song."  Boston's "Boss Town Sound" (think: The Beacon Street Union, etc.) gets a shout-out on Book a Trip with studio aggregation Timothy Clover's "Trolley Car Line," and another Trolley – The Tuneful Trolley - reprises "Hello Love" from their own Now Sounds CD.  The buoyant, electric guitar-laced tune was written by Ritchie Adams of the Banana Splits theme and the soon-to-be-reissued soundtrack to Don Kirshner's trippy 1970 cult sci-fi musical Toomorrow.
Perhaps expectedly, though, the heartbeat of the collection can be found in the many recordings from California's vibrant bands.  Lex De Azevedo (whose work was recently featured on a new anthology from The Four King Cousins) produced The Tombstones' raucously twangy "Times Will Be Hard."  A raunchy guitar solo adds a bit of grit to this brash, Boyce and Hart/Monkees-esque track.  "Times will be hard/Just wait and see," The Tombstones warn.  "Think of all the good things in life and forget the rest," they advise, knowingly.  De Azevedo was also in charge of "Pretty Daisy" from the other Knack.  When it appeared on Now Sounds' Time Waits for No One: The Complete Recordings, I praised its "killer brass courtesy Plas ("The Pink Panther") Johnson and Buddy Childers, and some resplendent harmonies, too."  Equally bright and brassy is "Don't Take Very Much to See Tomorrow," one of two tracks by The Laughing Wind (Michael Lloyd, Shaun Harris, Danny Harris).  "Tomorrow" and the second Laughing Wind cut here, the gently mellow "Good to Be Around," are definitely among musical maverick and Sunset Strip svengali Kim Fowley's least outré productions.
The prolific singer-songwriter-arranger-producer Lloyd's "October Country" is the same recording found on the cult classic LP The Smoke, though credited here to The Raw Edge; another outfit, The Last Two, liked the song so much that the band changed its name to October Country.  The October Country album was previously reissued with Steve Stanley's imprimatur by the Rev-Ola label.  (Hmmm, is the time right for an entire Michael Lloyd anthology on Now Sounds?)
If you don't know the names Chris and Craig (Ducey and Smith, respectively) from the first Book a Trip, you might know them from the Mike Nesmith-produced band The Penny Arkade.  This second volume has unearthed a previously unreleased master by the fresh-faced duo, produced by The Wrecking Crew's Steve Douglas and featuring fellow session pro Hal Blaine on thunderous drums.  1966's "I Can't Go On," with its slightly dark, murky sound anticipates the Arkade's later, sublime folk-rock.  Another undisputed crown jewel of this collection is the dynamic, affecting and beautifully-produced recording of Harry Nilsson's "Don't Leave Me" by the four-person band Griffin.  With vocals arranged by Griffin leader Vince Morton and an orchestration by Larry Muhoberac, it's soft-psych at is finest.
A number of solo artists also are featured.  Dan Dalton produced "Masquerade" for Jesse Lee Kincaid, a bandmate of Ry Cooder and Taj Mahal in The Rising Sons bandmate.  So indicative of an era where musical genres routinely commingled, the track blends a straightforward folk-rock backing with Danny Faragher's trombone!  The crème of the Wrecking Crew (Carol Kaye, James Burton, Larry Knechtel, Jim Gordon) joined Englishman Ian Whitcomb for the unusual, psych-flecked "Groovy Day;" a second Whitcomb track, "The End," was actually recorded not in Hollywood but in Dublin, Ireland.
There are few female artists here, but one is the late Ellie Janov, daughter of primal scream therapist Arthur Janov, so well-known for his sessions with John Lennon and Yoko Ono.  She's heard on the evocative "Portobello Road," co-written by the busy Fowley and the soon-to-be Rock and Roll Hall of Famer Cat Stevens.  Recorded in Capitol Studios, it sounds more Hollywood than London, though Robert Bryant's trumpet lends a "Penny Lane"-esque touch and Don Randi's harpischord a baroque air to contrast Janov's light voice.
Certainly the largest group featured on this anthology is The Surf Symphony, assembled by conductor/violinist Jan Rubini, pianist/composer Mike Rubini and arranger Vic Briggs from the best of the L.A. Philharmonic as well as the Wrecking Crew.  The group's inventive, gently atmospheric instrumental "That Bluebird of Summer" is taken from The Surf Symphony's lone LP, Song of Summer, and as Stanley points out in his liner notes, it's indeed redolent of the Beach Boys circa Friends (with a hint of "God Only Knows").
Each ultra-rare track here has been crisply remastered by Alan Brownstein, and the design by Stanley is expectedly top-notch and period-specific.  With tantalizing glimpses of numerous artists who almost made it – and many who certainly did – Book a Trip 2 is an entertaining journey that will certainly leave you wanting to explore more from these underground talents.  No passport is required for this trip, and though it might be mildly mind-altering, you won't get busted for possession!  All you need is a taste for the lighter side of the sixties and a sense of musical adventure from a time when anything was possible in pop.
Various Artists, Book a Trip 2: More Psych Pop Sounds of Capitol Records (Now Sounds CRNOW 46, 2013) (Amazon U.S. / Amazon U.K.)
Catch the Love Parade – The Staccatos (Capitol single 5979, 1967)
Times Will Be Hard – The Tombstones (Capitol single 5997, 1967)
Don't Take Very Much to See Tomorrow - The Laughing Wind (Tower single 266, 1966)
For Mary's Sake – These Vizitors (Capitol single 2163, 1968)
I Can't Go On – Chris and Craig (recorded 1966, previously unreleased)
Masquerade – Jesse Lee Kincaid (Capitol single 5807, 1966)
Pretty Daisy – The Knack (Capitol single 5940, 1967)
October Country – Raw Edge (Tower single 936, 1967)
Groovy Day – Ian Whitcomb (Tower single 385, 1967)
Portobello Road – Ellie Janov (Capitol single 2037, 1967)
Fire Engine Sky – Michael Blodgett (Capitol single 2051, 1967)
When Diana Paints the Picture – Robbi Curtice (Sidewalk single 942, 1968)
Trolley Car Line – Timothy Clover (Tower single 408, 1968)
Little Toy – The Unforscene (Sidewalk single 926, 1967)
Skip-a-Long Sam – The Sugar Shoppe (Capitol single 2233, 1968)
Sidewalk Skipper Song – The Sidewalk Skipper Band (recorded 1968, previously unreleased stereo mix)
Midnight Sun – The Pink Cloud (Tower single 376, 1967)
Alone, Alone – James Flemming (Capitol single 5858, 1967)
Hello Love – The Tuneful Trolley (Capitol single 2498, 1969)
Song the City Sings – The New Kick (Capitol single 2682, 1969)
Don't Leave Me – Griffin (Capitol single SPRO-6027, 1970)
That Bluebird of Summer – The Surf Symphony (Capitol single 2623, 1969)
Good to Be Around – The Laughing Wind (Tower single 266, 1966)
The End – Ian Whitcomb (Tower single 155, 1965)