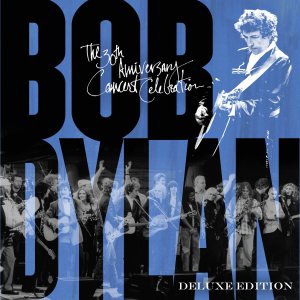 Since its opening on February 11, 1968, Madison Square Garden at Manhattan's Pennsylvania Station has hosted some of the most memorable events in music history, from The Concert For Bangla Desh in 1971 to The Concert for New York City in 2001.  For sheer star wattage, one of the most notable of MSG's many special events was the 1992 evening remembered simply as "Bobfest."  It was a night for friends, contemporaries and younger artists to pay tribute to an American great for whom a first-name basis was sufficient. Bob Dylan - The 30th Anniversary Concert Celebration, with appearances from Stevie Wonder, Johnny Cash, Lou Reed, Eric Clapton, and Traveling Wilburys Tom Petty, George Harrison and Bob Dylan himself, was preserved on compact disc, VHS and laserdisc.  Now, on March 4, the program will be reissued on CD (a 2-CD set) as well as on DVD and Blu-ray.
The October 16, 1992 concert marked the 30th anniversary of Dylan's first Columbia Records album, which had been released on March 19, 1962.  There was no shortage of luminaries in attendance, and befitting the number of artists in all styles of music who have covered Dylan's catalogue, no shortage of genre-bending.  Soul stars (The O'Jays, Stevie Wonder) shared the bill with country legends (Willie Nelson, Kris Kristofferson, Johnny Cash, June Carter Cash, Rosanne Cash), folk heroes (Richie Havens) and rockers (Lou Reed, Ronnie Wood, Johnny Winter, Chrissie Hynde, John Mellencamp, Tom Petty and the Heartbreakers, Neil Young).  A number of the artists had close associations with Dylan, including The Band (sans Robbie Robertson), The Byrds' Roger McGuinn, and of course, George Harrison, who made his first U.S. concert appearance in 18 years.  Dylan took the stage for a four-song finale set including all-star performances of "My Back Pages" with McGuinn, Harrison, Petty, Young and Clapton, and "Knockin' on Heaven's Door" with the full ensemble.  Naturally, the house band was A-list all the way, with three members of Booker T. & The M.G.'s joined by musical director G.E. Smith (once lead guitarist of Dylan's band) on guitar and veterans Jim Keltner and Anton Fig on drums.
After the jump: what extras will you find on these expanded reissues?  Plus: the complete track listing and pre-order links!
For its DVD/BD debut, The 30th Anniversary Concert Celebration has been struck from a new high-definition video master, and audio, of course, has also been remastered.  The DVD and BD releases will include over 40 minutes of supplemental material such as behind-the-scenes rehearsal footage and interviews plus performances by John Mellencamp ("Leopard-Skin Pill Box Hat)", Nancy Griffith with Carolyn Hester ("Boots of Spanish Leather") and Booker T. and the M.G.'s ("Gotta Serve Somebody"), while the CD remaster will premiere soundcheck performances by Eric Clapton ("Don't Think Twice, It's Alright") and Sinead O'Connor ("I Believe in You").
Bob Dylan - The 30th Anniversary Concert Celebration follows Columbia/Legacy's recent release of Dylan's Complete Album Collection Volume One which contained each of Dylan's core releases from Bob Dylan (1962) through Tempest (2012).  "Bobfest" arrives on CD, DVD and BD on March 4.  No plans have been announced for a combined CD/DVD or CD/BD edition.  You can pre-order in all formats below!
Various Artists, Bob Dylan - The 30th Anniversary Concert Celebration - Deluxe Edition (Columbia/Legacy, 2014)
CD: Amazon U.S. / Amazon U.K.
DVD: Amazon U.S. / Amazon U.K.
BD: Amazon U.S./ Amazon U.K.
CD (originally released as Columbia CK 57266-67, 1993):
"Like a Rolling Stone" - John Mellencamp
"Leopard-Skin Pill Box Hat" - John Mellencamp
Introduction - Kris Kristofferson
"Blowin' in the  Wind" – Stevie Wonder
"Foot of Pride" – Lou Reed
"Masters of War" – Eddie Vedder/Mike McCready
"The Times They Are A-Changin'" – Tracy Chapman
"It Ain't Me Babe" – June Carter Cash and Johnny Cash
"What Was It You Wanted" – Willie Nelson
"I'll Be Your Baby Tonight" – Kris Kristofferson
"Highway 61 Revisited" – Johnny Winter
"Seven Days – Ron Wood
"Just Like a Woman" – Richie Havens
"When the Ship Comes In" – The Clancy Brothers and Robbie O'Connell with special guest Tommy Makem
"Just Like Tom Thumb's Blues" – Neil Young
"All Along the Watchtower" – Neil Young
"I Shall be Released" – Chrissie Hynde
"Don't Think Twice, It's Alright" – Eric Clapton
"Emotionally Yours" – The O'Jays
"When I Paint My Masterpiece" – The Band
"You Ain't Goin' Nowhere" – Mary Chapin Carpenter/Rosanne Cash/Shawn Colvin
"Absolutely Sweet Marie – George Harrison"
"License to Kill" – Tom Petty & The Heartbreakers
"Rainy Day Women #12 & 35" - Tom Petty & The Heartbreakers
"Mr. Tambourine Man" – Roger McGuinn
"It's Alright, Ma (I'm Only Bleeding)" – Bob Dylan
"My Back Pages" – Bob Dylan/Roger McGuinn/Tom Petty/Neil Young/Eric Clapton/George Harrison
"Knockin' On Heaven's Door" – All
"Girl of the North Country" – Bob Dylan
DVD/BD  Additional Performances:
"Boots of Spanish Leather" – Nancy Griffith with Carolyn Hester (previously unreleased)
"Gotta Serve Somebody" – Booker T. & the M.G.'s (previously unreleased)
"Love Minus Zero, No Limit" - Eric Clapton (included on original VHS/laserdisc)
"War" - Sinead O'Connor (included on original VHS/laserdisc)
CD Bonus Tracks:
"I Believe in You" – Sinéad O'Connor  (from soundcheck, previously unreleased)
"Don't Think Twice, It's Alright" – Eric Clapton (from soundcheck, previously unreleased)