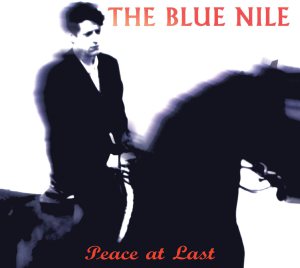 A pleasant surprise for fans of The Blue Nile today: following the expansion of the band's first two albums in 2012, Virgin/UMC will expand The Blue Nile's third LP, 1996's Peace At Last, in March with a disc of unreleased material.
Having released their last album, Hats, in 1989, the eclectic trio of Paul Buchanan (vocals/guitar/synthesizers), Robert Bell (bass) and Paul Joseph Moore (synthesizers) were finding themselves as in-demand musicians, despite the modest commercial reception of the band's discography. Julian Lennon, Michael McDonald and Annie Lennox were all close collaborators at this time; the band co-wrote "The Gift," the closing track to Lennox's smash debut album Diva (1992).
Signing a new deal with Warner Bros. in 1992, Peace At Last was recorded in the band's mobile studio over the U.S. and Europe after quite some time scouting locations. What set this album apart from its predecessors was the prominence of an acoustic guitar, rather than synthesizers, throughout the tracks. (The guitar had quite the significance to the band: in a recent interview, Buchanan said he bought in on a whim in New York not long after Bell had travelled to the same store and told him about it.)
"The idea, for better or worse, was to make an earthier record," the band said in a statement for the new reissue. "On reflection maybe this was the most autobiographical record too. We didn't set the personal against the city backdrop…we wanted hands, and the lines on hands and on faces. We wanted it to be human, and to reflect the doubtful 'Peace At Last' gained through tribulation and work and love."
[youtube=http://www.youtube.com/watch?v=myILQiYNdSo]
The album, newly remastered by original engineer and frequent Blue Nile collaborator Calum Malcolm, comes with a set of six unreleased tracks, including new mixes of key tracks, two outtakes and an unreleased demo, "A Certain Kind of Angel." "On the remixes, we have gone back and treated the songs as we might previously have done - so they are a hybrid, a look at that source material but with a different perspective, and a different goal: we reintroduced another dimension or skyline," the band's statement read. "The same goes for the unreleased songs: they are halfway between what we were doing then and what we did before and after."
The expanded Peace At Last is due in the U.K. on March 25. Full specs and Amazon U.K. link are after the jump. (A humongous hat tip to Stephen Sears for letting us know about this one!)
Peace At Last: Deluxe Edition (Virgin/UMC (U.K.), 2014)
Amazon U.K. / Amazon U.S. TBD
Disc 1: Original LP (released as Warner Bros. 45848, 1996)
Happiness
Tomorrow Morning
Sentimental Man
Love Came Down
Body and Soul
Holy Love
Family Life
War is Love
God Bless You Kid
Soon
Disc 2: Bonus material (previously unreleased)
Soon (Laurel Canyon Mix)
War is Love (New Vocal Mix)
Turn Yourself Around
Holy Love (Picture Mix)
A Certain Kind of Angel (Demo)
There Was a Girl