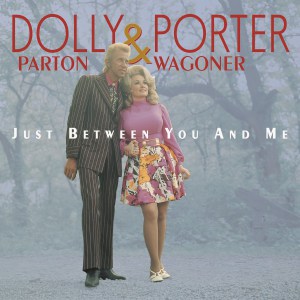 Johnny and June. George and Tammy. Porter and Dolly. The world of country music had some of its greatest successes in pairs - duets whose songs projected all the joy and pain of love and loss, just like any good country song should. Whether the joy or pain was real or simply projected very well is another matter, as anyone who's seen Walk the Line can attest.
In the case of Porter Wagoner and Dolly Parton, their relationship was never romantic and often turbulent, but it did yield one of the most bountiful dual discographies in the genre. This year, Bear Family Records will celebrate that union with Just Between You and Me: The Complete Recordings 1967-1976, a six-disc box set featuring every one of Porter and Dolly's recordings for the RCA Victor label.
In 1967, Porter Wagoner was left with the unenviable task of replacing singer Norma Jean Beasler, an RCA Victor artist and co-star of his long-running syndicated television show since its inception in 1960. Audiences were quick to judge the blonde, buxom Parton, who'd been previously signed to Monument Records as a bubblegum pop artist despite a desire to pursue her country roots. But Parton's intoxicating, vibrato-laden voice and natural on-stage chemistry with Wagoner made her a natural starlet, both as part of Wagoner's line-up and on her own. By the early 1970s, she was a bona-fide country legend, with singles like "Just Because I'm a Woman," "Mule Skinner Blues," "Coat of Many Colors" and the incomparable "Jolene."
[youtube=http://www.youtube.com/watch?v=9Qt_ixpI8A0]
Porter and Dolly would record a dozen records for RCA in a decade, often featuring songs they wrote themselves. They logged 20 singles on Billboard's Country Top 40, including "The Last Thing on My Mind," "Daddy Was An Old Time Preacher Man," "Just Someone I Used to Know," "If Teardrops Were Pennies" and the chart-topping "Please Don't Stop Loving Me." But the duo did not always get along offstage. Dolly told The Los Angeles Times in 2008, "He was in charge, and it was his show, but he was also very strong willed. That's why we fought like crazy, because I wouldn't put up with a bunch of stuff. Out of respect for him, I knew he was the boss, and I would go along to where I felt this was reasonable for me. But once it passed points where it was like, your way or my way, to prove to you that I can do it, then I would just pitch a damn fit. I wouldn't care if it killed me."
Ultimately, Dolly parted ways with Porter by 1976, although her respect for him as a partner as well as one who gave her a chance to break through in the country world led to the writing of one of Parton's greatest compositions: "I Will Always Love You." And the duo would patch up their personal and professional differences in later years: a 1980 album, Porter & Dolly, was comprised of outtakes from the pair's partnership including the No. 2 smash "Making Plans." And Dolly was there to induct Porter into the Country Music Hall of Fame in 2002, and joined his family to say goodbye when he passed away in 2007.
Just Between You and Me features every track from the duo's 13 albums, several compilation-only tracks, a few rarities - namely a 45 RPM single recorded in honor of The American Freedom Train that ran for the country's bicentennial and live cuts from 1970's A Real Live Dolly - and 13 unreleased tracks, including alternate takes. Alanna Nash, author of 1978's Dolly: The Biography, pens the set's liner notes.
The box is available May 5. Order it here and hit the jump for a complete track list! (Thanks to super reader Richard Eric for the tip!)
Just Between You and Me: The Complete Recordings 1967-1976 (Bear Family BCD-16889 (DE), 2014)
Disc 1
Just Between You and Me
Before I Met You
Two Sides to Every Story
Mommie, Ain't That Daddy
Four O Thirty Three
Love is Worth Living
The Last Thing on My Mind
Sorrow's Tearing Down the House (That Happiness Once Built)
Home is Where the Hurt Is
This Time Has Gotta Be Our Last Time
Put It Off Until Tomorrow
Because One of Us Was Wrong
Slip Away Today
Holding On to Nothin'
Just the Two of Us
Closer by the Hour
Afraid to Love Again
I Washed My Face in the Morning Dew
Jeannie's Afraid of the Dark
The Party
I Can
We'll Get Ahead Someday
The Dark End of the Street
Somewhere Between
Making Plans
Malena
Good As Gold *
One by One *
Good As Gold
Yours Love
Disc 2
Just Someone I Used to Know
No Reason to Hurry Home
Milwaukee, Here I Come
The House Where Love Lives
Why Don't You Haul Off and Love Me
Mendy Never Sleeps
I Don't Believe You've Met My Baby
Anything's Better Than Nothing
Always, Always
My Hands Are Tied
There Never Was a Time
Forty Miles from Poplar Bluff
Each Season Changes You
Daddy Was An Old Time Preacher Man *
Tangled Vines
We Can't Let This Happen to Us
Tomorrow is Forever
Silver Sandals
No Love Left
I'm Wasting Your Time and You're Wasting Mine
Run That by Me One More Time
It Might As Well Be Me
I Know You're Married But I Love You Still
Daddy Was An Old Time Preacher Man
Fight and Scratch
A Good Understanding
Disc 3
Once More
Ragged Angel
Before Our Weakness Gets Too Strong
Let's Live for Tonight
One Day At a Time
Thoughtfulness
There'll Be Love
Daddy Did His Best
Possum Holler
The Fighting Kind
All I Need is You
Curse of the Wild Weed Flower
Today, Tomorrow and Forever
The Flame
Her and the Car and the Mobile Home
Is It Real
Two of a Kind
The Pain of Loving You
Better Move It On Home
The Right Combination
Burning the Midnight Oil
Love's All Over
Take Away
You and Me, Her and Him
How Close They Must Be
On and On
More Than Words Can Tell
In Each Love Some Pain Must Fall
Disc 4
Anyplace You Want to Go
Somewhere Along the Way
The Fog Has Lifted
Looking Down
If You Go, I'll Follow You
Waldo the Weirdo *
I've Been This Way Too Long
Lost Forever in Your Kiss
Sounds of Nature
Through Thick and Thin
We Found It
Poor Folks Town
Together You and I
Christina
Together Always
Ten-Four, Over and Out
There's Singing on the Mountain
Say Forever You'll Be Mine
That's When Love Will Mean the Most
Love Have Mercy on Us
Sweet Rachel Ann
Satan's River
I Am Always Waiting
I've Been Married (Just As Long As You Have)
Little David's Harp
Between Us
Love City
In the Presence of You
Disc 5
How Can I (Help You Forgive Me)
Come to Me
Laugh the Years Away
There'll Always Be Music *
I Have No Right to Care
Come to Me *
Beneath the Sweet Magnolia Tree
Love is Out Tonight
If Teardrops Were Pennies
You
There'll Always Be Music
I Get Lonesome by Myself
Sounds of Night
Wasting Love
All Aboard America
Here Comes the Freedom Train
Too Far Gone
Again
Something to Reach For
The Fire That Keeps You Warm
Without You
Sixteen Years
Carolina Moonshine *
If You Say I Can
The Power of Love
The Beginning
Please Don't Stop Loving Me
Disc 6
Life Rides the Train
Two
Hide Me Away
We'd Have to Be Crazy
Love to See Us Through
If You Were Mine
Our Love
Is Forever Longer Than Always
I Learned It Well *
Touching Memories
In the Morning *
About Susanne, About Your Man *
A Fool Like Me *
Someone Just Like You
Golden Streets of Glory *
Twin Mounds of Clay *
Presentation by Don Howser (live)
Run That by Me One More Time (live)
Jeannie's Afraid of the Dark (live)
Tomorrow is Forever (live)
Two Sides to Every Story (live)
Disc 1, Tracks 1-12 released as Just Between You and Me (RCA Victor LSP-3926, 1968)
Disc 1, Tracks 13-24 released as Just the Two of Us (RCA Victor LSP-4039, 1968)
Disc 1, Track 25; Disc 3, Track 8; Disc 4, Tracks 5, 17 and 25; Disc 5, Tracks 7 and 24 and Disc 6, Tracks 3, 10  and 14 from Porter & Dolly (RCA Victor AHL1-3700, 1980)
Disc 1, Tracks 26 and 29-30 and Disc 2, Tracks 2-5 and 7-11 released as Always, Always (RCA Victor LSP-4186, 1969)
Disc 2, Tracks 1, 6, 12-13 and 16-22 from Porter Wayne and Dolly Rebecca (RCA Victor LSP-4305, 1970)
Disc 2, Track 15 from Playlist: The Very Best of Porter Wagoner & Dolly Parton (RCA/Legacy 88765 42972-2, 2012)
Disc 2, Tracks 23-26 and Disc 3, Tracks 1-6 from Once More (RCA Victor LSP-4388, 1970)
Disc 3, Tracks 7, 9-14 and 16-18 from Two of a Kind (RCA Victor LSP-4490, 1971)
Disc 3, Tracks 15, 20-21 and 26-28 and Disc 4, Tracks 2-3, 7 and 10 from The Right Combination/Burning the Midnight Oil (RCA Victor LSP-4628, 1972)
Disc 3, Track 19 from The Best of Porter Wagoner & Dolly Parton (RCA Victor LSP-4556, 1971)
Disc 3, Tracks 22-24 and Disc 4, Tracks 1, 4, 8, 12 and 14-16 from Together Always (RCA Victor LSP-4761, 1972)
Disc 3, Tracks 25 and Disc 4, Tracks 11, 19-24 and 26-27 from We Found It (RCA Victor LSP-4841, 1973)
Disc 4, Tracks 9 and 13; Disc 5, Tracks 17, 20-22, 25 and 27 and Disc 6, Tracks 2 and 4 from Porter 'N' Dolly (RCA Victor APL1-0646, 1974)
Disc 4, Track 18; Disc 5, Tracks 1, 5, 18-19 and 26 and Disc 6, Tracks 1 and 5-7 from Say Forever You'll Be Mine (RCA Victor APL1-1116, 1975)
Disc 4, Track 28 and Disc 5, Tracks 2-3 and 8-14 from Love and Music (RCA Victor APL1-0248, 1973)
Disc 5, Tracks 15-16 from Freedom Train single 5767, 1973
Disc 6, Track 8 from The Essential Porter Wagoner & Dolly Parton (RCA 07863 66858-2, 1996)
Disc 6, Tracks 17-21 from A Real Live Dolly (RCA Victor LSP-4387, 1970)