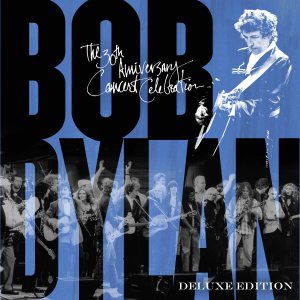 Bob Dylan's 30th Anniversary Concert Celebration, held on October 16, 1992 at New York's Madison Square Garden to mark Dylan's Columbia Records debut, could have been a valedictory.  The 51-year old honoree and participant was nearly at the halfway point of a self-imposed sabbatical from writing and recording original songs; it would last seven years, from 1990 to 1997.  He had not had an album reach the Top 20 of the Billboard 200 since 1983's Infidels and hadn't cracked the Top 5 since 1979's Slow Train Coming.   When Good as I Been to You, a collection of traditional tunes and standards, arrived in stores just a couple of weeks after the concert, it was the artist's first solo acoustic album since 1964.  Was the artist who once challenged convention with alarming regularity now succumbing to it, resting on his laurels while his famous friends saluted him?  One could have been forgiven for coming to that conclusion.  But the concert dubbed by participant Neil Young as "Bobfest" proved conclusively that the Bob Dylan songbook was as enshrined in the cultural consciousness as any of the classic songs Dylan had taken to recording of late.  His songs still had the power to shock, to entertain, to incisively observe upon the world and the human condition.  Columbia Records issued the concert as a 2-CD set and on VHS; now, both the audio and video components have received, shall we say, a 22nd anniversary update and upgrade from Legacy Recordings.  With Dylan more venerated than ever, on the heels of a remarkable "comeback" that began in 1997 and hasn't abated since, the timing couldn't be better.
It's striking in equal measure to note how many of the artists featured on Concert Celebration are still going strong, like Dylan, and how many have moved onto the next world.  Of the former, Stevie Wonder, Willie Nelson, Kris Kristofferson, Eric Clapton, Neil Young, Roger McGuinn and Tom Petty all now possess "living legend" status.   There's an overwhelmingly bittersweet quality, however, savoring the performances by Johnny Cash and June Carter Cash, George Harrison, Richie Havens, Levon Helm and Rick Danko, Tommy Makem and Bobby, Liam and Paddy Clancy, Howie Epstein of The Heartbreakers and Donald "Duck" Dunn.
Underscoring the adaptable nature of Dylan's singular songs, the genres of rock, folk, country and even R&B all earned a spot at the Garden that evening.  Naturally for any such concert retrospective, a number of artists reprised past triumphs with an older and wiser sensibility to mark their own shared history with Dylan: Stevie Wonder with his 1966 hit version of "Blowin' in the Wind," Johnny and June Carter Cash with their 1965 Top 5 Country romp through "It Ain't Me Babe" (enlivened by Mickey Raphael's harmonica), Roger McGuinn and his 12-string Rickenbacker (plus Tom Petty and the Heartbreakers!) with The Byrds' chart-topping "Mr. Tambourine Man," folk hero Richie Havens with "Just Like a Woman," a staple of his repertoire since the 1960s.  The O'Jays liked Dylan's "Emotionally Yours" so much that they named a 1991 album after the song and recorded it twice on that LP – once in an R&B Version and once in a Gospel Version.  The latter raised the rafters at the Garden, thanks to the chorus featuring, among others, Cissy Houston and the pre-fame Sheryl Crow.  Sans Robbie Robertson, Levon Helm, Rick Danko and Garth Hudson of The Band invested "When I Paint My Masterpiece" with appropriate, ironic optimism.
Other headliners also had one foot in the past, honoring the original performances of the songs via their faithful renditions.  John Mellencamp even enlisted Al Kooper to revisit his famous organ part on a rip-roaring, concert-opening "Like a Rolling Stone."  Rosanne Cash, Shawn Colvin and Mary-Chapin Carpenter revived the folk-rock spirit of The Byrds on "You Ain't Goin' Nowhere."  Eddie Vedder, on vocals, and Mike McCready, on guitar, tackled the acoustic "Masters of War" ("Even Jesus would never forgive what you do") and did full justice to its lacerating, unforgiving lyrics ("I'll stand on your grave 'til I'm sure that you're dead").
Click on the jump to keep reading!
Authenticity could have been a buzzword of the evening, particularly for the folk artists such as Richie Havens or Dylan's own heroes The Clancy Brothers and Tommy Makem.    Lou Reed, too, is almost disarmingly real with his epic reading of the densely-written yet utterly enigmatic blues/cautionary tale "Foot of Pride."  The Infidels outtake mashes up religious allusions and all-too-real evocations of the worst humanity has to offer, and Reed brought his trademark no-nonsense, street-level grit to its evocative lyrics.
Like Lou Reed, Neil Young can make any song sound like his own – and did so with "Just Like Tom Thumb's Blues" and perhaps the most famous of Dylan's "apocalyptic" songs, "All Along the Watchtower."  The latter performance might not erase the memory of Jimi Hendrix's famous reinterpretation, but blazed with fury and drama in no small part due to the taut support of Booker T's group.  That Dylan's songs have greatly influenced Young (and let's face it, virtually every other young guitar slinger in the 1960s with a dream of rock-and-roll greatness) has never been in question; as of this writing, a rendition of "Blowin' in the Wind" has been rumored for Young's upcoming album. Johnny Winter upped the blues-rock quotient (and the feedback) on his blistering trip through "Highway 61," backed by Booker T. and The MG's' Booker T. Jones, Donald "Duck" Dunn and Steve Cropper all cutting loose as well as musical director G.E. Smith on guitar, and drummers Anton Fig and Jim Keltner.
Willie Nelson's dark, bluesy "What Was It You Wanted" makes clear the song's connection to Dylan's earlier, most deliciously acerbic songs ("Whatever you wanted/What could it be?  Did somebody tell you/That you could get it from me? Is it something that comes natural/Is it easy to say?  Why do you want it/Who are you anyway?") while Willie and fellow Highwayman Kris Kristofferson are more laid-back on an enjoyably ragged "I'll Be Your Baby Tonight."  The lesser-known songs are often the real treats, though, like "What Was It You Wanted" and the Rolling Thunder-era "Seven Days," sung by Ronnie Wood, his voice tinged with desperation.
George Harrison and Tom Petty represented Dylan's Wilbury brothers.  "Absolutely Sweet Marie," from 1966's landmark double-album Blonde on Blonde, was a fine choice for The Quiet Beatle as master musical storyteller.  Petty's natural vocal similarity to Dylan's is apparent on "License to Kill" and "Rainy Day Women # 12 and 35," the latter of which gets a rockabilly bounce.  When Petty, Harrison, Young, Clapton and McGuinn joined Dylan and the house band for "My Back Pages" – following Dylan's own, solo "It's Alright Ma (I'm Only Bleeding)" – only the most hard-hearted wouldn't feel the mutual affection and admiration.  The triumphant, elegiac, full-cast performance of "Knockin' on Heaven's Door" was impossible to top, but Dylan properly brought the concert home with his low-key, voice-guitar-and-harmonica "Girl from the North Country."  (Dylan's performance of "Song for Woody" still apparently remains unsalvageable, marred by technical problems.)
Legacy's 2014 edition of The 30th Anniversary Concert Celebration is particularly welcome as the title was not included in last year's Complete Album Collection Volume One box set.  It has been newly, splendidly remastered by Vic Anesini, who was one of the original recording engineers for the concert.  It also boasts two previously unreleased bonus tracks (one at the conclusion of each disc), and if one wishes there was more, be advised that both discs push the eighty-minute limit for a CD to its maximum.  Disc One features Clapton's rehearsal take of "Don't Think Twice," and his blues licks and vocal growls are a bit more rough-hewn than on the tighter evening performance.  Disc Two offers a rare treat in the form of Sinead O'Connor's hushed, stark "I Believe in You," which the then-controversial artist jettisoned at the actual concert in favor of an impromptu rendition of Bob Marley's "War."  (O'Connor was apparently angry at a spate of boos from the audience.)  The booklet features both an informative new appreciation from Bill Flanagan and the terrific original liner notes from David Wild.
The 30th Anniversary Concert Celebration is also available on Blu-ray and DVD.  The track listings of the BD/DVD and CD are very similar, though the sequence varies slightly.  Mellencamp's "Leopard-Skin Pill Box Hat" was originally absent from the VHS, and appears here among the bonus material.  Clapton's "Love Minus Zero/No Limit" remains missing from the CD set, and the DVD and BD add bonus video of Nancy Griffith and Carolyn Hester's "Boots of Spanish Leather" and Booker T. and the MG's' "Gotta Serve Somebody."  A nearly 40-minute Behind the Scenes featurette is also included on the video releases, featuring rehearsal footage and archival interview material.  In one segment, Lou Reed summed up the experience: "We had so much fun...how could it be legal?"
Bob Dylan's 2012 Tempest showed that the fire in his belly has yet to be extinguished, and the only predictable quality about the artist is his steadfast unpredictability.  But if it's impossible to say what the future will bring for Dylan, the reissue of The 30th Anniversary Concert Celebration is a worthwhile occasion to raise a glass to absent friends and savor a most remarkable body of work.  Dylan once wrote, "It's not dark yet...but it's getting there."  But this triumphant, all-star 1992 evening could well turn out to be just the halfway point in the career of Bob Dylan.
To order:
CD: Amazon U.S. / Amazon U.K.
DVD: Amazon U.S. / Amazon U.K.
BD: Amazon U.S./ Amazon U.K.