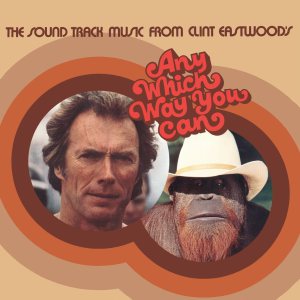 Varese Vintage is going any which way they can with an exciting trio of soundtrack releases from the library of Snuff Garrett's Viva Records label.  Garrett, of course, was the producer behind major hits from Gary Lewis and the Playboys ("This Diamond Ring"), Cher ("Gypsys, Tramps and Thieves") and future "Mama" Vicki Lawrence ("The Night the Lights Went Out in Georgia").  At Viva, he oversaw an eclectic array of releases from artists like the Midnight String Quartet, Alan O'Day, Ray Price and even crooner Rudy Vallee.  (If you ever wanted to hear Vallee warbling "Winchester Cathedral" and "Michelle," look no further than 1967's Hi-Ho Everybody on Viva!)  He also helmed a number of film soundtracks, three of which are arriving on CD from Varese: 1980's Any Which Way You Can, 1981's Sharky's Machine, and 1982's Honkytonk Man.  Collectively, these feature original music by an all-star roster including Ray Charles, Glen Campbell, Fats Domino, Marty Robbins, Ray Price, The Manhattan Transfer, Chet Baker, Peggy Lee and Sarah Vaughan – to name a few!
Music has played an important part in the career of Clint Eastwood since his earliest days.  Though the actor-director has limited his onscreen musicals to one (1969's Lerner and Loewe adaptation Paint Your Wagon), Clint recorded an album of country-and-western songs (Rawhide's Clint Eastwood Sings Cowboy Favorites) in 1963 and has appeared in, or directed, a number of films with prominent musical moments or scores.  Think The Good, The Bad and the Ugly, Play Misty for Me, Bird, Midnight in the Garden of Good and Evil, and so on.  Eastwood has composed the scores for numerous films including J. Edgar, Changeling and Mystic River, and this June, he returns to musicals as the director of the big screen adaptation of Jersey Boys.  So it's no surprise that music was front and center in Every Which Way But Loose and Honkytonk Man.
The comedy-action film Any Which Way You Can, a sequel to 1978's Every Which Way But Loose, again paired Eastwood's Philo Beddoe with his pet orangutan Clyde for a series of misadventures.    Audiences couldn't get enough of Philo and Clyde, as the movie became the fifth highest grossing picture of the year.  The soundtrack, an Eastwood-Garrett production overseen by Snuff and arranger-conductor Steve Dorff, hit the Country Top 5 and spawned seven (!) charting C&W singles out of just twelve tracks.  The album, remastered by David Shirk, is a breezily enjoyable listen.  Eastwood reminisces with Ray Charles on "Beers to You" (No. 55), Fats Domino laconically dreams not of "My Blue Heaven" but of "Whiskey Heaven" (No. 51), and Johnny Duncan turns things tropical on "Acapulco" (No. 16).  Jim Stafford also scored with "Cow Patti" (No. 65) and Gene Watson with "Any Way You Want Me" (No. 33).  But the two biggest hits came from Glen Campbell and the duo of Lefty's younger brother David Frizzell and Dottie's daughter Shelly West.  Frizzell and West had recorded a few albums both jointly and separately for Viva, and took the soundtrack's "You're the Reason God Made Oklahoma" all the way to No.1 Country.  Campbell's rendition of the soaring MOR-country Dorff/Garrett/Milton Brown title ballad went to No. 10.  The soundtrack is rounded out by a couple of performances from Eastwood's onscreen and offscreen co-star Sondra Locke, a bluegrass selection from The Texas Opera Company, and even an ode to the "Orangutan Hall of Fame" by Cliff Crofford.
After the jump, we'll dive into Honkytonk Man and Sharky's Machine - plus we have full track listings and order links for all three CDs!
Clint Eastwood followed Any Which Way You Can with the modern action flick Firefox and then with the Depression-era drama Honkytonk Man, also the recipient of a Garrett-curated Viva soundtrack newly reissued on Varese.  Eastwood (also the movie's director) portrayed ailing country singer Red Stovall, journeying to the Grand Ole Opry where he hopes to achieve the stardom that has eluded him.  Once again, Garrett and Dorff lined-up some of country's best to bring the soundtrack to life including the returning duo of David Frizzell and Shelly West and naturally, Eastwood, who sings on three of the album's twelve songs in his low-key rasp.  The album also incorporates western swing elements thanks to songs like Bob Wills' "San Antonio Rose" and the John Durrill/Cliff Crofford/Snuff Garrett original "One Fiddle, Two Fiddle," both performed by Ray Price with Johnny Gimble and The Texas Swing Band.  The Dorff/Garrett/ Crofford "Texas Moonbeam Waltz" is another showcase for Gimble's group.  (Gimble, a real-life fiddler, had played in real life with Bob Wills whom he portrays in the film.)
Honkytonk is most notable, however, for the onscreen appearance of Marty Robbins, who died one week before the movie's release on December 15, 1982.  Robbins took Dwayne Blackwell's title song to No. 10 Country, and his performance is especially poignant.  Blackwell also supplied Porter Wagoner with the traditionally maudlin "Turn the Pencil Over" and Eastwood with the countrypolitan pop of "When I Sing About You."  Clint also joined Robbins, Frizzell and David Anderson for a loose romp through Jimmie Rodgers' "In the Jailhouse Now," and takes a solo on "No Sweeter Cheater Than You."  Tony winning actress-singer Linda Hopkins closes the album in boisterous style with a big-voiced barrelhouse belt on "When the Blues Come Around This Evening."  Besides the Top 10 Robbins song, "San Antonio Rose," Frizzell and West's "Please Surrender," "One Fiddle, Two Fiddle" and "Turn the Pencil Over" all charted.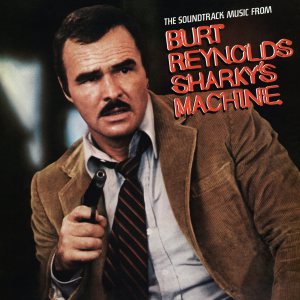 The third of the Viva soundtracks reissued by Varese is the most atypical.  The 1981 cop drama Sharky's Machine was also the work of an actor-director, in this case Burt Reynolds.  Set in modern-day Atlanta, Garrett and arranger-conductor Al Capps assembled a "Who's Who" of jazz and American popular song such as Chet Baker, Joe Williams, Julie London, Peggy Lee and Sarah Vaughan.   The musicians enlisted for the sessions were also the West Coast's cream of the crop, including Shelly Manne, Ray Brown, Barney Kessel, Pete Jolly, Tommy Tedesco, Art Pepper and Harry "Sweets" Edison.
Establishing the film's contemporary credentials, Randy Crawford reprised "Street Life," written by Will Jennings ("My Heart Will Go On," "Looks Like We Made It") and The Crusaders' Joe Sample.  (Crawford's vocal was a key part of The Crusaders' original 1979 recording).  The big-band jazz of Buddy DeFranco and Flora Purim's "Dope Bust" and Tonight Show bandleader Doc Severinsen's "High Energy" are shots of adrenaline.  Severinsen's greasy funk workout "Sexercise," written like "High Energy" by Bob Florence, could be a lost cut from a blaxploitation film.  Tenor saxophone great Eddie Harris melds with strings to lead the sinuous "Sharky's Theme."
Rodgers and Hart's standard "My Funny Valentine" appears twice – once in trumpeter Chet Baker's spare, fragile and haunting vocal version and once in Julie London's smoky, elegant reading with just a jazz trio.  London came out of retirement for this recording, her mastery of lyric interpretation fully intact.  A number of new songs were written by Garrett, Crofford, John Durrill and Bobby "Route 66" Troup including Peggy Lee's "Let's Keep Dancing" and Sarah Vaughan's "Love Theme from Sharky's Machine."  ("Route 66" itself was performed on the soundtrack by the Manhattan Transfer.)  The dramatic "Dancing" takes its cues from the singer's immortal "Is That All There Is?", while sweeping disco-style strings surround Sarah Vaughan's commanding vocal on the "Love Theme."  Another veteran jazz singer, Joe Williams, conjures up a late-night lounge as he holds court on the brassy "8 to 5 I Lose."    Vaughan and Williams duet on the attractive closing track "Before You."
All three titles have remastered for CD by David Shirk and feature brief liner notes in the inserts by Lawrence Zwisohn, who co-produced these reissues with Varese's Cary Mansfield.  Original Viva label designs original LP art elements have been faithfully recreated by art director Bill Pitzonka.  Although no bonus tracks have been appended, all three titles look and sound wonderful on CD at long last, with Sharky's a particularly rare, and surprising, treat for fans of great vocalists Baker, Lee, Vaughan, Williams and London.
All three soundtracks are available now from Varese Vintage, and can be ordered at the links below!
Various Artists, The Soundtrack Music from Clint Eastwood's Any Which Way You Can (Warner Bros./Viva LP HS 3499, 1980 – reissued Varese Sarabande 302 067 236 8, 2014) (Amazon U.S. / Amazon U.K.)
Beers to You – Ray Charles and Clint Eastwood
Any Which Way You Can – Glen Campbell
You're the Reason God Made Oklahoma – David Frizzell and Shelly West
Whiskey Heaven – Fats Domino
One Too Many Women in Your Life – Sondra Locke
Cow Patti – Jim Stafford
Acapulco – Johnny Duncan
Any Way You Want Me – Gene Watson
Cotton-Eyed Clint – The Texas Opera Company
Orangutan Hall of Fame – Cliff Crofford
Too Loose – Sondra Locke
The Good Guys and the Bad Guys – John Durrill
Various Artists, The Soundtrack Music from the Clint Eastwood Film Honkytonk Man (Warner Bros./Viva LP 23729, 1982 – reissued Varese Sarabande 302 067 237 8, 2014) (Amazon U.S. / Amazon U.K.)
San Antonio Rose – Ray Price with Johnny Gimble and the Texas Swing Band
Turn the Pencil Over – Porter Wagoner
Please Surrender – David Frizzell and Shelly West
When I Sing About You – Clint Eastwood
Ricochet Rag – Johnny Gimble and the Texas Swing Band
Honkytonk Man – Marty Robbins
One Fiddle, Two Fiddle – Ray Price with Johnny Gimble and the Texas Swing Band
In the Jailhouse Now – Marty Robbins, John Anderson, David Frizzell and Clint Eastwood
No Sweeter Cheater Than You – Clint Eastwood
These Cotton Patch Blues – John Anderson
Texas Moonbeam Waltz – Johnny Gimble and the Texas Swing Band
When the Blues Come Around This Evening – Linda Hopkins
Various Artists, The Soundtrack Music from Sharky's Machine (Warner Bros./Viva LP 3653, 1981 – reissued Varese Sarabande 302 067 238 8, 2014) (Amazon U.S. / Amazon U.K.)
Street Life – Randy Crawford
Dope Bust – Flora Purim and Buddy DeFranco
Route 66 – The Manhattan Transfer
My Funny Valentine – Chet Baker
High Energy – Doc Severinsen
Love theme from Sharky's Machine – Sarah Vaughan
9 to 5 I Lose – Joe Williams
My Funny Valentine – Julie London
Sexercise – Doc Severinsen
Let's Keep Dancing – Peggy Lee
Sharky's Theme – Eddie Harris
Before You – Sarah Vaughan and Joe Williams