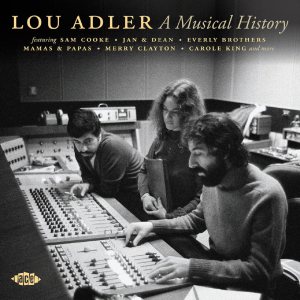 Songwriter, manager, A&R man, producer, director, impresario, diehard L.A. Lakers fan – in his eighty years, Lou Adler has worn all of those labels proudly.  It's hard to believe that the same man behind The Rocky Horror Show – both on stage and on screen – and Cheech and Chong's Up in Smoke also helmed one of the most successful records ever in Carole King's Tapestry, or that the same man penned a bona fide standard in Sam Cooke's "Wonderful World."  But much of Lou Adler's extraordinary career has defied belief, and Ace Records has recently summed it up in an exciting new compilation entitled Lou Adler: A Musical History.  Over 25 tracks released between 1958 and 1974, the anthology chronicles a singular showbiz life and also serves as a mini-history of Los Angeles pop-rock.
A Musical History traces the ascent of Chicago-born, L.A.-raised Adler from hustling songwriter to in-demand producer.  With future Tijuana Brass bandleader and A&M Records leader Herb Alpert, the young Adler co-wrote tunes for a diverse crop of artists including Cooke ("All of My Life"), Sam Butera and the Witnesses ("Bim Bam"), Jan and Dean ("Honolulu Lulu") and Johnny "Guitar" Watson ("Deana Baby").  Equally adept at rock-and-roll, doo-wop and R&B, the duo also found time to produce not just their own songs for these artists, but outside compositions.  The Adler/Alpert team revived The Spaniels' "Goodnight, Sweetheart, Goodnight" for The Untouchables and gave The Hollywood Argyles a run for their money with a cash-in cover of "Alley-Oop" by Dante and the Evergreens.  These slices of early-sixties pop kick off this set on a high note, but Adler's first Golden Age really came when he split with Alpert in 1961.
The parting of the ways worked out for both men, with Alpert launching The Tijuana Brass, the hit "The Lonely Bull" and of course, A&M Records, just one year later with new partner Jerry Moss.  As for our man Adler, his association with Don Kirshner led to his opening the West Coast office of Aldon Music, as well as a production credit on tracks like The Everly Brothers' Top 10 hit "Crying in the Rain."  Most importantly, though, Adler made connections at Aldon that would come to, in large part, define his career – connections with the likes of Carole King and P.F. Sloan.  The achingly vulnerable "Crying" was co-written by Carole King and Howard Greenfield, moonlighting from their respective partners Gerry Goffin and Neil Sedaka.   In addition to King, Adler also met P.F. Sloan and Steve Barri at Aldon, pairing the two songwriters up and soon snatching them away from Kirshner's empire to his newly-formed Dunhill Productions.
After the jump: much more on Adler's illustrious career, including the complete track listing and order links!
At Dunhill Productions, Adler racked up hits as producer for Johnny Rivers including Sloan and Barri's "Secret Agent Man" and "Poor Side of Town," which Adler co-wrote with Rivers.  (The lush 1966 chart-topper, which transitioned Rivers from raucous rock and roller to soulful balladeer, is the most surprising omission here.)  When he formed Dunhill Records, Adler proved that a made-to-order protest song could be as effective as a so-called "real" one with P.F. Sloan's "Eve of Destruction" as sung by Barry McGuire.  And when former New Christy Minstrel McGuire brought Adler a group of his friends called The Mamas and the Papas, he knew that he had struck gold.  (Adler recounts in Mick Patrick's comprehensive liner notes that Papa John and co. were "funky and dirty and grizzly, and yet they sang like absolute angels.")
Soon, everybody was California dreamin'.  Papa John Phillips, Papa Denny Doherty, Mama Cass Elliot and Mama Michelle Phillips are represented on A Musical History with both "Go Where You Wanna Go" and "California Dreamin'."  And as if "California Dreamin'" wasn't enough, John Phillips also provided Adler with another anthemic composition that today defines an entire era: "San Francisco (Be Sure to Wear Some Flowers in Your Hair)."  Phillips' epochal hippie invitation was one of the first singles released by Adler's newest company: Ode Records.  "San Francisco," a natural inclusion here, was preceded in the Ode discography by The Blossoms' single of Don Altfeld, Fred Wender and interim "Mama" Jill Gibson's driving "Wonderful" b/w Laura Nyro's sublime "Stoney End."  Both sides of the Blossoms' 45 have also made the cut here, and show off the fiery vocal dynamics of Darlene Love, Fanita James and Jean King.  (The Blossoms had been singing background for Adler since the 1950s, appearing on his productions by Sam Cooke and Johnny Rivers, among others.)  Ace previously released the gutsy, gospel-tinged "Stoney End" on 2012's Sassafras and Moonshine: The Songs of Laura Nyro, and the group's 1967 Adler-helmed Ode recording of "Cry Like a Baby" appeared last year on the eighth volume of Where the Girls Are.
By the late 1960s, however, musical tastes were changing, and Carole King, like Adler, was at the ready to adapt.  The Ode label released Now That Everything's Been Said, the first and only record by The City, a band featuring King, bassist Charles Larkey, guitarist Danny "Kootch" Kortchmar and drummer Jim Gordon.  King's moody and mature "Snow Queen" (co-written with Goffin) has been reprised from that underrated 1968 album, and it remains an absolutely striking record, with Goffin and King having shed any residual pop inhibitions.  Adler placed King's new crop of songs with other Ode artists including Mod Squad star Peggy Lipton and Mick Jagger's "Gimme Shelter" duet partner Merry Clayton.  Like The Blossoms, Clayton was a background talent waiting to explode to stardom, and Adler was all too happy to provide the big-voice soul queen with a platform.  At Ode, Lipton recorded a groovy, brassy reworking of Donovan's gentle "Wear Your Love Like Heaven" that's a highlight on A Musical History.  Future 20 Feet from Stardom standout Clayton is heard here leading The Brothers and Sisters of Los Angeles on a gospel-drenched treatment of Bob Dylan's prophetic "The Times They Are A-Changin'," revisiting "Gimme Shelter" as a solo song, and on a stirring, Grammy-nominated reading of Goffin and King's "Oh No Not My Baby."  Carole traded places with Merry on the latter, singing backup and trading lines with her.
No compilation dedicated to the music of Lou Adler would be complete with a song from Carole King's seminal 1971 breakthrough Tapestry, and the selection of the Grammy-winning No. 1 smash "It's Too Late" – jazzy, beguiling, adult, melodic pop at its finest – fits the bill.  King's touching "It's Going to Take Some Time" from Tapestry follow-up Music, a later a hit for The Carpenters, is a less expected, equally rewarding track.  But A Musical History follows the King compositions with a trio of songs produced by Adler that sound like nothing that's preceded them.  Spirit's brand of rock was a hard-edged one, blending jazz, prog and psychedelia into a compelling whole.  The band's most successful single, the funky "I've Got a Line on You," is the choice here.  Far more outré, though, is "Earache My Eye" from the lovably stoned duo of Cheech and Chong.  Originally part of a comedy routine, the electric guitar-heavy song (heard in its 2-1/2 minute edit) features Marin as rock star Alice Bowie; many radio stations reportedly refused to play the Top 10 hit track.  What could top Cheech and Chong?  How about Tim Curry's swaggering performance of "Sweet Tranvestite" from The Rocky Horror Show?  Adler became a fan of composer-lyricist-librettist Richard O'Brien's musical in London, shepherding it across the ocean to his own Roxy Theatre in Los Angeles and then to Broadway where it lasted a mere 45 performances.  But Adler didn't lose faith over the New York production's quick failure.  With Curry and the L.A. staging's Meat Loaf on board, he produced the musical for the big screen as 1975's The Rocky Horror Picture Show, which remains in official release nearly 40 years later.
With its great breadth of musical styles, Lou Adler: A Musical History, produced by Howard Frank and Mick Patrick, is one of the most inspired entries yet in Ace's ongoing Producers Series.   Patrick's exemplary liner notes take the form of an essay rather than track-by-track notes, though Adler provides stellar commentary throughout.  Nick Robbins has remastered all songs.  You'll want to join the producer on this musical journey encompassing stops in Los Angeles, Honolulu, Transylvania, San Francisco and all points in between.  Flowers in your hair are optional.
Various Artists, Lou Adler: A Musical History (Ace CDCHD 1384, 2014) (Amazon U.S. / Amazon U.K.)
Wonderful World – Sam Cooke (Keen 82112, 1960)
Deana Baby – Johnny "Guitar" Watson (Keen 3-4023, 1960)
Bim Bam – Sam Butera and the Witnesses (Capitol 4014, 1958)
Baby Talk – Jan and Dean (Dore 533, 1959)
All of My Life – Sam Cooke (Keen 3-2005, 1958)
Goodnight, Sweetheart, Goodnight – The Untouchables (Madison 134, 1960)
Alley-Oop – Dante and the Evergreens (Madison 130, 1960)
Honolulu Lulu – Jan and Dean (Liberty 55613, 1964)
Crying in the Rain – The Everly Brothers (Warner Bros. 5250, 1961)
Eve of Destruction – Barry McGuire (Dunhill 4009, 1965)
Go Where You Wanna Go – The Mamas and the Papas (Dunhill 4018, 1965)
California Dreamin' – The Mamas and the Papas (Dunhill 4020, 1966)
San Francisco (Be Sure to Wear Some Flowers in Your Hair) (Ode 103, 1967)
Stoney End – The Blossoms (Ode 101, 1967)
Wonderful – The Blossoms (Ode 101, 1967)
Snow Queen – The City (Ode 113, 1968)
Wear Your Love Like Heaven – Peggy Lipton (Ode 66001, 1970)
The Times They Are A-Changin' – The Brothers and Sisters of Los Angeles (Ode 123, 1969)
Oh No, Not My Baby – Merry Clayton (Ode 66024, 1972)
It's Too Late – Carole King (Ode 66015, 1971)
It's Going to Take Some Time – Carole King (Ode LP SP 77013, 1971)
Gimme Shelter – Merry Clayton (Ode 66003, 1970)
I Got a Line on You – Spirit (Ode 115, 1969)
Earache My Eye – Cheech and Chong (Ode 66102, 1974)
Sweet Tranvestite – Tim Curry and the Original Roxy Cast of The Rocky Horror Show (Ode 66103, 1974)
All tracks stereo except Tracks 1-7, 14-15, 17 in mono