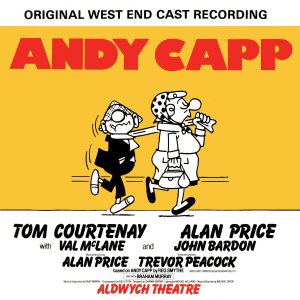 When the musical Andy Capp premiered at London's Aldwych Theatre (current home to Andrew Lloyd Webber's Stephen Ward) in September 1982, cartoonist Reg Smythe's beloved character took his place alongside Little Orphan Annie, Snoopy and Li'l Abner as comic strip creations-turned-musical heroes.  The frequently inebriated, cap-wearing, chronically unemployed ne'er-do-well made his debut in The Daily Mirror on August 5, 1957 and readers quickly became engrossed in the daily gags featuring Andy, his wife Florrie and their neighbors Chalkie and Rube.  (The strip continues today in the same publication.)  The stage adaptation was conceived by Mirror editor Mike Molloy and became a reality thanks to an Animal and a Peacock - that is, Alan Price of The Animals, and Trevor Peacock, the songwriter of "Mrs. Brown, You've Got a Lovely Daughter," among other songs.  On March 31, the Original West End Cast Recording of Andy Capp makes its debut on CD from Stage Door Records.
Reg Smythe gave his blessing to the musical with a book by Peacock, music by Price, and lyrics by both gentlemen.  Peacock had the difficult task of fleshing out the characters for a full evening of musical theatre.  He told Capp biographer Les Lilley that "I had to invent a plot, so I introduced a young couple who were getting married. Then, because Andy is always so bossy with Florrie, I created another family in which the man is completely under the thumb of the woman. I seem to remember it was Andy's nephew who was the boy. He was called Elvis Horsepole, and he was marrying the daughter of this other family in which the mother was on top."  Oscar-nominated actor Tom Courtenay (Doctor Zhivago) was a northern lad like Price and the fictional Capp.  He added a bit of luster, not to mention authenticity, to the production when he agreed to play Andy.  Val McLane portrayed Florrie, John Bardon was Chalkie, and Price himself appeared in the role of Geordie.  The musical's set was decorated with images from Smythe's comics.
After the jump, we have more on Andy Capp including the complete track listing and pre-order links!
Andy Capp premiered at Manchester's Royal Exchange Theatre, with which Peacock had been associated, in June 1982.  It moved to London's West End in September, running 120 performances at the Aldwych.  The Daily Telegraph opined that the new musical comedy was "an innocent, warm-hearted, gutsy frolic," while The Daily Mail called it "a fat slice of accessible folk history which audiences can immediately relate to, and sends you out with a warm satisfied glow and a lot to think about."  It was nominated for two S.W.E.T. (now Olivier) Awards, for McLane's Flo and for Best Musical.  Following the show's closing at the Aldwych, Andy Capp has enjoyed numerous revivals throughout the United Kingdom and beyond.   Andy, the character, was further adapted for television and even video games.
The cast recording was made in October at Point Recording Studios, and until now, it's never appeared on CD.  Stage Door's reissue (following its CD premiere of Privates on Parade) has been fully remastered from the original master tapes.  An eight-page booklet is also included.
You can order Andy Capp: Original West End Cast Recording at the links below!  It's due on March 31.
Andy Capp: Original West End Cast Recording (Key Records KEY 4, 1982 - reissued Stage Door Records, 2014) (Amazon U.S. / Amazon U.K.)
On My Street - Alan Price
We're Waiting - The Company
Good Evening - The Company
I Ought to Be Ashamed of Myself - Tom Courtenay and Company
Good Old Legs - Tom Courtenay and John Bardon
I Have a Dream - Nicky Croydon and John Bardon
Oh, Gawd...Men...Beasts! - Vivienne Ross
Points of View - The Company
Spend, Spend, Spend - Val McLane, Judith Barker, Nicky Croydon
Don't Tell Me That Again - Tom Courtenay and Val McLane
Frozen Moments - Alan Price
On My Street (Reprise) - Alan Price
I Could Not Have Dreamed Him - Nicky Croydon
Goin' to Barcelona - Vivienne Ross
Time Heals - Alan Price
Hermione - Tom Courtenay
When You've Lived in Love with Someone - Val McLane
Mr. Scrimmitt - Robert Vahey
The Trouble with People - Tom Courtenay and Alan Price
It's Better to Be in Simple Harmony - The Company
The Wedding - The Company
I Ought to Be Ashamed of Myself (Reprise) - Tom Courtenay