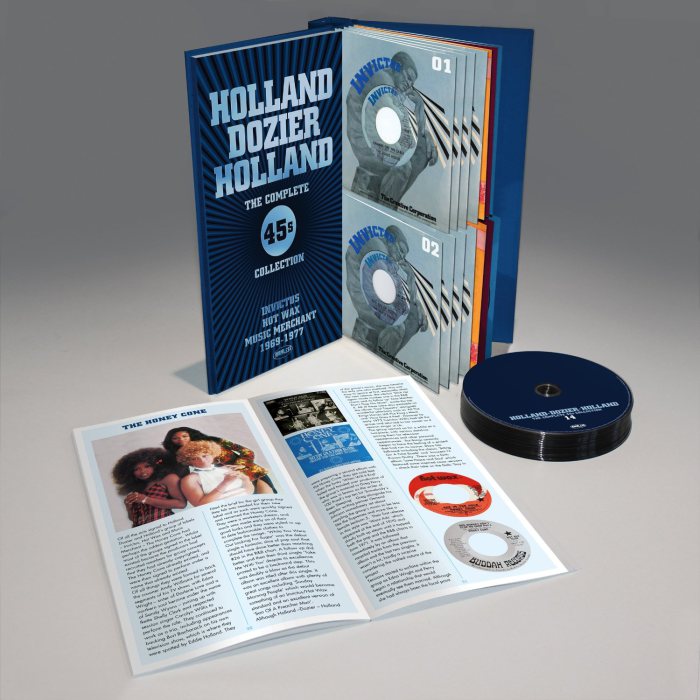 The legacy of Brian Holland, Lamont Dozier and Eddie Holland is filled with some of the most popular songs ever written:  "Stop! In the Name of Love," "How Sweet It Is (To Be Loved by You)," "Baby, I Need Your Loving," "You Can't Hurry Love," "You Keep Me Hangin' On," among them.  All of those songs, and so many other indelible hit records, were written under the aegis of Hitsville, USA, a.k.a. Berry Gordy's Motown empire.  But by 1967, the relationship between the label chief and his star writers was starting to feel strained.  Within two years, the H-D-H team had struck out on their own, forming Invictus Records, distributed by Capitol, and Hot Wax Records, distributed by Buddah.  H-D-H's new wrinkle on the Sound of Young America eventually encompassed the Music Merchant label as well, and gave Motown a run for its money with hits from The Chairmen of the Board, Freda Payne and The Honey Cone. Now, Demon Music Group's Harmless Records is putting together the most comprehensive survey of the Invictus-Hot Wax-Music Merchant catalogue yet with Holland-Dozier-Holland: The Complete 45s Collection: Invictus/Hot Wax/Music Merchant 1969-1977. 
By the numbers, this 14-CD box set, due on May 26 in the U.K. and the following week in the U.S., celebrates the 45th anniversary of H-D-H's independence with a staggering array of newly remastered 45 RPM singles:
96 x Invictus 45s
44 x Hot Wax 45s
17 x Music Merchant 45s
for a total of 157 singles and 269 original recordings.
To that, Harmless is adding previously unreleased recordings by The Chairmen of the Board, Eloise Laws, Honey Cone, the Barrino Brothers, the Jones Girls and 100 Proof Aged In Soul.  The package is rounded out by three previously unissued Tom Moulton mixes (The Chairmen of the Board's "Give Me Just A Little More Time" and "You've Got Me Dangling on a String" and Freda Payne's "Unhooked Generation") and three more exclusive instrumental mixes of those songs by Moulton, available only on the box set's enclosed download card.
We have more on this comprehensive new collection after the jump including the full track listing with discography, and pre-order links!
The H-D-H family of labels launched with the June 1969 release of The Honey Cone's "While You're Out Looking for Sugar" on Hot Wax; The Glass House's "Crumbs off the Table" arrived that fall, and both singles went to the R&B Top 10.  H-D-H assembled their own mini-Hitsville on Detroit's Grand River Avenue with such names as Ronald Dunbar, Greg Perry and Angelo Bond.  McKinley Jackson led the de facto house band including drummer Zachary Slater and bassist Bob Babbitt, and Motown expats like arranger Paul Riser also joined the team.
In January 1970, Invictus scored its first smash hit with Ronald Dunbar and Edythe Wayne's Pop Top 5 "Give Me Just a Little More Time" from the Chairmen of the Board.  Two months later, Freda Payne took "Band of Gold," another Dunbar/Wayne copyright, to the same No. 3 spot.  Edythe Wayne, however, couldn't enjoy the song's good fortunes – as she didn't exist.  Wayne was a pseudonym for Holland-Dozier-Holland!  The Invictus-Hot Wax labels soon churned out releases from Flaming Ember, 100 Proof Aged in Soul (with Four Top Levi Stubbs' brother Joe), The 8th Day, Laura Lee, and George Clinton's Parliament.  In 1972, H-D-H launched the Music Merchant label with a single from another Motown veteran artist, Brenda Holloway, and the three principals also made their return to singing.  Two initial singles ("Don't Leave Me" and "Why Can't We Be Lovers") arrived under the name of Holland-Dozier, with Lamont on vocals.  "Don't Leave Me Starvin' for Love" and "Slipping Away" featured Brian's lead.  Eddie was showcased on "Where Did We Go Wrong," recorded in both a solo version and with another signing, Eloise Laws.
Invictus/Hot Wax/Music Merchant remained an active concern for Holland-Dozier-Holland between 1969 and 1974, but by the end of this period, the principals had already diversified.  In 1973, Dozier released a solo record for ABC-Dunhill.  By 1975, all three men had reconciled with Motown, with Dozier spearheading an album by The Originals (California Sunset) and Brian taking on projects by Michael Jackson, The Jackson 5, The Dynamic Superiors and his old charges The Supremes.  Invictus continued issuing new music through 1977 at which time it quietly folded.
Harmless' new set chronicles the heady period when H-D-H, true architects of The Motown Sound, challenged that storied label for R&B supremacy.  The set boasts a 64-page booklet with new liner notes by Dean Rudland plus numerous memorabilia images.  You'll find the complete track listing of this lavish box below, as well as pre-order links.  Much of the H-D-H album catalogue has previously been reissued on CD by Harmless' sister label Edsel, but preliminary information online seems to indicate that further album collections may be released down the road for H-D-H's artists.  Watch this space for more information.  In the meantime, The Complete 45s Collection on 14 CDs is due on May 26!
Holland-Dozier-Holland: The Complete 45s Collection: Invictus/Hot Wax/Music Merchant 1969-1977 (Harmless, 2014) (Amazon U.S. / Amazon U.K.)
CD 1: Invictus Records – The A Sides
Invictus 9071 Glass House - Crumbs Off The Table 2.37
Invictus 9072 New Play starring: Ruth Copeland - The Music Box 3.35
Invictus 9073 Freda Payne - The Unhooked Generation2.29
Invictus 9074 Chairmen of the Board - Give Me Just A Little More Time2.39
Invictus 9075 Freda Payne - Band Of Gold 2.52
Invictus 9076 Glass House - I Can't Be You (You Can't Be Me) 2.38
Invictus 9077 A Parliament Thang - Little Ole Country Boy 3.55
Invictus 9078 Chairmen of the Board - You've Got Me Dangling On A String 2.57
Invictus 9079 Chairmen of the Board - Everything's Tuesday 2.49
Invictus 9080 Freda Payne - Deeper And Deeper 3.16
Invictus 9081 Chairmen of the Board - Pay To The Piper 3.06
Invictus 9082 Glass House - If It Ain't Love (It Don't Matter) 2.43
Invictus 9083 Barrino Brothers - Trapped In A Love 2.58
Invictus 9084 Barrino Brothers - I Shall Not Be Moved 2.24
Invictus 9085 Freda Payne - Cherish What Is Dear To You 2.40
Invictus 9086 Chairmen of the Board - Chairman Of The Board 3.32
Invictus 9087 8th Day - She's Not Just Another Woman 3.02
Invictus 9088 Ruth Copeland - Haré Krishna 2.47
Invictus 9089 Chairmen of the Board - Hanging On To A Memory 2.27
Invictus 9090 Glass House - Touch Me Jesus 2.42
Invictus 9091 Parliament - Red Hot Mama 2.31
Invictus 9092 Freda Payne - Bring The Boys Home 3.09
Invictus 9093 General Johnson - I'm In Love Darling 2.44
Invictus 9094 Lucifer - Old Mother Nature 2.52
CD2:  Invictus Records – The B Sides
Invictus 9071 Glass House - Bad Bill Of Goods 2.46
Invictus 9072 New Play starring: Ruth Copeland - A Gift Of Me 2.55
Invictus 9073 Freda Payne - The Easiest Way To Fall 2.35
Invictus 9074 Chairmen of the Board - Since The Days Of Pigtails (And Fairy Tales) 2.41
Invictus 9076 Glass House - He's In My Life 3.32
Invictus 9077 A Parliament Thang - I Call My Baby Pussycat 3.22
Invictus 9078 Chairmen of the Board - I'll Come Crawling 2.37
Invictus 9079 Chairmen of the Board - Patches 3.30
Invictus 9081 Chairmen of the Board - Bless You 2.58
Invictus 9082 Glass House - Stealing Moments From Another Woman's Life 2.32
Invictus 9083 Barrino Brothers - When Love Was A Child 3.44
Invictus 9085 Freda Payne - The World Don't Owe You A Thing 2.57
Invictus 9086 Chairmen of the Board - When Will She Tell Me She Needs Me 3.04
Invictus 9087 8th Day - I Can't Fool Myself 2.49
Invictus 9088 Ruth Copeland - No Commitment 3.01
Invictus 9089 Chairmen of the Board – Tricked & Trapped (By A Tricky Trapper) 3.18
Invictus 9092 Freda Payne - I Shall Not Be Moved 2.43
Invictus 9093 General Johnson - Savannah Lady 2.26
Invictus 9094 Lucifer - What I Am 3.06
NOTES:
Invictus 9075 Freda Payne - Previously released as Invictus 9073B
Invictus 9080 Freda Payne - Previously released as Invictus 9073A
Invictus 9084 Barrino Brothers - Previously released as Invictus 9083
Invictus 9090 Glass House - Previously released as Invictus 9082A
Invictus 9091 Parliament - Previously released as Invictus 9077A
CD3: Invictus Records – The A Sides
Invictus 9095 Parliament - Breakdown 2.32
Invictus 9096 Ruth Copeland - Gimme Shelter 3.19
Invictus 9097 Glass House - Look What We've Done To Love 2.55
Invictus 9098 8th Day - You've Got To Crawl (Before You Walk) 2.51
Invictus 9099 Chairmen of the Board - Try On My Love For Size 3.28
Invictus 9100 Freda Payne - You Brought The Joy 2.53
Invictus 9101 Johnn Billy West - Nothing But A Devil 3.23
Invictus 9102 Billie Sans - Solo 3.02
Invictus 9103 Chairmen of the Board - Men Are Getting Scarce 3.12
Invictus 9104 Barrino Brothers - I Had It All 4.15
Invictus 9105 Chairmen of the Board – Bittersweet 3.23
Invictus 9106 General Johnson - All We Need Is Understanding 2.52
Invictus 9107 8th Day - If I Could See The Light In The Window 3.06
Invictus 9108 Lucifer - We Gotta Go 3.02
Invictus 9109 Freda Payne - I'm Not Getting Any Better 3.31
Invictus 9110 Holland-Dozier- Don't Leave Me (Vocal) 3.13
Invictus 9111 Glass House - Playing Games 3.30
Invictus 9112 Harrison Kennedy - Sunday Morning People 3.07
Invictus 9114 Scherrie Payne - V.I.P. 3.13
Invictus 9115 Melvin Davis - I'm Worried 3.25
Invictus 9116 Danny Woods - Let Me Ride 3.00
Invictus 9117 8th Day - Rocks In My Head 3.06
NOTES:
Invictus 9113 Lucifer - Previously released as Invictus 9094A
CD 4: Invictus Records – The B Sides
Invictus 9097 Glass House - Heaven Is There To Guide Us 3.36
Invictus 9098 8th Day - It's Instrumental To Be Free 3.06
Invictus 9099 Chairmen of the Board - Working On A Building Of Love 2.53
Invictus 9100 Freda Payne - Suddenly It's Yesterday 2.30
Invictus 9101 Johnn Billy West - Yeah, I'm A Devil 4.22
Invictus 9102 Billie Sans - I Don't Want To Lose A Good Thing 2.20
Invictus 9103 Chairmen of the Board - Bravo Hooray 2.58
Invictus 9105 Chairmen of the Board - Elmo James 3.28
Invictus 9107 8th Day - If I Could See The Light - Inst 3.09
Invictus 9108 Lucifer - Don't You (Think The Times A-Comin') 2.53
Invictus 9109 Freda Payne - The Road We Didn't Take 3.33
Invictus 9110 Holland-Dozier- Don't Leave Me (Instrumental) 2.46
Invictus 9111 Glass House - Let It Flow 2.50
Invictus 9112 Harrison Kennedy - Up The Organization (Instrumental) 3.13
Invictus 9113 Lucifer - Bloodshot Eyes 4.35
Invictus 9114 Scherrie Payne - It Ain't The World (It's The People In It) 2.51
Invictus 9115 Melvin Davis - Just As Long 3.31
Invictus 9116 Danny Woods - It Didn't Take Long 3.29
Invictus 9117 8th Day - Eeny-Meeny-Miny-Mo (Three's A Crowd) 2.20
NOTES:
Invictus 9095 Parliament - Previously released as Invictus 9077A
Invictus 9096 Ruth Copeland - Previously released as Invictus 9088B
Invictus 9104 Barrino Brothers - Previously released as Invictus 9084A
Invictus 9106 General Johnson - Previously released as Invictus 9093B
CD 5: Invictus Records – The A Sides
Invictus 9118 Glass House - Giving Up The Ring 2.37
Invictus 9119 Harrison Kennedy - Come Together 3.50
Invictus 9120 Ty Hunter - Hey There Lonely Girl 3.24
Invictus 9121 Barrino Brothers - Try It You'll Like It 2.59
Invictus 9123 Parliament - Come On In Out Of The Rain 2.55
Invictus 9124 8th Day - I Gotta Get Home (Can't Let My Baby Get Lonely) 3.21
Invictus 9125 Holland-Dozier- Why Can't We Be Lovers 3.44
Invictus 9126 Chairmen of the Board - Let Me Down Easy 2.42
Invictus 9128 Freda Payne - He's In My Life 3.44
Invictus 9129 Glass House - Thanks I Needed That 2.43
Invictus 9130 Barrino Brothers - Livin' High Off The Goodness Of Your Love 3.21
Invictus 9132 Danny Woods - Everybody's Tippin' 2.52
Invictus 9133 Holland-Dozier- Don't Leave Me Starving For Your Love (Part 1) 3.24
Invictus 1251 Chairmen of the Board - Finder's Keepers (Vocal) 3.21
Invictus 1252 General Johnson - Only Time Will Tell (Vocal) 3.39
Invictus 1253 Holland Dozier- Slipping Away 3.23
Invictus 1254 Holland Dozier feat Lamont Dozier- New Breed Kinda Woman 2.51
Invictus 1255 Freda Payne - Two Wrongs Don't Make A Right 3.19
Invictus 1256 Barrino Brothers- Born On The Wild (Vocal) 3.26
Invictus 1257 Freda Payne - Mother Misery's Favorite Child 5.07
Invictus 1258 Holland Dozier- I'm Gonna Hijack Ya, Kidnap Ya, Take What I Want 3.40
NOTES:
Invictus 9122 Chairmen of the Board - Previously released as Invictus 9099B
Invictus 9127 & 9131 unreleased
CD 6: Invictus Records – The B Sides
Invictus 9120 Ty Hunter - I Don't See Me In Your Eyes Anymore 3.44
Invictus 9122 Chairmen of the Board - Everybody's Got A Song To Sing 2.36
Invictus 9124 8th Day - Good Book 4.07
Invictus 9126 Chairmen of the Board - I Can't Find Myself 2.31
Invictus 9128 Freda Payne - Through The Memory Of My Mind 2.40
Invictus 9129 Glass House - I Don't See Me In Your Eyes Anymore 3.42
Invictus 9130 Barrino Brothers - Livin' High Off The Goodness Of Your Love – Inst 3.13
Invictus 9132 Danny Woods - Roller Coaster 2.53
Invictus 9133 Holland-Dozier- Don't Leave Me Starving For Your Love (Part 2) 2.19
Invictus 1251 Chairmen of the Board - Finder's Keepers (Instrumental) 3.42
Invictus 1252 General Johnson - Only Time Will Tell (Instrumental) 4.05
Invictus 1253 Holland Dozier- Can't Get Enough (Instrumental) 2.41
Invictus 1254 Holland Dozier- If You Don't Want To Be In My Life 3.03
Invictus 1255 Freda Payne - We've Gotta Find A Way Back To Love 3.05
Invictus 1256 Barrino Brothers- Born On The Wild – Inst 4.18
Invictus 1257 Freda Payne - For No Reason 2.36
Invictus 1258 Holland Dozier- You Took Me From A World Outside 3.38
NOTES:
Invictus 9118 Glass House - Previously released as Invictus 9111B
Invictus 9119 Harrison Kennedy - Previously released as Invictus 9112A
Invictus 9121 Barrino Brothers - Previously released as Invictus 9104A
Invictus 9123 Parliament - Previously released as Invictus 9077A
Invictus 9125 Holland-Dozier- Previously released as Invictus 9110B
Invictus 9127 & 9131 unreleased
CD 7: Invictus Records – The A Sides
Invictus 1259 Melvin Davis - You Made Me Over 3.30
Invictus 1260 Lee Charles - Sittin' On A Time Bomb (Waiting For The Hurt To Come) 2.50
Invictus 1263 Chairmen of the Board - Life & Death Pt 2 3.48
Invictus 1264 Laura Lee - I Need It Just As Bad As You 2.57
Invictus 1265 Brian Holland - I'm So Glad (Part I) 3.57
Invictus 1267 Natural High - Bump Your Lady (Part I) 2.15
Invictus 1268 Chairmen of the Board - Everybody Party All Night 2.58
Invictus 1269 Tyrone Edwards - Can't Get Enough Of You 2.59
Invictus 1271 Chairmen of the Board - Let's Have Some Fun 3.38
Invictus 1272 Brian Holland - Let's Get Together 3.50
Invictus 1273 Laura Lee - Don't Leave Me Starving For Your Love 2.59
Invictus 1274 Hi Lites- That's Love (Vocal) 3.06
Invictus 1275 Earl English - Wanting You (Vocal) 2.46
Invictus 1276 Chairmen of the Board - Skin I'm In 3.18
Invictus 1277 Eloise Laws - Touch Me 3.39
Invictus 1278 Chairmen of the Board Ft Prince Harold - You've Got Extra Added Power In Your Love 3.29
Invictus 1279 New York Port Authority - I Got It (Part 1) 3.33
Invictus 1280 Eloise Laws - Love Goes Deeper Than That 4.07
Invictus 1282 Previously released as Invictus 1280B
Invictus 1283 New York Port Authority - I Don't Want To Work Today 3.21
NOTES:
Invictus 1261, 1262, 1266, 1270 & 1281 all unreleased
CD 8: Invictus Records – The B Sides
Invictus 1260 Lee Charles - Get Your House In Order (Instrumental) 2.42
Invictus 1263 Chairmen of the Board - Live With Me, Love With Me 2.09
Invictus 1265 Brian Holland - I'm So Glad (Part 2) 2.54
Invictus 1267 Natural High - Bump Your Lady (Part 2) 1.50
Invictus 1268 Chairmen of the Board - Morning Glory (Instrumental) 2.20
Invictus 1269 Tyrone Edwards - You Took Me from A World Outside 2.47
Invictus 1271 Chairmen of the Board - Love At First Sight 3.52
Invictus 1272 Brian Holland - Superwoman (You Ain't No Ordinary Woman) 4.02
Invictus 1273 Laura Lee - (If You Want To Try Love Again) Remember Me 3.58
Invictus 1274 Hi Lites- That's Love (Inst) 3.24
Invictus 1275 Earl English - Wanting You (Instrumental) 3.07
Invictus 1277 Eloise Laws - Stay With Me 3.05
Invictus 1278 Chairmen of the Board Featuring Prince Harold - Someone Just Like You 2.51
Invictus 1279 New York Port Authority - I Got It (Part 2) 4.14
Invictus 1280 Eloise Laws - Put A Little Love Into It (When You Do It) 3.30
Invictus 1282 Eloise Laws – Camouflage 4.50
Invictus 1283 New York Port Authority - Guess I'm Gonna Cry 3.19
NOTES:
Invictus 1261, 1262, 1266, 1270, 1276, 1281 unreleased
Invictus 1259 Melvin Davis - Previously released as Invictus 9115A,
Invictus 1264 Laura Lee - Previously released as Hot Wax 7207B,
Invictus 1276 Chairmen of the Board - Previously released as Invictus 1271B
CD 9: Hot Wax Records – The A Sides
Hot Wax 6901 Honey Cone - While You're Out Looking For Sugar 2.44
Hot Wax 6902 Flaming Ember - Mind, Body And Soul 2.54
Hot Wax 6903 Honey Cone - Girls It Ain't Easy 3.13
Hot Wax 6904 100 Proof (Aged In Soul) - Too Many Cooks (Spoil The Soup) 2.50
Hot Wax 6907 Flaming Ember - Shades Of Green 3.38
Hot Wax 7001 Honey Cone - Take My Love 3.08
Hot Wax 7003 Flaming Ember - Westbound # 9 3.31
Hot Wax 7004 100 Proof (Aged In Soul) - Somebody's Been Sleeping 2.47
Hot Wax 7005 Honey Cone - When Will It End 2.52
Hot Wax 7006 Flaming Ember - I'm Not My Brothers Keeper 4.10
Hot Wax 7007 Laura Lee - Wedlock Is A Padlock 3.09
Hot Wax 7008 Silent Majority - Frightened Girl 2.18
Hot Wax 7009 100 Proof (Aged In Soul) - One Man's Leftovers (Is Another Man's Feast) 2.23
Hot Wax 7010 Flaming Ember - Stop The World And Let Me Off 3.03
Hot Wax 7011 Honey Cone - Want Ads 2.46
Hot Wax 7102 McKinley Jackson & The Politicians - Love Machine Part 1 2.52
Hot Wax 7103 Flaming Ember – Sunshine 3.56
Hot Wax 7104 100 Proof (Aged In Soul) – Driveway 2.42
Hot Wax 7105 Laura Lee - Women's Love Rights 3.13
Hot Wax 7106 Honey Cone - Stick Up 2.51
Hot Wax 7108 100 Proof (Aged In Soul) - 90 Day Freeze (On Her Love) 2.48
Hot Wax 7109 Flaming Ember - If It's Good To You (It's Good For You) 2.59
NOTES:
Hot Wax 6905, 6906, 7002, 7101, 7107 all unreleased
CD 10: Hot Wax Records – The B Sides
Hot Wax 6901 Honey Cone - The Feeling's Gone 2.50
Hot Wax 6902 Flaming Ember - Filet De Soul (Inst) 2.20
Hot Wax 6904 100 Proof (Aged In Soul) - Not Enough Love To Satisfy 3.22
Hot Wax 6907 Flaming Ember - Don't You Wanna Wanna 3.17
Hot Wax 7001 Honey Cone - Take Me With You 3.00
Hot Wax 7003 Flaming Ember - Why Don't You Stay 3.10
Hot Wax 7004 100 Proof (Aged In Soul) - I've Come To Save You 2.56
Hot Wax 7006 Flaming Ember - Deserted Village 4.39
Hot Wax 7007 Laura Lee - Her Picture Matches Mine 3.53
Hot Wax 7008 Silent Majority - Colors Of My Love 2.29
Hot Wax 7009 100 Proof (Aged In Soul) - If I Could See The Light In The Window 2.42
Hot Wax 7010 Flaming Ember - Robot In A Robot's World 2.57
Hot Wax 7011 Honey Cone - We Belong Together 3.11
Hot Wax 7102 McKinley Jackson & The Politicians - Love Machine Part 2 (Inst) 2.34
Hot Wax 7103 Flaming Ember - 1200 Miles 3.34
Hot Wax 7104 100 Proof (Aged In Soul) - Love Is Sweeter (The Second Time Around) 3.32
Hot Wax 7106 Honey Cone - V.I.P. 3.48
Hot Wax 7109 Flaming Ember - If It's Good To You (It's Good For You) Inst 2.53
NOTES:
Hot Wax 6903 Honey Cone - Previously released as Hot Wax 6901B
Hot Wax 6905, 6906, 7002, 7101, 7107 unreleased
Hot Wax 7005 Honey Cone - Previously released as Hot Wax 7001B
Hot Wax 7108 100 Proof (Aged In Soul) - Previously released as Hot Wax 6904B
CD 11: Hot Wax Records – The A Sides
Hot Wax 7110 Honey Cone - One Monkey Don't Stop No Show Part I 3.29
Hot Wax 7111 Laura Lee - Love And Liberty 3.03
Hot Wax 7112 Silent Majority - Something New About You 3.07
Hot Wax 7113 Honey Cone - The Day I Found Myself 3.03
Hot Wax 7114 Politicians - Free Your Mind (Instrumental) 2.46
Hot Wax 7201 Laura Lee - I Don't Want Nothing Old (But Money) 2.31
Hot Wax 7202 100 Proof (Aged In Soul) - Everything Good Is Bad 3.12
Hot Wax 7204 Laura Lee - Rip Off 3.16
Hot Wax 7205 Honey Cone - Sittin' On A Time Bomb (Waitin' For The Hurt To Come) 3.41
Hot Wax 7206 100 Proof (Aged In Soul) - Don't Scratch Where It Don't Itch 3.48
Hot Wax 7207 Laura Lee - If You Can Beat Me Rockin' (You Can Have My Chair) 2.53
Hot Wax 7208 Honey Cone - Innocent 'til Proven Guilty 3.29
Hot Wax 7210 Laura Lee - Crumbs Off The Table 3.11
Hot Wax 7211 100 Proof (Aged In Soul) - Since You Been Gone 3.48
Hot Wax 7212 Honey Cone - Ace In The Hole 3.05
Hot Wax 7301 Honey Cone - If I Can't Fly 3.23
Hot Wax 7303 Lee Charles - Somebody's Gonna Hurt You, Like You Hurt Me 2.49
Hot Wax 7305 Laura Lee - I'll Catch You When You Fall 3.26
Hot Wax 9254 100 Proof (Aged In Soul) - My Piece Of The Rock (Vocal) 3.00
Hot Wax 9255 Honey Cone featuring Sharon Cash - Somebody Is Always Messing Up A Good Thing 3.24
Hot Wax 9256 100 Proof (Aged In Soul) & New York Port Authority - I'm Mad As Hell (Ain't Gonna Take No More) Part 1 3.23
NOTES:
Hot Wax 7203, 7209, 7304 Unreleased
Hot Wax 7302, Laura Lee – Previously released as Invictus 1273
CD 12: Hot Wax Records – The B Sides
Hot Wax 7110 Honey Cone - One Monkey Don't Stop No Show Part 2 3.24
Hot Wax 7201 Laura Lee - Since I Fell For You 5.37
Hot Wax 7202 100 Proof (Aged In Soul) - I'd Rather Fight Than Switch 2.52
Hot Wax 7204 Laura Lee - Two Lovely Pillows 3.33
Hot Wax 7205 Honey Cone - It's Better To Have Loved And Lost 2.44
Hot Wax 7206 100 Proof (Aged In Soul) - If I Could See The Light In The Window 3.12
Hot Wax 7207 Laura Lee - If I'm Good Enough To Love (I'm Good Enough To Marry) 3.39
Hot Wax 7208 Honey Cone - Don't Send Me An Invitation 3.01
Hot Wax 7210 Laura Lee - You've Got To Save Me 3.16
Hot Wax 7211 100 Proof (Aged In Soul) - Nothing Sweeter Than Love 3.22
Hot Wax 7212 Honey Cone - O-O-O Baby, Baby 6.20
Hot Wax 7301 Honey Cone - Woman Can't Live By Bread Alone 3.02
Hot Wax 7303 Lee Charles - I Just Want To Be Loved 3.53
Hot Wax 7305 Laura Lee - I Can't Hold On Much Longer 2.59
Hot Wax 9254 100 Proof (Aged In Soul) - My Piece Of The Rock Inst 3.09
Hot Wax 9255 Honey Cone featuring Sharon Cash - Truth Will Come Out 3.06
Hot Wax 9256 100 Proof (Aged In Soul) & New York Port Authority- I'm Mad As Hell (Ain't Gonna Take No More) Part 2 4.12
NOTES:
Hot Wax 7111 Laura Lee – Previously released as Hot Wax 7201A
Hot Wax 7112 Silent Majority - Previously released as Hot Wax 7008B
Hot Wax 7113 Honey Cone - Previously released as Hot Wax 7005A
Hot Wax 7114 Politicians - Previously released as Hot Wax 7102B
Hot Wax 7203, 7209, 7304 Unreleased
Hot Wax 7302 Laura Lee - Previously released as Hot Wax 7207B
CD 13: Music Merchant Records - The A Sides + HDH Acetates, Test Pressings & Remixes
Music Merchant 1001 Brenda Holloway - Let Love Grow 2.40
Music Merchant 1002 Just Brothers - Tears Ago 2.18
Music Merchant 1003 Jones Girls - Come Back 2.33
Music Merchant 1004 Brotherly Love - Mama's Little Baby (Loves Lovin') 2.44
Music Merchant 1005 Warlock - You've Been My Rock 2.43
Music Merchant 1006 Sweet Rock - Big Train 3.02
Music Merchant 1007 Brotherly Love - Growing Pains 3.07
Music Merchant 1008 Just Brothers - Things Will Be Better Tomorrow 2.17
Music Merchant 1009 Jones Girls - Your Love Controls Me 2.41
Music Merchant 1011 Eloise Laws - Tighten Him Up 2.59
Music Merchant 1012 Smith Connection - I Can't Hold On Much Longer 3.00
Music Merchant 1013 Eloise Laws - Love Factory 3.25
Music Merchant 1014 Smith Connection - I've Come To Stay 4.12
Music Merchant 1015 Smith Connection - I'm Bugging Your Phone Pt 1 2.37
Music Merchant 1016 Raynel Wynglass - Bar B Q Ribs 2.42
Music Merchant 1017 The Jones Girls - Taster Of The Honey (Not Keeper Of The Bee) 2.51
Previously Unreleased Acetate - Chairmen of the Board - What's The Use 2.43
Previously Unreleased Acetate – The Honey Cone – Woman Can't Live by Bread Alone
Previously Unreleased Acetate - Barrino Brothers - Trapped In A Love 2.55
Previously Unreleased Test Pressing - Eloise Laws - (You're Mine) Baby Doll 3.17
Previously Unreleased Acetate - Barrino Brothers - Something About You 3.33
Previously Unreleased Test Pressing - Eloise Laws - Don't Burn The Bridge 4.55
Previously Unreleased Test Pressing - Satisfaction Unlimited - Bright City Lights - Unreleased Single Version 3.41
Previously Unreleased Acetate - 100 Proof Aged In Soul - Since You've Been Gone – Unreleased Long Version 5.45
Previously Unreleased Remix - Freda Payne - Unhooked Generation - Tom Moulton Remix 5.02
NOTES:
Music Merchant 1010 Just Brothers - Previously released as Music Merchant 1002B
CD 14: Music Merchant Records - The B Sides + HDH Acetates, Test Pressings & Unreleased Remixes
Music Merchant 1001 Brenda Holloway - Some Quiet Place (To Rest My Mind) 2.40
Music Merchant 1002 Just Brothers - Sliced Tomatoes 2.20
Music Merchant 1003 Jones Girls - You're The Only Bargain I've Got 3.49
Music Merchant 1004 Brotherly Love – Bingo 2.30
Music Merchant 1005 Warlock - The Judgement Day 2.43
Music Merchant 1006 Sweet Rock – 1984 2.55
Music Merchant 1007 Brotherly Love - I Don't See Me In Your Eyes Anymore 3.27
Music Merchant 1010 Just Brothers - You've Got The Love To Make Me Over 3.29
Music Merchant 1011 Eloise Laws - You Made Me An Offer I Can't Refuse 3.10
Music Merchant 1012 Smith Connection - (I've Been A Winner, I've Been A Loser) I've Been In Love 3.30
Music Merchant 1013 Eloise Laws - Stay With Me 3.06
Music Merchant 1014 Smith Connection - The Day You Leave 3.24
Music Merchant 1015 Smith Connection - I'm Bugging Your Phone (Part 2) 3.06
Previously Unreleased Acetate - Chairmen of the Board - Where There Is Faith, There Is Hope 3.03
Previously Unreleased Test Pressing - Honey Cone - If I Can't Fly - Unreleased Version 3.06
Previously Unreleased Acetate - Barrino Brothers - I Want To Give You All The Love You've Been Giving Me 2.51
Previously Unreleased Acetate - Honey Cone - Come Back 2.46
Previously Unreleased Acetate - Eloise Laws - The Easiest Way To Fall 2.30
Previously Unreleased Test Pressing - The Jones Girls - Don't Be Sorry Be Careful 2.46
Previously Unreleased Test Pressing - Eloise Laws - I Think You Need Love 2.54
Previously Unreleased Test Pressing - Satisfaction Unlimited - Why - Unreleased Single Version 2.45
Previously Unreleased Remix - Chairmen of the Board - Give Me Just A Little More Time – Tom Moulton Remix 4.19
Previously Unreleased Remix - Chairmen of the Board - You've Got Me Dangling On A String – Tom Moulton Remix 4.46
NOTES:
Music Merchant 1008 Just Brothers - Previously released as Music Merchant 1002B
Music Merchant 1009 Jones Girls - Previously released as Music Merchant 1003B
Music Merchant 1016 Raynel Wynglass – unreleased
Music Merchant 1017 unreleased
Download Card:
Previously Unreleased Remix - Freda Payne - Unhooked Generation Instrumental - Tom Moulton Remix 5.03
Previously Unreleased Remix - Chairmen of the Board - Give Me Just A Little More Time Instrumental - Tom Moulton Remix 4.05
Previously Unreleased Remix - Chairmen of the Board - You've Got Me Dangling On A String Instrumental - Tom Moulton Remix 4.46