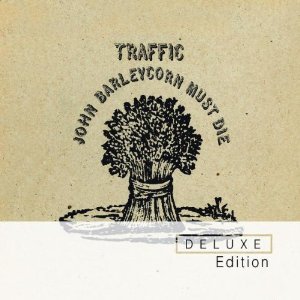 Well, at least it will be expanded. Traffic's John Barleycorn Must Die (1970) is coming out as a double-disc deluxe edition in February.
Originally intended as Steve Winwood's first solo album after the dissolution of Blind Faith, John Barleycorn became a reunion project for Traffic and spawned several well-known songs including "Glad" and "Empty Pages." It was also the highest-charting album of Traffic's career in the U.S., hitting No. 5.
A previous reissue in the U.K. in 1999 added two studio tracks within the album order and added three live cuts from a show at the Fillmore East. Those live cuts were dropped for the U.S. reissue in 2001. This new set includes more from that run of concerts (which were recorded for a live album, ultimately scrapped for 1971's Welcome to the Canteen), but does not include those studio bonus tracks. You apparently can't win them all.
The set's coming your way on February 7 (a U.K. release date); order it here and check the track list after the jump.
Traffic, John Barleycorn Must Die: Deluxe Edition (Island/UMe (U.K.), 2011)
Disc 1: Original LP (released as Island ILPS  9116 (U.K.)/United Artists UAS-5504 (U.S.), 1970)
Glad
Freedom Rider
Empty Pages
Stranger to Himself
John Barleycorn Must Die
Every Mother's Son
Disc 2: Bonus material
Stranger to Himself (Alternate Mix)
John Barleycorn Must Die (First Version)
Every Mother's Son (Alternate Mix)
Backstage and Introduction (Live) *
Medicated Goo (Live)
Empty Pages (Live)
Forty Thousand Headmen (Live)
Who Knows What Tomorrow May Bring (Live) *
Every Mother's Son (Live)
Glad/Freedom Rider (Live) **
All tracks previously unreleased except Disc 2, Tracks 4, 8 and 10 ("Glad"), previously released on Island CD IMCD-266 (U.K.), 1999.
Disc 2, Tracks 4-10 recorded live at the Fillmore East, New York City, November 18-19, 1970.