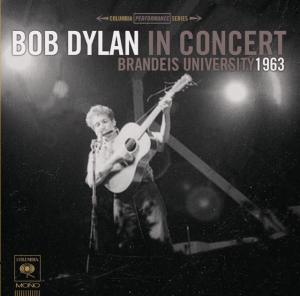 Those who ordered Bob Dylan's The Bootleg Series Volume 9: The Witmark Demos 1962-1964 on Amazon got a special bonus alongside the two-disc set: a bonus disc of part of a show at Brandeis University in 1963. Culled from a reel-to-reel tape recorded and owned by Rolling Stone co-founder Ralph Gleeson, this seven-track disc is one of the earliest (if not the earliest) known live recording by the Bard.
And now, in case you missed out on it the first time around, Bob Dylan in Concert - Brandeis University, 1963 is coming out on its own April 12 from Columbia/Legacy. The set will feature the exact same audio contents as the initial disc, but with new track-by-track liner notes penned by Michael Gray, author of The Bob Dylan Encyclopedia and Song & Dance Man: The Art of Bob Dylan.
The set will also be available in digital and vinyl formats. Order it here and hit the jump for track details.
Bob Dylan, In Concert - Brandeis University, 1963 (Columbia/Legacy 88697 84742-2, 2011)
Honey Just Allow Me One More Chance (Incomplete)
Talkin' John Birch Paranoid Blues
The Ballad of Hollis Brown
Masters of War
Talkin' World War Three Blues
Bob Dylan's Dream
Talkin' Bear Mountain Picnic Massacre Blues