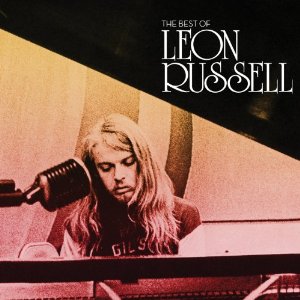 He's one of the all-time great rock and rollers of the early '70s, a session player turned superstar who finally earned his due with a new generation thanks to Elton John and a well-timed Rock and Roll Hall of Fame induction next month. Now, Capitol Records will release The Best of Leon Russell on April 5, to commemorate the pianist's legacy.
This 16-track compilation will feature mostly hits and classic compositions from Leon's solo tenure on Shelter Records from 1970 to 1975 (including one early track with musician Marc Benno, as The Asylum Choir). Three tracks from other labels have been licensed for the set: the live "Jumpin' Jack Flash"/"Youngblood" medley from George Harrison's Concert for Bangladesh, a live cover of "Heartbreak Hotel" released on a collaboration with Willie Nelson in 1979 and "If It Wasn't for Bad," the lead single from last year's The Union, the lauded collaboration between Russell and Elton John.
The set can be ordered here; the track list is after the jump.
Leon Russell, The Best of Leon Russell (Capitol, 2011)
Tryin' to Stay 'Live – The Asylum Choir
Shoot Out on the Plantation
If It Wasn't for Bad – Elton John & Leon Russell
A Song for You
Hummingbird
Tight Rope
Delta Lady
Stranger in a Strange Land
A Hard Rain's A-Gonna Fall
This Masquerade
Out in the Woods
If I Were a Carpenter
Heartbreak Hotel – Willie Nelson & Leon Russell
Lady Blue
Back to the Island
Jumpin' Jack Flash/Youngblood (Medley) (Live)
Track 1 from Asylum Choir II (Shelter, 1971)
Tracks 2, 4-5 and 7 from Leon Russell (Shelter, 1970)
Track 3 from The Union (Decca, 2010)
Tracks 6 and 10-11 from Carney (Shelter, 1972)
Tracks 8-9 from Leon Russell and the Shelter People (Shelter, 1971)
Track 12 from Stop All That Jazz (Shelter, 1974)
Track 13 from Willie & Leon: One for the Road (Columbia, 1979)
Tracks 14-15 from Will O' the Wisp (Shelter, 1975)
Track 16 from The Concert for Bangladesh (Apple/EMI, 1971)