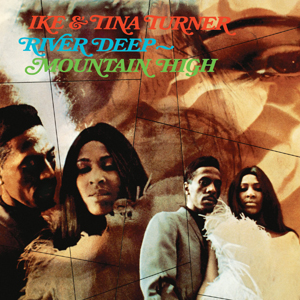 Producer Phil Spector should have been sitting on top of the world in 1966, just one year after The Righteous Brothers continued their wave of success with "Just Once in My Life," "Ebb Tide" and of course, "Unchained Melody." He had recently signed Ike and Tina Turner to Philles, but the male half of that duo was of little consequence to him. In Tina Turner's force-of-nature voice, Spector saw the latest and arguably most powerful vehicle for his increasingly majestic musical statements. When he recorded "River Deep-Mountain High," a song he wrote with Jeff Barry and Ellie Greenwich, Spector felt that this was going to be the big one. It was his largest production ever, with a massive arrangement by Jack Nitzsche, and the cost was as extravagant as the sound. But upon its release in June 1966, the booming "River Deep-Mountain High" on Philles 131 didn't go anywhere fast, only making it to the bottom reaches of the Top 100 singles chart. A bone was thrown to Spector in the form of its success abroad; Beatle George Harrison described the song as "a perfect record from start to finish – you can't improve on it!" and it went Top 5 there. Spector commented, "We can only assume that England is more appreciative of talent and exciting music than the U.S. is," while Ike Turner (who was not actually on the single) added, "In England, they don't judge records according to race or anything like that."
The American failure of "River Deep" led Spector to withdraw from the music business for a period of roughly two years, and the releases of Ike and Tina Turner's output for Philles (four singles and one LP) quickly vanished. Some mono editions of Philles LP 4011 were pressed, but this release never made it to the cover printing stage. The completed album was issued in the U.K. on the London label and later in America on A&M with one variation in the track listing.
The LP River Deep-Mountain High received its belated American bow from the A&M label in 1969. Herb Alpert and Jerry Moss of A&M had signed Spector to a production deal; the biggest hit to come out of the Spector/A&M association would be "Black Pearl" by The Checkmates, Ltd. On the heels of Legacy's new collections of Spector productions, Hip-o Select will reissue A&M's original 12-track album to general retail on April 5; it is already available for pre-order directly from the label.
What's included? What's missing? Hit the jump to find out!
The new Hip-o Select edition replicates the original album's track listing. In addition to the extravagantly beautiful noise of the title song, there are plenty of other choice cuts. "A Love Like Yours (Don't Come Knocking Every Day)" is a dense Wall of Sound treatment of Holland/Dozier/Holland's classic for Martha and the Vandellas. There are two other Greenwich/Barry/Spector compositions, "Hold On, Baby" and "I'll Never Need More Than This." Jeff Barry considers the latter, a dramatic tour de force for Tina's pipes and Spector's orchestra, a sister song to "River Deep." "Spector-ized" covers of Arthur Alexander's "Every Day I Have to Cry" and Pomus and Shuman's "Save the Last Dance for Me" both make strong impressions. These tracks were joined by five more songs (four written by Turner) not produced in the familiar Wall of Sound style. (Despite his being the sole producer credited on the album, it's generally accepted that Spector did not personally produce these tracks.) These new takes on Ike Turner's "great original hits," as the sleevenotes proclaimed,  may even be better than the original versions as Tina's voice was in its most soulful, powerful prime.
This new reissue will mark a return to the American catalogue for this remarkable LP, though an import has been (and still is) readily available. Perhaps one day an expanded edition will be made available which could include the remaining singles tracks as well as "You're So Fine," the track which was dropped from the original Philles/London Records LP lineup and replaced by "I'll Never Need More Than This." Some of the tracks recorded at Philles weren't actually produced by Spector; he had turned the team over to Four Seasons hitmaker Bob Crewe for the unreleased "Everything Under the Sun" in addition to "A Man is a Man is a Man" b/w "Two to Tango" (Philles 134). A Spector song entitled "I'll Keep You Happy" backed "River Deep" on Philles 131, while "Cashbox Blues" was the flip of "I'll Never Need More Than This" on Philles 135.
Ike and Tina Turner's River Deep-Mountain High, with a striking Dennis Hopper photo collage on its cover and a stereo Wall of Sound, is scheduled for release on April 5 from Hip-o Select.
Ike and Tina Turner, River Deep-Mountain High (A&M Records, 1969 – reissued Hip-o Select, 2011)
River Deep-Mountain High
I Idolize You
A Love Like Yours
A Fool in Love
Make 'Em Wait
Hold On Baby
I'll Never Need More Than This
Save the Last Dance for Me
Oh Baby!
Every Day I Have to Cry
Such a Fool for You
It's Gonna Work Out Fine