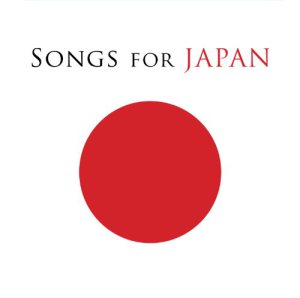 Now here's a surprise. iTunes, in concert with the major record labels, put together a 38-song compilation called Songs for Japan, the proceeds of which would go to relief funds for the ongoing crises in Japan following a massive earthquake and tsunami that left the country in a state of peril.
And now, Amazon has a listing for the compilation on CD from Legacy. (This two-disc set actually omits some of the tracks heard on the iTunes version, namely tracks by Madonna and David Guetta.) While it's not a boon for collectors - collecting notable tracks by John Lennon, U2, Sting, Bob Dylan, Lady Gaga, Bruce Springsteen and almost every other famous rock artist one can think of - it's certainly worth the $10 for a good cause, and we would be remiss if we didn't pass on to our loyal readers that one can help by simply buying some music - something you and I likely do a lot!
Order Songs for Japan here and hit the jump for the track list.
Various Artists, Songs for Japan (Legacy 88697 90504-2, 2011)
Disc 1
Imagine - John Lennon
Walk On (Radio Edit) - U2
Shelter from the Storm - Bob Dylan
Around the World - Red Hot Chili Peppers
Born This Way (Starsmith Remix) - Lady Gaga
Irreplaceable - Beyonce
Talking to the Moon (Acoustic Piano Version) - Bruno Mars
Firework - Katy Perry
Only Girl (in the World) - Rihanna
Like I Love You - Justin Timberlake
Love the Way You Lie - Eminem feat. Rihanna
Human Touch - Bruce Springsteen
Awake (Live) - Josh Groban
Better Life - Keith Urban
One Tribe - The Black Eyed Peas
Sober - Pink
It's OK - Cee Lo Green
Disc 2
I Run to You - Lady Antebellum
What Do You Got - Bon Jovi
My Hero - Foo Fighters
Man on the Moon (Live) - R.E.M.
Save Me - Nicki Minaj
By Your Side - Sade
Hold On (Radio Mix) - Michael Bublé
Pray (Acoustic) - Justin Bieber
Make You Feel My Love - Adele
If I Could Be Where You Are - Enya
Don't Let the Sun Go Down on Me - Elton John
Waiting on the World to Change - John Mayer
Teo Torriate (Let Us Cling Together) - Queen
Use Somebody - Kings of Leon
Fragile (Live in Berlin) - Sting, Steven Mercutio and The Royal Philharmonic Concert Orchestra
Better in Time - Leona Lewis
One in a Million - Ne-Yo
Whenever, Wherever - Shakira
Sunrise - Norah Jones
Disc 1, Track 1 from Imagine (Apple/EMI, 1971)
Original version of Disc 1, Track 2 from All That You Can't Leave Behind (Island/Interscope, 2000)
Disc 1, Track 3 from Blood on the Tracks (Columbia, 1975)
Disc 1, Track 4 from Californication (Warner Bros., 1999)
Original version of Disc 1, Track 5 from Born This Way (Kon Live/Cherrytree/Interscope, 2011)
Disc 1, Track 6 from B'Day (Music World/Columbia, 2006)
Disc 1, Track 7 from deluxe edition of Doo Wops & Hooligans (Atlantic/Elektra, 2010)
Disc 1, Track 8 from Teenage Dream (Capitol, 2010)
Disc 1, Track 9 from Loud (Def Jam, 2010)
Disc 1, Track 10 from Justified (Jive/Zomba, 2002)
Disc 1, Track 11 from Recovery (Aftermath/Interscope, 2010)
Disc 1, Track 12 from Human Touch (Columbia, 1992)
Disc 1, Track 13 from Awake Live (143/Reprise, 2008)
Disc 1, Track 14 from Be Here (Capitol Nashville, 2005)
Disc 1, Track 15 from The E.N.D. (Interscope, 2009)
Disc 1, Track 16 from Funhouse (LaFace, 2008)
Disc 1, Track 17 from The Lady Killer (Elektra, 2010)
Disc 2, Track 1 from Lady Antebellum (Capitol Nashville, 2008)
Disc 2, Track 2 from Greatest Hits (Island, 2010)
Disc 2, Track 3 from The Colour and the Shape (Roswell/Capitol, 1997)
Disc 2, Track 4 recorded live in Japan, 2005 - previously unreleased
Disc 2, Track 5 from Pink Friday (Young Money/Universal Motown, 2010)
Disc 2, Track 6 from Lovers Rock (Epic, 2000)
Original version of Disc 2, Track 7 from Crazy Love (143/Reprise, 2009)
Original version of Disc 2, Track 8 from My Worlds: The Collection (Island/RBMG, 2010)
Disc 2, Track 9 from 19 (XL/Allido/Columbia, 2008)
Disc 2, Track 10 from Amarantine (Reprise, 2005)
Disc 2, Track 11 from Caribou (MCA/DJM, 1974)
Disc 2, Track 12 from Continuum (Aware/Columbia, 2006)
Disc 2, Track 13 from A Day at the Races (EMI, 1975)
Disc 1, Track 14 from Only by the Night (RCA, 2008)
Disc 2, Track 15 from Live in Berlin (Deustch Grammophon, 2010)
Disc 2, Track 16 from Spirit (Syco/J, 2007)
Disc 2, Track 17 from Libra Scale (Def Jam, 2010)
Disc 2, Track 18 from Laundry Service (Epic, 2001)
Disc 2, Track 19 from Feels Like Home (Blue Note, 2004)