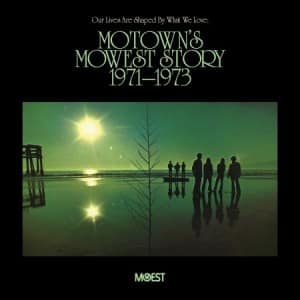 Indie label Light in the Attic Records has prepped an interesting catalogue compilation for release: an overview of one of Motown's oft-overlooked divisions: MoWest Records.
By the 1970s, Berry Gordy had a grander vision for Motown than ever before - one that extended from music into the film industry. To do that, of course, he needed a base of operations in Los Angeles, and the label's L.A. offices went from becoming a branch to the central nervous system of the company in 1972. (It's this year that usually caps Motown compilations; should the final Complete Motown Singles box sets become ready for release, they too end at 1972, when the label finished moving west.)
But before everyone packed their bags for good (or left the label, in some cases), Gordy started a West Coast-centered imprint of Motown. MoWest, with its beautiful label design (the sun setting over a Pacific beach) and laid-back R&B soul roster that included underrated acts like Odyssey, The Sisters Love and G.C. Cameron, future stars including Thelma Houston, Syreeta Wright and The Commodores and one displaced legend in Frankie Valli and The Four Seasons began in earnest in 1971.
Unfortunately, the imprint and its roster never got the attention they deserved: Motown's legends were still putting out gold - Marvin Gaye's What's Going On, Diana Ross' burgeoning solo career and The Temptations' experiments with psychedelic soul were some of the high points - and the label's newest upstarts, The Jackson 5, were taking America by storm. MoWest folded in 1973, and although some of the acts would find success on Motown proper, too many of them did not.
That's where Light in the Attic comes in. On June 14, the label is releasing a newly-remastered (from the original tapes, no less) 16-track compilation of tunes from the MoWest roster. Some of them have appeared on CD before - Hip-o Select did a set for Valli's Motown years - but a lot of these tracks hew toward the obscure, so it's nice to see them given the red carpet treatment. And, as if a CD release wasn't cool enough, the set's also coming out as a double-vinyl set, too.
Again, Our Lives Are Shaped by What We Love: Motown's MoWest Story is out on June 14, and you can order it here. As always, the track list is after the jump. (Thanks to Ken Shane for passing this one along!)
Various Artists, Our Lives Are Shaped by What We Love: Motown's MoWest Story (Light in the Attic Records LITA-064, 2011)
You're a Song (That I Can't Sing) - Frankie Valli and The Four Seasons
Our Lives Are Shaped by What We Love - Odyssey
Give Me Your Love - The Sisters Love
Act Like a Shotgun - G.C. Cameron
I Love Every Little Thing About You - Syreeta
Black Maybe - Syreeta
Sun Country - Frankie Valli and The Four Seasons
Battened Ships - Odyssey
I Can't Give Back the Love I Feel for You - Suzee Ikeda
Don't You Be Worried - The Commodores
You've Got to Make Your Choice - The Sisters Love
Broken Road - Odyssey
A Heart is a House - The Nu Page
I Hope I See It in My Lifetime - Lodi
The Night - Frankie Valli and The Four Seasons
I Ain't Going Nowhere - Thelma Houston
Tracks 1, 7 and 15 from Chameleon (MoWest MW-108L, 1972)
Tracks 2, 8 and 12 from Odyssey (MoWest MW-115, 1972)
Track 3 from MoWest single MW 5041 F, 1972
Track 4 from MoWest single MW 5005 F, 1971
Tracks 5-6 from Syreeta (MoWest MW-113, 1972)
Track 9 from MoWest single MW 5017 F, 1972
Track 10 from MoWest single MW 5038 F, 1973
Track 11 from With Love (MoWest MW-109 (cancelled), 1972)
Track 13 from MoWest Single MW 5037 F, 1972
Track 14 from Happiness (MoWest MW-101L, 1971)
Track 16 from Thelma Houston (MoWest MWS-7003 (U.K.), 1973)