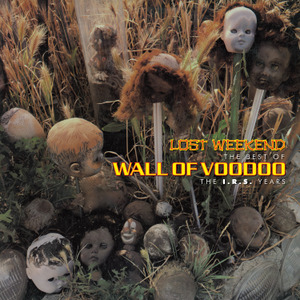 There's a good chance that, if you own at least one '80s compilation CD released in the past 10 or 15 years, you've heard "Mexican Radio" by Wall of Voodoo. Though the song - with its distinctively sung couplets from vocalist Stan Ridgeway and a propulsive, rhythmic backing track featuring some great guitar work and a distinctive, mariachi-flavored harmonica/synth lick - peaked outside of Billboard's Top 40 almost three decades ago, it's become one of those tunes that sums up the New Wave sound in just under four minutes.
Anyone curious to hear more of the band, who spent the better part of the '80s turning out edgy rock records for Miles Copeland's I.R.S. label (alongside acts like R.E.M. and The Go-Go's), had a rough time of it in the '90s and early aughts, as so little of the catalogue was in print. Most would be surprised to even know that, not long after "Mexican Radio," Ridgeway and two other members of the band left, leaving new vocalist Andy Prieboy to take the reins from 1983 to 1988. This lineup enjoyed two minor hits in Australia, "Far Side of Crazy" and a cover of The Beach Boys' "Do It Again," the video of which actually featured an appearance by Brian Wilson himself.
Now, to solve those years of searching, Varese Vintage plans a compilation spanning all the singles from both iterations of the band. Lost Weekend: The Best of the I.R.S. Years covers all the major beats of the band's career (other than their self-titled 1980 debut EP, released by Index Records), including the band's contract-finishing, out-of-print 1989 live album. (And "Mexican Radio" is indeed included in its original single mix, rather than the version that appeared on the Call of the West album.)
Look for it on November 15, order it on Amazon here and check the track list after the jump.
Wall of Voodoo, Lost Weekend: The Best of the I.R.S. Years (Varese Vintage, 2011)
Red Light
Tsetse Fly
Crack the Bell
Back in Flesh
Lost Weekend
Factory
Mexican Radio (Single Version)
On Interstate 15
Call of the West
Far Side of Crazy
Big City
Dark As a Dungeon
Do It Again
Country of Man
Elvis Bought Dora a Cadillac
The Heart Can Never Tell (Live in Australia)
Ring of Fire (Live in Australia)
Tracks 1-4 from Dark Continent (I.R.S., 1981)
Tracks 5-9 from Call of the West (I.R.S., 1982)
Tracks 10-12 from Seven Days in Sammystown (I.R.S., 1985)
Tracks 13-15 from Happy Planet (I.R.S., 1987)
Tracks 16-17 from The Ugly Americans in Australia (I.R.S., 1989)