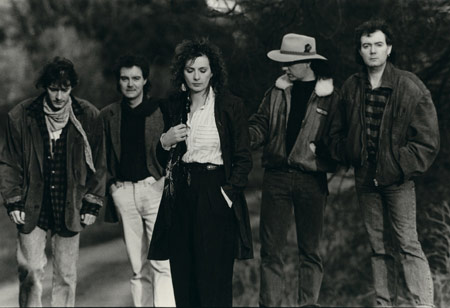 Everyone's going to feel a little Irish on St. Patrick's Day, but this year catalogue enthusiasts have a title to give them a little edge in terms of the country's music: The Essential Clannad, a double-disc set from Irish folk band Clannad.
A family-based quintet, ormed in Gaoth Dobhair, County Donegal (their name is shortened from "An Clann as Dobhair," or "the family from 'Dore") Clannad remain unique in that they are one of the most successful, natively Irish bands in Europe, often singing in native Irish. Such was the case with "Theme from Harry's Game," a Top 5 U.K. hit from a 1982 miniseries about The Troubles. U2 used the recording to open every one of their concerts from the War to The Joshua Tree tours, and Bono would sing on the Top 20 hit "In a Lifetime" in 1985. In fact, many unique voices were drawn to collaborate with the group, including Bruce Hornsby and former Journey frontman Steve Perry.
But the band had been active many years before, releasing their first albums in the mid-1970s. From 1979 to 1980, singer/harpist Máire Ní Bhraonáin's younger sister, Eithne, was bought into the band as a vocalist; years later, she would have success under a different name - Enya.
In the mid-2000s, after years of inactivity, the band returned to performing and will come back this year in a big way, with a new album and tour in the fall and a special concert to be broadcast on PBS for St. Patrick's Day. A few weeks before, on March 6, this new 30-song compilation will hit stores for your listening pleasure. Check out the track list for the set after the jump.
Clannad, The Essential Clannad (RCA/Legacy 88691 95755-2, 2012)
Disc 1
I Will Find You (Theme from The Last of the Mohicans)
In a Lifetime (with Bono)
You're the One
Something to Believe In (with Bruce Hornsby)
Robin (The Hooded Man) (Theme from Robin of Sherwood)
Almost Seems (Too Late to Turn)
Broken Pieces
Closer to Your Heart
Why Worry?
Mystery Game
A Bridge (That Carries Us Over)
The Hunter (from PastPresent, 1989)
White Fool (with Steve Perry)
There for You
Let Me See
Disc 2
Rí na Cruinne
Theme from Harry's Game
Caislean Óir
Newgrange
Buachaill Ón Éirne
Fadó
Anam
Coinleach Glas An Fhómhair
Na Laethe Bhí
Of This Land
Tá' Mé Mo Shuí
Poison Glen
Úirchill an Chreagáin
The Bridge of Tears
Banba Óir
Disc 1, Tracks 1, 10 and 14 and Disc 2, Tracks 9 and 15 from Banba (Atlantic (U.S.)/RCA (U.K.), 1993)
Disc 1, Tracks 2, 6 and 8 and Disc 2, Tracks 3 and 5 from Macalla (RCA, 1985)
Disc 1, Tracks 3 and 8 and Disc 2, Tracks 1, 7 and 12-13 from Anam (Atlantic (U.S.)/RCA (U.K.), 1990)
Disc 1, Tracks 4 and 13 from Sirius (RCA, 1987)
Disc 1, Tracks 5 from Legend (RCA, 1984)
Disc 1, Tracks 7 and 11 from Lore (Atlantic (U.S.)/RCA (U.K.), 1996)
Disc 1, Track 12 from PastPresent (RCA, 1989)
Disc 1, Track 15 and Disc 2, Tracks 6, 10 and 14 from Landmarks (Atlantic (U.S.)/RCA (U.K.), 1997)
Disc 2, Tracks 2, 4, 8 and 11 from Magical Ring (RCA, 1983)