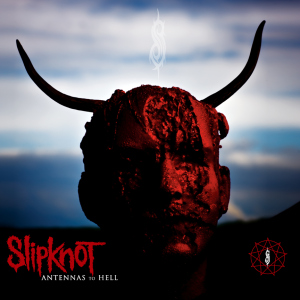 In the past decade, Slipknot were one of the most iconic and unforgettable faces of alternative metal in America. Next month, they will celebrate their tenure with the release of their first greatest hits compilation.
Though Antennas to Hell doesn't contain any new tracks - the band has allegedly put together only tentative recordings since the death of founding bassist Paul Gray in 2010 - it will showcase 19 of the band's "fan favorites, live classics and well-known radio hits," including "Wait and Bleed," "Duality," "Before I Forget" and more. A deluxe edition of the album will also include a bonus CD of (sic)nesses, a portion of the band's headlining set at England's Download Festival in 2009. (In 2010, this concert was released on DVD.)
Antennas to Hell serves as the perfect teaser for the band's summer concert activities, notably a headlining slot on the Mayhem Festival tour and Knotfest, the band's first-ever music festival, a two-day outing to be held in August in the band's native Iowa and Wisconsin. Knotfest will feature musical appearances by Serj Tankian of System of a Down, Deftones, Lamb of God and others, as well as an assortment of "dark carnival" attractions.
[youtube=http://www.youtube.com/watch?v=v_09wFxoaeQ]
The set is due out July 24; an Amazon link has not gone live yet. Hit the jump to check out the track list.
Slipknot, Antennas to Hell (Roadrunner 176372, 2012)
Disc 1
(sic)
Eyeless
Wait and Bleed
Spit It Out
Surfacing
People = Shit
Disasterpiece
Left Behind
My Plague (New Abuse Mix)
The Heretic Anthem (Live)
Purity (Live)
Pulse of the Maggots
Duality
Before I Forget
Vermilion
Sulfur
Psychosocial
Dead Memories
Snuff
Disc 2: (sic)nesses: Live at the Download Festival, Donington Park, Leicestershire - 6/13/2009 (bonus disc with deluxe edition - Roadrunner 176375)
(sic)
Eyeless
Wait And Bleed
Get This
Before I Forget
Sulfur
The Blister Exists
Dead Memories
Left Behind
Disasterpiece
Vermilion
Everything Ends
Psychosocial
Duality
People = Shit
Surfacing
Spit It Out
Tracks 1-4 from Slipknot (Roadrunner, 1999)
Tracks 5-8 from Iowa (Roadrunner, 2001)
Track 9 from Resident Evil: Music from and Inspired by the Motion Picture (Roadrunner, 2002). Original version from Iowa
Tracks 10-11 from 9.0: Live (Roadrunner, 2005)
Tracks 12-15 from Vol. 3 (The Subliminal Verses) (Roadrunner, 2004)
Tracks 16-19 from All Hope is Gone (Roadrunner, 2008)