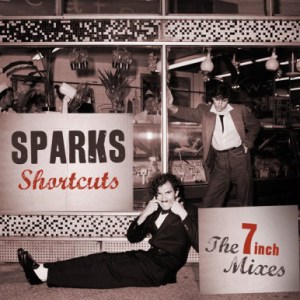 Calling all fans of eclectic rockers Sparks: two compilations are coming from Repertoire Records, both collecting their late '70s and early '80s single output in two different ways.
On August 13, the German label will release Shortcuts: The 7 Inch Mixes (1979-1984) and Extended: The 12 Inch Mixes (1979-1984), a pair of two-disc sets chronicling every side released by the group, in every size, on every label the band were signed to around the world.
The brothers Mael - Ron and Russell, from Pacific Palisades, California - already had a major round of chart success in the U.K. shortly after forming Sparks in 1972. The single "This Town Ain't Big Enough for the Both of Us" was a No. 2 hit in England in 1974, sending their breakthrough album Kimono My House to the Top 5 overseas. By the end of the '70s, the Maels found themselves back in the States and weary of the rock format they had pursued for years. Their switch to electronic-based music had a strong influence on the burgeoning New Wave scene at the time, thanks in no small part to the production work of Giorgio Moroder, whom the brothers had admired since the release of the Moroder-produced "I Feel Love" by Donna Summer.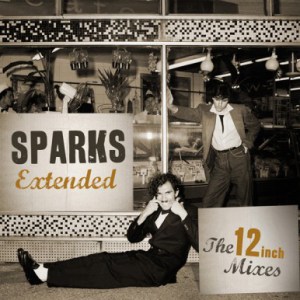 Sparks' and Moroder's first collaboration, 1979's No. 1 in Heaven, yielded the band their last Top 40 singles in the U.K., "The Number One Song in Heaven" and the Top 10 "Beat the Clock." Follow-up album Terminal Jive (1980), produced by Moroder and Harold Faltermeyer, yielded a chart-topping smash in France, "When I'm with You." Sparks later worked with Queen producer Mack on Whomp That Sucker (1981) and Angst in My Pants (1982) and produced themselves on 1983's Sparks in Outer Space, which saw the band earn the first of several respectably-charting U.S. dance hits through the '80s and '90s: "Cool Places," which featured vocals from fan and former Sparks fanclub president Jane Wiedlin of The Go-Go's.
Shortcuts features all international A-sides Sparks released during this period in their original single edits along with a generous helping of B-sides. Extended, by similar design, features every 12" A- or B-side released by Virgin, Atlantic, Ariola, Carrere and Underdog, along with a 1997 extended version of "The Number One Song in Heaven" featuring Jimmy Somerville. Amazon U.S. links will be provided when they go live; 'til then, hit the jump to check out the track lists!
Shortcuts: The 7 Inch Mixes (1979-1984) (Repertoire Records REP-5255, 2012)
Disc 1
Tryouts for the Human Race
The Number One Song in Heaven
La Dolce Vita
Beat the Clock (Short Version)
Young Girls
When I'm with You
Rock 'n' Roll People in a Disco World
Funny Face
Tips for Teens
I Predict
Eaten by the Monster of Love (Promo Single)
Modesty Plays (Short Version)
Angst in My Pants
Cool Places (feat. Jane Wiedlin)
All You Ever Think About is Sex
Disc 2
Please, Baby, Please
With All My Might
Pretending to Be Drunk
My Other Voice
Just Because You Love Me
When I'm with You (Instrumental)
Wacky Women
Don't Shoot Me
Moustache
Nicotina
Sports
I Wish I Looked a Little Better (Promo Single)
Rockin' Girls
Beat the Clock (Canadian Single Version)
Disc 1, Track 1 was Virgin single A-side, VS-289 (U.K.), 1979
Disc 1, Track 2 was Virgin single A-side, VS-244 (U.K.), 1979
Disc 1, Track 3 and Disc 2, Track 4 were Oasis/Ariola single 100294 (DE), 1979
Disc 1, Track 4 was Virgin single A-side, VS-270 (U.K.), 1979
Disc 1, Track 5 was Virgin single A-side, VS-343 (U.K.), 1980
Disc 1, Track 6 was Virgin single A-side, VS-319 (U.K.), 1980
Disc 1, Track 7 was Underdog single B-side 49705 (FR), 1980
Disc 1, Track 8 and Disc 2, Track 8 were Oasis/Ariola single 102744 (DE), 1981
Disc 1, Track 9 and Disc 2, Track 7 were Oasis/Ariola single 103279 (DE), 1981
Disc 1, Track 10 and Disc 2, Track 9 were Atlantic single K-11740 (U.K.), 1982
Disc 1, Track 11 was Atlantic single A-side 4065 (U.S.), 1982
Disc 1, Tracks 12-13 were Carrere/Underdog single 13001, 1982
Disc 1, Track 14 and Disc 2, Track 11 were Oasis single 613809 (DE), 1983
Disc 1, Track 15 and Disc 2, Track 12 were Atlantic single 7-89797 (U.S.), 1983
Disc 2, Tracks 1 and 13 were Carrere single 13287 (FR), 1983
Disc 2, Track 2 was Underdog single A-side 13573 (FR), 1984
Disc 2, Track 3 was Atlantic single A-side 7-89616 (U.S.), 1984
Disc 2, Track 5 was Oasis/Ariola single B-side 101999 (DE), 1980
Disc 2, Track 6 was Oasis/Ariola single B-side 101230 (DE), 1980
Disc 2, Track 10 was Metronome single B-side 0030564 (DE), 1982
Disc 2, Track 14 was Elektra single EF-90157 (CA), 1979
Extended: The 12 Inch Mixes (Repertoire Records REP-5251, 2012)
Disc 1
Tryouts for the Human Race (Extended Version)
Beat the Clock (Extended Version)
La Dolce Vita (Extended Version)
The Number One Song in Heaven (Extended Version)
Young Girls (Disco Version)
I Predict (Club Mix)
Modesty Plays (Extended Version)
Cool Places (feat. Jane Wiedlin) (Doorman's Delirium Mix)
The Number One Song in Heaven (Extended Version with Jimmy Somerville)
Disc 2
All You Ever Think About is Sex (12" Club Version)
Dance Godammit (12" Club Version)
Progress (Vocal/Extended Club Mix)
Pretending to Be Drunk (Extended Version/New Mix)
Kiss Me Quick (Extended Version/New Mix)
With All My Might (Vocal/Extended Club Mix)
Sparks in the Dark (Instrumental/Extended Club Mix)
Tryouts for the Human Race (12" Short Version)
Disc 1, Track 1 was Elektra 12" A-side AS 11412 (U.S.), 1979
Disc 1, Track 2 was Virgin 12" A-side VS 270-12 (U.K.), 1979
Disc 1, Track 3 was  Oasis/Ariola 12" A-side 600011 (DE), 1979
Disc 1, Track 4 was Virgin 12" A-side VS 244-12 (U.K.), 1979
Disc 1, Track 5 was Virgin 12" A-side VS 343-12 (U.K.), 1980
Disc 1, Track 6 was Underdog 12" A-side 8159 (FR), 1982
Disc 1, Track 7 was Underdog 12" A-side 8226 (FR), 1982
Disc 1, Track 8 was Atlantic 12" A-side 0-89863 (U.S.), 1983
Disc 1, Track 9 from Virgin CD single 72438 94284 2 1 (DE), 1997
Disc 2, Tracks 1-2 were Atlantic 12" 0-86990 (U.S.), 1983
Disc 2, Tracks 3 and 6-7 were Atlantic 12" 0-86939 (U.S.), 1984
Disc 2, Tracks 4-5 were Atlantic promotional 12" PR-644 (U.S.), 1984
Disc 2, Track 8 was Ariola 12" B-side 600150 (DE), 1979